Why The Wedding Scene In Fifty Shades Freed Seemed So Silly, According To Jamie Dornan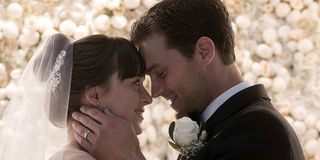 If you've seen Fifty Shades Freed, or even just seen the poster or trailers for the final movie in E.L. James' trilogy, you should know the film shot a wedding scene for Christian Grey and Anastasia Steele. The popular couple ties the knot in both the book and the movie, but the movie goes a step further, actually showing us the couple saying their vows and hitting some of the reception milestones viewers would anticipate. However, while audiences got to see magic on the big screen, series lead Jamie Dornan reveals on the Fifty Shades Freed Blu-ray release that the whole scene was a whole lot sillier to shoot than you might expect. He explained why, noting,
The wedding sequence isn't a huge portion of Fifty Shades Freed. Still it's a nice way to give fans of the books and the movie series an actual idea of what a wedding between Christian Grey and Anastasia Steele would look like, which includes a beautiful Pacific Northwest-looking space and a slew of cool crystal chandeliers that were imported to the set. According to Jamie Dornan, there was a lot of goofing off simply because it's weird to think about fake marrying somebody, especially when things like vows are being filmed. In the Blu-ray extras, other series lead Dakota Johnson also mentions how strange it was to be wearing a wedding dress, as she's unmarried in her regular life, so that aspect definitely came into play, as well.
In real life Jamie Dornan is already married, so I'm sure that added a whole additional level of weird. (Although we've heard she skips the movies, so weirder for Dornan than his wife.)
It seems everyone had fun during the wedding sequences, however. Eloise Mumford, who plays Kate in the franchise movies, admits on the Blu-ray that she particularly enjoyed filming the wedding and reception scenes because that was the first time she got to be a bridesmaid---either real or fictionally. Victor Rasuk, who plays Jose, also admitted the day was a good time on set because it marked a day that all or nearly all of the characters were able to film together.
Jamie Dornan may have found the whole thing to be a bit silly, but hopefully it was silly in a good way. Elsewhere on the disc, there's a cute video shot of Christian Grey and Ana Steele getting married, and other franchise lead Dakota Johnson cracks a joke, telling Dornan,
They may not be married in real life, but the two leads found a way to make it convincing, and had a silly, amusing time while doing it. Not a bad way to cap off a successful run. More tidbits like these can be found in the extras for Fifty Shades Freed. Universal Pictures Home Entertainment's new set hit Digital on April 24 and hits Blu-ray and DVD starting on May. You can order your own copy, here.
Your Daily Blend of Entertainment News
Reality TV fan with a pinch of Disney fairy dust thrown in. Theme park junkie. If you've created a rom-com I've probably watched it.
Your Daily Blend of Entertainment News
Thank you for signing up to CinemaBlend. You will receive a verification email shortly.
There was a problem. Please refresh the page and try again.