The Noah Centineo Movies And TV Shows To Watch If You Can't Get Enough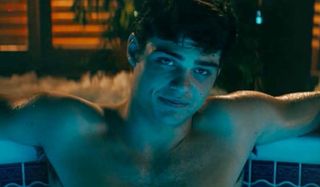 Noah Centineo, shirtless wonder and current Netflix heartthrob is killing it in terms of new projects right now. You can catch him all over streaming right now thanks to Netflix catching on early that the 22-year-old star was something special.
Noah Centineo is expanding out in the next year, too, in various big screen projects. His future looks bright, as he's expected to appear in the Charlie's Angels reboot that has already filmed. This morning, it was also mentioned he's in talks to play He-Man lead Prince Adam in a new movie project that is just getting off the ground. Plus, he has yet another Netflix rom-com, The Perfect Date, set to hit Netflix in April of 2019. That one will even take him out of high school and into college!
While the He-Man role is unconfirmed for now, if it happens it would be a big deal for Noah Centineo, as it would mark the actor branching out even further from his TV and streaming roots. While we wait to find out more about the actor's growing career, there are plenty of projects out there if you can't get enough of Centineo right now. Take a look at what you can watch the actor in below.
Sierra Burgess Is A Loser
Sierra Burgess Is A Loser is one of Netflix's many entries into the high school rom-com genre. This one is actually kind of also about catfishing and sisterhead, as its biggest plotline is arguably more about the relationship between Shannon Purser's Sierra and Kristine Froseth's Veronica than it is about boys.
Caught in the middle is Noah Centineo's Jamey, who plays football and thinks he's into Veronica when he's really into Sierra. Or some hybrid of them both. I'll leave you to figure out where the rest of that story goes.
T@gged
Jumping into the world of TV, Noah Centineo actually joined T@gged in Season 2, appearing as Hawk Carter. The show has been a bit of a change of pace for the actor, as it's a psychological thriller rather than a typical rom-com.
T@gged has had an interesting history. Originally, it appeared as a web series on go90, but the platform is now-defunct. Season 3 actually moved to Hulu, which means you can catch Noah Centineo on multiple streaming platforms these days.
The Fosters
While Noah Centineo has actually been acting since he was a kid, his actual big break was in The Fosters, a Freeform TV series that ran for five seasons before ultimately getting cancelled back in 2018 after a three-episode finale aired. On the show, Centineo played major character Jesus Adams Foster, but don't fret if you start watching streaming the drama on Netflix and don't see hide nor hair of the actor.
That's because Noah Centineo actually joined The Fosters in Season 3, taking over for Jake T. Austin. The latter actor eventually revealed he left the Freeform drama due to how much screentime he was getting. Centineo didn't have the same probably and ended up playing the character until the show's conclusion. If you've been a fan of Centineo since his Freeform days, bravo, you were probably on to the actor's charm well ahead of most people reading this list.
Good Trouble
There's even better news, because The Fosters has a new spinoff called Good Trouble focusing on foster siblings Callie Adams Foster and Mariana Adams Foster after they relocate to Los Angeles. How does Noah Centineo factor in? Thanks to his film and Netflix work, he's not a lead in the Freeform spinoff. However, he is in Season 1 of the new 2019 series, and yes, he's shirtless once more in his Good Trouble debut, which happened back in February. If you've wanted to know what Jesus has been up to since The Fosters wrapped, you should definitely check the new series out.
Good Trouble has already been renewed for Season 2, so hopefully we'll get the chance to catch up with Jesus some more--especially given Centineo is only credited for two Season 1 guest starring eps. Although, it should be noted that since Season 1 is still currently airing, it could be some time before we get the chance to see more from the actor on the cable channel series. Catch up on those episodes with Hulu.
To All The Boys I've Loved Before
If you are well aware of the Noah Centineo heartthrob, there's a good chance you caught him first in To All The Boys I've Loved Before. This was the actor's breakthrough role on Netflix and the one that has made Noah Centineo a household name--at least in some households. Plus, back in December the subscription streaming service announced the film will be getting a sequel, so this isn't the last we've heard from these characters.
To All The Boys I've Loved Before already used some of the story from Jenny Han's popular book sequel P.S. I Still Love You. However, that's not a half-cooked title and we're hoping the sequel sticks with the name, and Noah Centineo as Peter, of course. All of Jenny Han's books in this particular series focus on Lara Jean and Peter's complex relationship as they keep pushing forward toward adulthood, so I would assume Centineo will be back for round 2.
Thanks to finding firm footing in the acting biz on streaming services, it's likely we'll be seeing much more of Noah Centineo whether or not his big screen ventures work out. Either way, you should have plenty of projects to indulge in for now and we'll keep you updated regarding any other projects the actor ultimately signs on for.
In addition, we'll be sure to let you know when To All The Boys I've Love Before sequel gets an official streaming date. For now, you can check out what Netflix and Hulu have coming up with our 2019 schedules or just head to those sites now to peruse what's available. You never know when those services may debut the next big actor!
Amazing Race & Top Chef superfan with a pinch of Disney fairy dust thrown in. If you've created a rom-com I've probably watched it.
Your Daily Blend of Entertainment News
Thank you for signing up to CinemaBlend. You will receive a verification email shortly.
There was a problem. Please refresh the page and try again.