Why Movie Franchise Fatigue Isn't Really Happening, According To One Theater CEO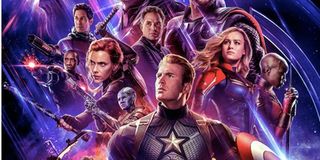 If you've been to the movies in recent years, it's hard to miss the fact that the film industry -- particularly domestically but also internationally -- has heavily relied on franchise content, returning to stories, universes and characters that breed familiarity and (often) fond feelings. However, at the same time, there is a faction of people who are vocal about not wanting interconnected franchises, and there are common gripes about the proliferation of remakes and reboots as well.
If you ask Jane Hastings, however, movie franchise fatigue isn't really a thing. At least, not yet.
Speaking during an event at CinemaCon 2019, Jane Hastings, CEO & Managing Director, Event Hospitality & Entertainment Ltd. spoke out about the biggest movies of 2018, noting that all of them were in some ways continuations of popular franchises.
She said at CinemaCon that box office year over year has shown that franchise fatigue isn't really a thing and that the audience still has an appetite for the larger budget franchise movies, noting,
Citing 2018's box office as evidence, Jane Hastings also mentioned the top five movies in the past year were all returns to worlds and characters that have found love with audiences in prior years and movies.
It's not just franchise movies that are absolutely dominating the box office, but bigger movies in general. Last year, a whopping 83% of movie box office totals came from "the majors," or what Janes Hasting cites as the biggest budget movies with the most oomph in terms of budget and advertising from the major studios.
This means that fewer titles are actually contributing to more of the box office intake than happened in the past within the theater and movie industries. It's a trend that should continue into 2019 as there are a slew of franchise movies set to launch this year from the major studios. This includes but is definitely not limited to Avengers: Endgame, Godzilla: King of The Monsters, Frozen 2, Hobbs and Shaw, Jumanji 3 and plenty more.
Looking at two of the biggest movies of last year, Black Panther and Aquaman, both are origin stories, yet they do fall within the larger Marvel and DC comics universes. They are part of a bigger picture, and despite only having one solo appearance, the character of T'Challa, for example, has already made three big screen appearances so far. The trajectory is similar for Jason Momoa's Aquaman character. Both origin flicks also have a lot of additional stuff in common, including making over a billion dollars internationally and easily earning greenlights for Black Panther 2 and Aquaman 2.
So, people are still clearly seeing these franchise movies, and Jane Hastings cites an increase in connecting with fans and creating good products as to why franchise fatigue isn't really a thing.
It's not like every franchise movie that comes out is great. The same is true of original movies, which run the gamut from good to bad. There may come a point when we've hit franchise fatigue, too. Sort of like how some long-running TV shows go on a little too long and a percentage of the audiences loses interest after a while. Clearly we aren't there with Marvel or DC content yet, but we have seen recent Transformer movies do less well than their predecessors. When that happened, Paramount pivoted and gave us Bumblebee, a spinoff that renewed interest in the franchise.
It's also true that every franchise has to start somewhere, and there are still a lot of studios pushing out interesting and new content at all budget levels. We will get plenty of original movies this year, ranging from Once Upon A Time In Hollywood to Artemis Fowl. Then again, with the latter, there is presumably the hope of a franchise given the large number of books to draw from; Disney will just have to wait and see how the box office pans out.
So, if you were hoping for more original movies – at least of the big budget variety in the future – the box office itself is telling a different story. Which leads me to the question: Do you agree? Has box office intake taken over quality or have franchises managed to create engaging stories with familiar characters and universes?
This poll is no longer available.
Reality TV fan with a pinch of Disney fairy dust thrown in. Theme park junkie. If you've created a rom-com I've probably watched it.
Your Daily Blend of Entertainment News
Thank you for signing up to CinemaBlend. You will receive a verification email shortly.
There was a problem. Please refresh the page and try again.