Rambo 5: What We Know So Far About Last Blood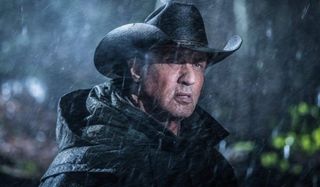 Besides his work as legendary boxing icon Rocky Balboa, there's one other role that actor/writer/director Sylvester Stallone is known for: Vietnam Vet turned one man army John Rambo. Since 1982's First Blood, the character has become a staple in the lexicon of action/drama fans worldwide, and with over a billion dollars in international grosses across four films, that's not an overestimation. All of that history looks to come to a close with Rambo 5, the (presumably) final entry in the series.
Already in the midst of production, Stallone's fifth and final outing as one of his most famous contributions to pop culture has a lot of details available to the public awaiting John Rambo's latest foray into combat. So, leave it to us to help you sort through what we know so far about the project, and how it shapes what the film looks like in its current form. Keep in mind, the information below is subject to change, so if you're a Rambo superfan, you'll want to check back often to see what's new. For now, here's what we know so far about Rambo 5.
What Is The Rambo 5 Title?
Initially, the fourth Rambo sequel was just known as Rambo V, stylized with a Roman numeral, much like Rambo III. That was changed not too long after the film was greenlit under an earlier concept, which changed the title to Rambo V: The Savage Hunt. That title lasted for a little while, up until that rather outlandish story was replaced with a couple of concepts, one of which was entitled Rambo: Last Stand. Of course, the title didn't last, as that concept was also rejected, leading to Rambo V landing the extremely fitting final title of Rambo V: Last Blood. Unless anything happens between now and the film's fall release date, this is presumably the title we'll see whenever the trailers start to drop. Let's hope that title sticks as well as the name for Rambo's new knife does.
When Is The Rambo 5 Release Date?
Rambo V: Last Blood has landed the prime release date of September 20, 2019. Once Rambo V: Last Blood had a story locked down, the film went into production in late 2018, wrapping before the end of the year and commemorated by a very thankful Sylvester Stallone on social media. This allows the film to be more than ready for the date it's set its sights on, though there is a bit of competition in the weeks flanking the release.
With IT: Chapter 2 and The Goldfinch releasing in the two weeks before Rambo V: Last Blood's arrival, the mature viewer's film market will be a bit crowded at the start of September. Meanwhile, the week after this picture's release holds a spot for an untitled Blumhouse project, which could split the market after opening. But, the greatest challenge may lie in the day of release, as Screen Gems' police action thriller Black and Blue is set to debut alongside John Rambo's final return.
What Will Rambo 5 Be Rated?
While there isn't an official rating from the Motion Picture Association of America yet, seeing as the film hasn't been submitted for classification yet, we don't have an official answer on just what rating Rambo V: Last Blood will have. That having been said, the historical precedent does spell out an all but absolutely certain outcome, and it's the one that fans will definitely be happy with.
Typically, the Rambo series has been an R-rated enterprise, from First Blood to the most recent entry, simply titled Rambo. Considering the level of action and carnage that have been integrated into the franchise throughout its history, it's certainly not expected to change with Rambo V: Last Blood. So, while we can't say dead certain that Sylvester Stallone's warfighter won't be downgrading to a PG-13 for ticket sales, we can say that decision is as likely as Rambo failing in his mission.
What Will Rambo 5 Be About?
If the original concepts for Rambo V: Last Blood had stuck, there would have been everything from an ill-advised sci-fi angle to a much different and more grounded concept. We'll discuss the details of those later, but for now we can say that after all of the effort poured into this latest Rambo movie's story, there's a clear path for it to follow.
Rambo V: Last Blood will follow John Rambo's mission into Mexico, to recover Gabriella, the daughter of a friend who went to the country of her birth in order to try and find her father. He left her as a child, and the pull of locating him is strong for Gabriella, but Rambo and her grandmother don't approve of the idea, which is eventually proven to be a valid fear, as she's kidnapped by a drug cartel during her trip. Before you can say "bow and arrow," Rambo takes up arms and gets on with the show.
Who's Directing Rambo 5?
Rambo V: Last Blood was directed by Adrian Grunberg, who up until this point has made a name for himself as a second unit director. His work on shows such as Sense8 and Narcos, as well as films like Apocalypto put him in a prime position to take the director's chair one day, and that he did when he directed 2012's Get The Gringo, for frequent collaborator Mel Gibson.
During the phase where various concepts for Rambo V: Last Blood were panning out, it looked like Sylvester Stallone might take the directing responsibilities for himself, as he's been known to do in the past with projects he's particularly passionate about. But, after a couple of his other concepts dropped off, Stallone ceded the director's chair, and Grunberg was in!
What Is The Significance Of The Rambo 5 Title?
Before Rambo's name eventually became the focus of the series' title, it all started with a book written by David Morrell, entitled First Blood (opens in new tab). The story of a Vietnam vet who, through a series of escalating incidents, becomes the subject of a woodland manhunt, the film adaptation kept that name intact. Eventually, that gave way to sequels titled Rambo: First Blood II, Rambo III, and most currently Rambo.
To create the title Rambo V: Last Blood highlights two possible points of order. The first is the obvious finality of this chapter in history, promising one last mission for John Rambo to carry out. But the more symbolic reason could be that just as First Blood kicked everything off with a more grounded and personal story, Rambo V: Last Blood will be returning to such a tactic, as opposed to merely sending him into Mexico with unlimited ammo to solve the problem.
Sylvester Stallone
It's more than a safe bet to say that without Sylvester Stallone, Rambo wouldn't be the man he is today. Since 1982, Stallone has put in the time and effort to revisit the character periodically, as well as keep himself in prime shape to do so, but especially when he had a reason to do so. This wasn't only by showing up to play the part, though, as the action legend has worn many hats during the franchise's long history.
Serving as a writer on each of the films leading up to, and including, Rambo V: Last Blood, Sylvester Stallone has always contributed to the story of John Rambo's transition from wounded war vet to all time ass kicker. He even kicked things up a notch when, much like he did with Rocky Balboa, he revived his character as a writer and a director on the fourth entry to the series, Rambo. Though with this most recent project, Stallone only committed to co-writing and starring in the film.
Yvette Monreal
The role of Gabriella is one crucial to the narrative of Rambo V: Last Blood, so it's going to take a young, but seasoned collaborator to jump into things and deliver. Cast in that role is actor Yvette Monreal, a teenaged professional with some impressive credits to her name.
Monreal is probably best known for her role as Adriana Gutierrez, on the hit Freeform drama The Fosters; though she's also made appearances in shows like NCIS, and the El Rey network's Matador. Her film credits include parts in the independent films Lowriders and Monsoon. In addition to her role in Rambo V: Last Blood, Yvette Monreal can also be seen on DC Universe's Stargirl when it debuts at some point in 2020.
Paz Vega
Helping John Rambo in his quest to rescue Gabriella is her sister, reporter Carmen Delgado. Someone who's familiar with the Mexican drug trade, as it's her beat of reporting, Carmen will more than likely provide all the information about the local hierarchy and muscle that runs cartel operations, in the hopes that he'll be able to retrieve Gabriella without much hassle.
Playing this role is Paz Vega, who was most recently seen in the Netflix original series The OA. Prior to that, Vega started her career in the Spanish film industry, with her big Hollywood debut coming from James L. Brooks' dramedy Spanglish, alongside Adam Sandler and Tea Leoni. Other notable credits on Paz Vega's resume include roles in the comic adaptation The Spirit, Pedro Almodavar's I'm So Excited, and the historical drama Kill The Messenger.
Adrianna Barraza
At the end of Rambo, we saw the titular hero walking up to a ranch, more than ready to live the quiet life. That very ranch was none other than that of John Rambo's father, and helping take care of that land for quite some time was Maria, Gabriella's grandmother and spiritual sister to John Rambo. When Gabriella decides to go searching for her father in Rambo V: Last Blood, she voices her disapproval of the idea, and so does John.
For someone who's considered the closest thing to a sister that Rambo ever had, an actor of similar iconic stature and gravitas to that of Sylvester Stallone is greatly needed, and this film found it when they cast Mexican acting legend Adriana Barraza. Barraza's list of credits is a grab bag of huge names and titles, with TV shows like ER and CSI: Miami as well as films such as Amoros Perros and Babel. This won't be the only time Barraza will be worried about an on-screen granddaughter, as she's also playing Abuelita Valerie in Dora and the Lost City of Gold.
Sergio Peris-Mencheta
Heroes, and their action franchises, need villains, and Rambo V: Last Blood is no exception. In the case of this fifth and final film in the Rambo saga, drug cartel kingpin Hugo Martinez is the man to beat in this crusade to save Gabriella. Her presumed abductor, and maybe even her father (if we have any eye for anticipating plot twists) this is the guy that will most likely fight John Rambo in the dramatic third act of this film.
Strangely enough, this probably won't be the bloodiest battle that actor Sergio Peris-Mencheta will see in his career, as the Spanish actor was previously seen in Resident Evil: Afterlife. So, fighting Rambo is probably a bit of a scaled back experience when compared to a zombie apocalypse. Peris-Mencheta is also known for his appearance in Dan Fogelman's critically blasted tear-jerker Life Itself, as well as for playing Gustavo Zapata, an enforcer as part of a drug enterprise in FX's drama Snowfall.
Oscar Jaenada
One of the two actors cast to star in Rambo V: Last Blood without any character information given at the time is Oscar Jaenada. While we don't know what his role is in the latest Rambo action adventure, we do know that he's got an interesting range of credits for himself. Jaenada's most prolific role was that of Mexican film legend Cantinflas in the titular biopic, which saw him nominated for the Ariel Award (the Mexican Oscar) for Best Actor. Jaenada's other notable credits include roles in Pirates of the Caribbean: On Stranger Tides, and most recently in director Doug Liman's Chaos Walking, as well as Terry Gilliam's The Man Who Killed Don Quixote.
Joaquín Cosío
While the name Joaquin Cosio may not ring a bell to you at this moment, it only takes a look at the man's credits to remind you that you probably have seen him more than once in your movie watching life. Most recognizably, Cosio can be seen as the secondary villain, General Medrano, in the James Bond adventure Quantum of Solace, as well as the Mexican wrester turned vampire hunter Angel Guzman Hurtado in FX's The Strain. While we don't know what Joaquin Cosio's affiliation with the cartel is in Rambo V: Last Blood, we do know that he's currently playing Ernesto "Don Neto" Fonseca on Netflix's Narcos: Mexico.
John Rambo's Combat History
Serving as a Green Beret in Vietnam, John Rambo first fought on screen in Washington state, during the events that transpired between himself and local law enforcement in First Blood. While those actions landed him behind bars, they brought him to the attention of his commanding officer, Col. Samuel Trautman, who would remain an ally and handler of his through the next two sequels, Rambo II and Rambo III.
In Rambo II, John was offered a literal get out of jail free card, in exchange for locating and aiding in the recovery of American POWs still in Vietnam. Using this opportunity to its fullest advantage, John saved the prisoners, and exposed a rogue element in the US military who specifically tried to hamper his efforts to rescue those missing in action. With Rambo III enlisting John Rambo to aid the Mujahideen against Soviet incursion, and Rambo seeing him rescue missionaries from a vicious warlord in Burma, you can begin to see why Rambo V: Last Blood's title just might be a blessing for Rambo himself, even aside from the fact that Sylvester Stallone has really gotten banged up in this particular time out at the rodeo.
Rejected Concepts For Rambo 5
We've previously alluded to discarded concepts for Rambo V: Last Blood that just didn't get off the ground, and their story content ranges from the interesting to the flat out absurd. The more grounded side of the spectrum had some of the components that eventually made their way into the final story, with human trafficking, drug cartels, and even a film that was supposed to directly invoke the limited scope of action that First Blood had thrived on. That last concept was entitled Rambo: Last Stand, but it was soon scrapped, with the abduction and drug cartel angles being combined to create Rambo V: Last Blood. And just as you'd suspect, there almost was a reboot of the entire franchise, as well as a TV series pitched in the interim.
But perhaps the most infamously dumped concept is Rambo V: The Savage Hunt; a film that would have seen John Rambo teaming up with a special ops team to hunt down an abnormally powered creature created in genetic experiments. Taken from the novel Hunter by James Byron Huggins, this idea would have pivoted the stereotypically action focused franchise into some new sci-fi shaded waters, but this angle was too out there for all involved and eventually gave way to the drafts that put Rambo on the track for his final, more realistic battle.
Rambo V: Last Blood will be headed our way on September 20, 2019, but should that release date or any other details we've mentioned above change, we'll update this handy guide for your reference!