Rian Johnson Doesn't Mind If Star Wars: Episode IX Retcons The Last Jedi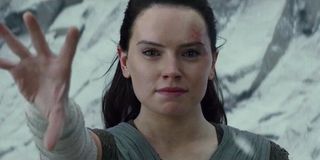 Wherever you fall on Star Wars: The Last Jedi reception scale, there's no question that it's one of the most divisive films in the Star Wars franchises, if not at the top of the list. Building off what J.J. Abrams established in The Force Awakens, Rian Johnson was brought in to write and direct The Last Jedi, and many of his creative choices were met by controversy by portions of the Star Wars fanbase. With Abrams now overseeing Star Wars: Episode IX, Johnson is okay if this next movie ends up retconning portions of The Last Jedi, specifically Rey's parentage.
One of the big questions regarding Rey in Star Wars: The Force Awakens was who her parents were. Upon touching Luke Skywalker's lightsaber at Maz Kanata's cantina, Rey was bombarded by a flurry of Force visions, one of which showed her being left on Jakku as a child, and her family was never shown. For the next two years, fans wondered about the secrets of Rey's past, like if she was related to the Skywalker family. Then came Star Wars: The Last Jedi, during which Kylo Ren told Rey to admit what she knew along: that her parents were "nobody," with Ren saying that they were "filthy junk traders" who sold her for drinking money and were long dead in a pauper's grave on Jakku.
Well, this plot twist was among the many aspects of Star Wars: The Last Jedi that was met with mixed reactions, and some fans have questioned if J.J. Abrams will retcon this reveal in Star Wars: Episode IX and make Rey's parents significant people. That remains to be seen, and Rian Johnson has largely remained out of the loop on Episode IX's development, only having a couple of conversations with Abrams. However, when asked by MTV News if he'd be okay with Abrams retconning the lineage of Rey's parents in Episode IX, Johnson responded:
Rey's parents being turned from nobodies to important individuals would certainly qualify as a surprise. Shortly after Star Wars: The Last Jedi came out, Rian Johnson revealed that the reason he went that direction with Rey's family was because every other idea he came up with her parents' identities just didn't work for him. This creative choice was also a sharp contrast from what we've seen from the Skywalker family over the years, with Rey's impressive Force powers existing for some reason other than having a notable genealogy. That's assuming, of course, that this sticks for Episode IX. After all, this is a franchise known for its surprises, and it wouldn't be the first time someone learned that what they'd been told about their family was false.
No doubt changing Rey's parents would please a portion of the Star Wars fanbase, although I do hope that Star Wars: Episode IX doesn't go all out on retconning every element of Star Wars: The Last Jedi that was deemed controversial. At the very least, if Rey's parents were actually identified and even declared to still be alive, she would at least have the opportunity to reunite with them, something she was desperate to do in The Force Awakens. On the other hand, The Last Jedi was about Rey proving her self-worth and skill, and how she didn't need a notable family line to become a Jedi/Resistance hero, so reversing all that undercuts the message.
In any case, Rian Johnson's time with this era of Star Wars movies is done, but once he's finished making Knives Out, he'll shift to his own Star Wars trilogy, which will focus on new characters and explore other corners of the galaxy far, far away. As far as Episode IX is concerned, he'll watch it just as a normal fan would (though I suspect he'll get to attend one of the earliest screenings), and if J.J. Abrams has retconned anything that Johnson set up in The Last Jedi, Johnson will be okay with it so long as he's entertained and thrilled.
In addition to being the final installment of the current Star Wars trilogy, Star Wars: Episode IX will also be the final chapter of the entire Skywalker Saga, so there's a lot of plates this movie has to spin. The only official plot detail revealed so far is that it will take place one year after The Last Jedi, which ended with The Resistance nearly being wiped out by The First Order, but the few survivors, including Rey, managing to escape to fight another day. Along with a swarm of familiar faces returning for Episode IX, including Daisy Ridley, John Boyega, Oscar Isaac, Adam Driver, Mark Hamill and, for his first Star Wars movie appearance in nearly 40 years, Billy Dee Williams, the cast also includes newcomers like Keri Russell, Naomi Ackie, Richard E. Grant and Dominic Monaghan.
While there's always the chance that Daisy Ridley and the other stars of the current Star Wars trilogy could perhaps return to this franchise several decades down the line, just like Mark Hamill, Carrie Fisher and Harrison Ford did, since Episode IX is wrapping up the Skywalker saga, that means fans should go in assuming this will be the last time we see all these characters. Here's hoping then that each of their stories concludes in a satisfactory manner, and that if Rey's background is indeed altered, it at least blends nicely with her overall narrative arc and doesn't come off as a haphazard switch meant to please folks who were angered by the reveal in The Last Jedi.
Star Wars: Episode IX will be released in theaters on December 20. As for what else is hitting the silver screen in the near future, look through our 2019 release schedule for that information, and Star Wars fans shouldn't forget that The Mandalorian will also premiere on Disney+ in the near future, maybe even by the end of the year.
Your Daily Blend of Entertainment News
Connoisseur of Marvel, DC, Star Wars, John Wick, MonsterVerse and Doctor Who lore. He's aware he looks like Harry Potter and Clark Kent.