Avengers: Endgame Red Carpet Censors Gwyneth Paltrow After Slipping Up With A Spoiler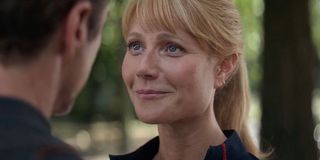 If you're a part of a superhero movie, then you always need to be careful about not revealing spoilers ahead of release. The cast of Avengers: Endgame, though, have had to work extra hard not to accidentally reveal anything to the public, and despite trying hard not to do so, Gwyneth Paltrow, a.k.a. the Marvel Cinematic Universe's Pepper Potts, accidentally let something slip, requiring the Marvel censors to get involved.
Gwyneth Paltrow was one of the many celebrities to attend the Avengers: Endgame world premiere yesterday, and while on the red carpet, she was asked about her final day of shooting, i.e. when she knew the endgame was indeed the endgame. She responded:
The actress then looked to Iron Man director and Happy Hogan performer Jon Favreau and asked him if she could say that, prompting him to answer, "I don't know," which then led to her saying "Oh shit!" This moment can still be seen on the video presenting the full Avengers: Endgame red carpet event, but if you watch the video highlighting just Gwyneth Paltrow, the part where she mentions the casts of multiple movies has been cut out.
It's obviously common knowledge that Avengers: Endgame has a stacked cast, from the original six of Earth's Mightiest Heroes to the likes of Captain Marvel and Ant-Man. However, Gwyneth Paltrow's comment reveals that there will be a moment in Endgame that has the largest collection of MCU characters together ever, something that not even Avengers: Infinity War delivered last year.
How will this be accomplished? It likely involves all the characters who were dusted at the end of Avengers: Infinity War. All of those actors have played coy about whether or not their characters will actually be brought back to life, but it's basically a given that most, if not all of the dusted heroes will be brought back, namely because folks like Spider-Man and Black Panther have sequels on the way. Once you throw them into the equation, such a huge gathering is possible, though that doesn't make it any less cool to see on the big screen.
In the grand scheme of things, Gwyneth Paltrow's comment is a minor slip-up at best, but Marvel doesn't take any chances. The studio has been very keen on revealing as little as possible about Avengers: Endgame, to the point that Scarlett Johansson said that the press tour was making her lose sleep out of fear she said something she wasn't supposed to.
It's also worth noting that this isn't the first time time Gwyneth Paltrow has dropped a potential Avengers: Endgame spoiler. Last year, shortly after Avengers: Infinity War came out, she noted that Tony Stark and Pepper Potts' relationship evolves to the point that they're married and have a child. We already knew that the couple had nuptials on the calendar, but evidently these two will also be parents when we reunite with them.
All we know about Avengers: Endgame for certain is it will see the surviving Avengers, Guardians of the Galaxy and other heroes banding together to try and undo the genocide Thanos unleashed with the snap of his fingers. Their initial plan to accomplish this is to steal the Infinity Stones from the Mad Titan and harness their power for themselves, but we have no idea if the protagonists will be successful doing this, let alone what else is in store for the movie.
Avengers: Endgame finally bows in theaters on the evening of Thursday, April 25, but rest assured that we here at CinemaBlend will have plenty more coverage of the movie in the weeks to follow. For now, you can learn what the MCU's future looks like by looking through our handy guide.
Connoisseur of Marvel, DC, Star Wars, John Wick, MonsterVerse and Doctor Who lore. He's aware he looks like Harry Potter and Clark Kent.
Your Daily Blend of Entertainment News
Thank you for signing up to CinemaBlend. You will receive a verification email shortly.
There was a problem. Please refresh the page and try again.