Avengers: Endgame Reviews: What CinemaBlend Thought Of Marvel's Big Finale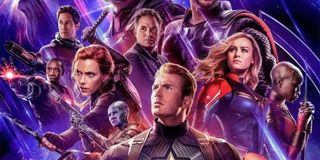 It's been almost exactly 11 years since the experiment that came to be known as the Marvel Cinematic Universe was born with Iron Man. 22 movies later, the stories of many of our favorite heroes come to a head in Avengers: Endgame. For those that have been on this ride since the beginning, expectations are incredibly high, but for the most part, everybody at CinemaBlend agrees that the film met those expectations, and largely exceeded them.
Nobody would agree with that sentiment more than Cinemablend Events Editor Eric Eisenberg. He wrote the official review for Avengers: Endgame, and he awarded it the first perfect five-star review of the year, saying...
That's some strong praise, to be sure, but it's not the only praise coming from the team here. Managing Director Sean O'Connell loved Endgame so much that he can barely believe he actually saw it.
It's hard to believe that so much has happened in barely over a decade. 11 years ago, nobody knew if this idea, bringing comic book style cross-title continuity to the big screen, would actually work. Not only did fans accept it, they embraced it, and the MCU has become the biggest franchise in the history of cinema.
The hardest part of creating any story is probably figuring out where to start, but coming close behind that is figuring out how to finish it. Avengers: Endgame had to do more than most. It had to bring not just one story, but several, to a satisfying conclusion. The film succeeds remarkably well. Senior Movie Contributor Mike Reyes lays the congratulations at the directing pair of Joe and Anthony Russo as well as screenwriters Christopher Markus and Stephen McFeely, who have largely been responsible for the entire third phase of the MCU.
For fans who want to have the experience of watching Avengers: Endgame cold, avoiding accidental spoilers can be a tricky game. The good news, as GatewayBlend Project Manager Cody Beck points out, is that even if you've seen the film's official trailers, you really don't know anything.
For those who have been following the MCU from the beginning, who have been along this journey for every step, there's a definite feeling of finality here. This is the end of the road, even if we don't know exactly how. We all know going in this will be an emotional experience. Marketing Editor Adrienne Jones, admits that it is exactly that, and cautions fans to properly prepare in order to not miss a moment.
While nobody at CinemaBlend had any issues with Avengers: Endgame that made it an out right bad experience, that's not to day that everybody thought it was perfect. News Director Jessica Rawden would still agree the movie was an impressive accomplishment, though it's also an impressively long accomplishment, and she disagrees with Adrienne regarding the importance of bladder control.
If one thing is clear, it's that fans of the Marvel Cinematic Universe are likely to have an wonderful time with this movie that culminates three phases of storytelling. However, CinemaBlend VP of Product, Mack Rawden, maybe isn't the world's biggest MCU fan, and as such his enjoyment of the film was somewhat tempered.
Avengers: Endgame may not technically be the final chapter of Phase Three of the Marvel Cinematic Universe, but it is still the end in many ways. However, Endgame isn't just the final part of the story, it's also a celebration of every chapter that came before. This is why fans who remember all those pieces will be rewarded for being there every step along the way.
As far as myself, I largely fall in line with those that were simply taken by surprise by just how well Avengers: Endgame handled its impressive responsibility. The film will likely give fans exactly what they want, and while that may frustrate some who are looking for more surprises, there's nothing ultimately wrong with getting everything you ever wanted.
Whatever you think of the Marvel Cinematic Universe, the sheer fact that the franchise has succeeded to this point is impressive, and a moment worthy of note in cinema history. What comes next? Nobody knows, except maybe Kevin Feige, and he's not talking.
Your Daily Blend of Entertainment News
Content Producer/Theme Park Beat
CinemaBlend's resident theme park junkie and amateur Disney historian. Armchair Imagineer. Epcot Stan. Future Club 33 Member.
Your Daily Blend of Entertainment News
Thank you for signing up to CinemaBlend. You will receive a verification email shortly.
There was a problem. Please refresh the page and try again.