Will Avengers: Endgame Dethrone Avatar As The Highest-Grossing Movie Of All Time?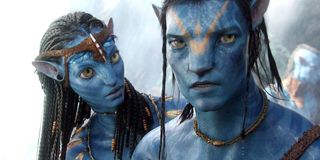 We knew Avengers: Endgame would do well. But this well already? Some folks scoffed at the idea of a $800 million worldwide opening weekend. Instead, Endgame scoffed at a $1 billion global opening and did even better than that.
Since Avengers: Endgame opened to a worldwide weekend gross of $1,209,000,000, does it stand a chance of topping Avatar as the highest-grossing movie of all time (not adjusting for inflation)? There's a poll below, after a bunch of number-crunching, so feel free to skip right to your answer if you already have a yes/no prediction ready.
Here are the domestic, foreign, and total box office numbers for Avatar, which came out 10 years ago:
That worldwide total of $2,787,965,087 is the biggest number to beat. For Endgame. For anyone.
Here are the domestic, foreign, and total box office numbers so far for Avengers: Endgame as of April 28, after first opening in some markets (including China) April 24, and officially in the U.S. on April 26.:
As you can see for Avatar, it was the foreign box office that really elevated the film to great heights with more than $2 million alone from international markets. Based on Box Office Mojo's numbers, it looks like China gave Avatar its biggest boost with $204,129,854. China has already passed that for Avengers: Endgame in less than a week. But since the movie is already out in China, you can't say we're building up to a big China release. So how much further can it go from here?
There are voices of caution who don't think Avengers: Endgame will pass Avatar. More than doubling this opening weekend will not be an easy feat. And, as some have pointed out, if you look at the current list of the top grossing movies of all time, the top three were all released in December:
Is December the magic month? I don't think Avengers: Endgame's April release is going to hurt it too much on that front, but time will tell. The #4 movie of all time is Avengers: Infinity War, which opened last April and just missed the worldwide cut to top Star Wars with its $2,048,359,754 worldwide gross. And yet ... Avatar made $740 million more than that, and that's not nuthin.
After that top four, the top-grossing movies include other spring/summer releases -- Jurassic World, Marvel's The Avengers, Furious 7, and Avengers: Age of Ultron. Then there's Black Panther, which opened in February, formerly considered a box office dead zone, and it made $1.3 billion.
There's a lot of competition heading to the box office this summer, from Godzilla: King of the Monsters to Toy Story 4 and beyond. But I think it's safe to expect Avengers: Endgame to pass $2 billion worldwide, at least, and if that happens it would automatically make it the #5 highest-grossing movie of all time, above Jurassic World.
I do think Endgame will top Avengers: Infinity War's $2,048,359,754 total -- it's as close to an apples to apples comparison as we can get, and there's even more hype for Endgame. Some fans have already seen the movie multiple times, thanks to movie theaters basically running Endgame 24/7, or close enough, to make the coin. It feels like one of the biggest cinematic events of our lives and many people will be honoring that with multiple trips to the theater, perhaps even specifically to help it pass Avatar.
That said, Avengers: Endgame is a bit longer than Infinity War, and that might mean slightly fewer runtimes as we move forward and it dominates fewer screens. After all, Detective Pikachu and John Wick 3 are going to need to play on some screens very soon.
Everyone is throwing numbers around right now, but according to Box Office Mojo's early projections, Avengers: Endgame could make as much as $920 million domestically if it follows the pattern of Infinity War.
Infinity War had a total domestic gross of $678.8 million, so $920M would be much higher. However it would also be just shy of Star Wars: The Force Awakens' current record domestic gross of $936.6 million. Where The Force Awakens lost the overall total game to Avatar was at the foreign box office, since the Star Wars movie "only" made $1.1 billion there. Titanic made $659.3 million at the domestic box office and $1.5 billion worldwide to take second to Avatar. (Pause to marvel once again at James Cameron for his double win.)
CinemaBlend's own Cody Beck decided to quickly crunch the Box Office Mojo numbers for his own projections, and here's what he came up with:
Yeah, I don't think we're looking at a $4 billion movie! But you can see how everyone is doing their own calculations and coming up with different projections, based on different metrics. So now it's your turn. Whether you have crunched any numbers or are taking a wild guess, there are two main options -- Endgame will pass Avatar, or it will not. If we were adjusting for inflation, the question might be about Gone with the Wind, but tomorrow is another day on that front. Now vote:
This poll is no longer available.
Gina grew up in Massachusetts and California in her own version of The Parent Trap. She went to three different middle schools, four high schools, and three universities -- including half a year in Perth, Western Australia. She currently lives in a small town in Maine, the kind Stephen King regularly sets terrible things in, so this may be the last you hear from her.
Your Daily Blend of Entertainment News
Thank you for signing up to CinemaBlend. You will receive a verification email shortly.
There was a problem. Please refresh the page and try again.