What Will Happen To Disney's X-Men Franchise After Dark Phoenix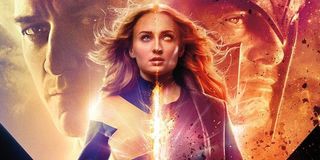 With Disney's acquisition of Fox officially completed in late March, X-Men: Dark Phoenix will be the first official X-Men film to premiere under the Marvel and Disney umbrella. From there, fans have been given a bit of information on what's next for the X-Men, but only in the form of release dates for films. As many may know, however, dates can always change and movies can be cancelled, so what will happen to the X-Men following Dark Phoenix?
We do have some answers, and some healthy speculation that explores how Disney and Marvel may incorporate the Mutants into its Phase 4 plans. We also have a history of the franchise from the time it left Marvel to its return, which provides context and explains why the answers behind the future of the X-Men franchise aren't easy to assume.
The X-Men Franchise Under Fox
The year was 1993, and Marvel was far from the financial powerhouse it is today. As a way to stay afloat and get some cash, the comic company sold the movie rights of its heroes to film studios, such as Spider-Man to Sony, and of course, the X-Men and Fantastic Four franchise to 20th Century Fox. The decision was based, in part, due to the studio's success with X-Men: The Animated Series, which premiered in 1992.
The first Fox X-Men movie wouldn't hit theaters until 2000, and would prove to be a massive hit, making $296 million at the box office on a $75 million budget. There would be two financially successful direct sequels, both of which would more heavily revolve around the star of its spinoff films Hugh Jackman. Folks loved Wolverine, and still do to the point fans hoped he'd reprise his role when the Disney and Fox deal went through.
Wolverine would continue to be the Marvel franchise's sole spinoff character until 2011, when X-Men: First Class introduced another commercially successful spinoff to the mix. In 2014, Deadpool was introduced, and fundamentally changed Hollywood's perception on the commercial viability of R-rated features for superheroes.
While Fox's X-Men movies were commercially successful, there was little consistency in the acclaim between X-Men films. Additionally, the franchise's timeline was a bit of a mess, despite the best efforts by X-Men: Days of Future Past to marry the worlds of the original cast and the First Class cast. It apparently wasn't a big deal for Fox for it all to make sense at the time, although it is a factor that may come into play later.
The X-Men Franchise Under Disney
While Fox was making oodles of X-Men movies off of Marvel's characters, the original company had finally found some ground in the film world via Iron Man. Marvel's success caught the attention of Hollywood, including Disney, who successfully acquired Marvel Studios a little over a year after Iron Man's release date. With the massive purchasing power of Disney behind it, Marvel was in a great position to purchase back the rights for some of its characters.
Disney got to work and successfully navigated deals with Sony to get Marvel Studios involved in Spider-Man, and also has a right of first refusal with Universal should the studio ever want to collaborate on another Hulk film. To say Disney was explicitly interested in purchasing Fox for the X-Men isn't entirely true, as the Avatar franchise and television franchises (including sports) under the umbrella will give plenty of value as well.
There was a slight competition between Disney and Comcast for Fox, but the House of Mouse won out in the end and got the X-Men and Fantastic Four franchise back for Marvel. The two movies Fox had in-development, X-Men: Dark Phoenix and New Mutants, had both been postponed prior to the acquisition.
Now, Dark Phoenix is slated to be released on June 9, but New Mutants has been pushed back to a release in April of 2020. Additionally, Fox's long in-development spinoff that highlights the mutant Gambit has officially been shelved. The movie had yet to get some serious traction for quite some time, and had various issues since the idea was first proposed over a decade ago. In short, Disney's decision to effectively kill the movie isn't all that surprising.
The Future Of X-Men
After X-Men: Dark Phoenix premieres, there's a question of what will happen to the rest of the Marvel franchise. There's been curiosity as to whether Marvel Studios will incorporate the existing cast into the MCU, and some or all of the heroes will make an appearance in Phase Four. It's certainly a possibility, although some skeptics believe that Marvel might opt for a full-scale reboot due to the inconsistent timeline of the franchise potentially tainting its carefully crafted universe.
The release of Avengers: Endgame and recent revelations from Spider-Man: Far From Home somewhat deepen the mystery, as there's a potential way for the X-Men franchise to exist within the MCU in the form of a separate multiverse. This would mean that the X-Men are in a parallel universe from the rest of the MCU, which would prevent any of its events or confusing timelines from invading on the rest of the MCU.
The good news, is that if Phase Four includes the multiverse, it's already been heavily implied that characters can travel between them. This, of course, means the X-Men could theoretically one day fight alongside (or against) the Avengers, and that War Machine could appear alongside Deadpool like Don Cheadle has been hoping for. Provided this is what Marvel has planned, it's the perfect situation where Disney can have the cake, and eat it too.
Again, though, nothing is certain and Disney and Marvel could also just keep the X-Men separate from the rest of the MCU, or do a reboot of the franchise entirely sometime after X-Men: Dark Phoenix or New Mutants. It could also establish an entirely new set of Mutants exclusive to the MCU, considering Scarlet Witch and her brother Quicksilver were technically mutants. These days, nothing seems entirely off the table with Disney and Marvel.
As mentioned, Marvel and Disney are set to release X-Men: Dark Phoenix in theaters Friday, June 7. CinemaBlend will report on the X-Men's future with Marvel as more updates become available, so continue to read our content for the latest and greatest news in movies, television, and pop culture.
Your Daily Blend of Entertainment News
Mick likes good television, but also reality television. He grew up on Star Wars, DC, Marvel, and pro wrestling and loves to discuss and dissect most of it. He's been writing online for over a decade and never dreamed he'd be in the position he is today.