Marvel Phase 4: What We Know About The Movies Coming After Avengers 4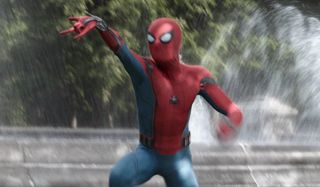 Over the course of a decade, Marvel Studios managed to accomplish a feat that no other movie franchise had even attempted before it: assembling a cohesive cinematic universe featuring multiple branch series, major crossover events, and a maintained continuity. What's been created has become one of the biggest phenomenons in the history of pop culture... and it's far from wrapping things up. There are still many years ahead for the Marvel Cinematic Universe, and it begins with what's being built over the next few years as Phase Four.
Unlike what Marvel did for the beginning of Phase Three, when they held a big press event announcing their future plans, the company has yet to officially announce the majority of their upcoming slate. That being said, through various official releases, news items, and quotes we have been able to piece together at least some of what's going on behind-the-scenes. What do we know right now? Read on and find out.
Spider-Man: Far From Home -- July 5, 2019
The first Marvel Cinematic Universe feature to be released after the events of Avengers 4 is actually the only Phase Four project that currently has an official release date. After earning rave reviews for his work on Spider-Man: Homecoming, director Jon Watts is back at the helm, and it's been confirmed that the story will pick up literally minutes after the end of the big Joe and Anthony Russo-directed blockbuster bonanza that is coming out in May 2019.
Peter Parker (Tom Holland) will somehow be alive again at the start of the movie - a reversal of the events that took place at the end of Avengers: Infinity War - and as the title suggests he won't be hanging around Queens, New York all that much. Instead, the story featured in Spider-Man: Far From Home will have the wall-crawling hero swinging his webs around various locations throughout Europe. He, apparently, won't have the assistance of Tony Stark/Iron Man (Robert Downey Jr.) in this one, but he will have some notable Marvel Cinematic Universe veterans as allies: Nick Fury (Samuel L. Jackson) and Maria Hill (Cobie Smulders), who were also dusted by the end of Infinity War.
On the villain front, Spider-Man: Far From Home will take a page out of Spider-Man: Homecoming's playbook and introduce a villain that audiences have not yet seen depicted in live-action. Specifically, Jake Gyllenhaal is on-board to play the special effects-loving antagonist Quentin Beck a.k.a. Mysterio. It's not yet been revealed exactly how he will fit into the plot regarding Peter Parker's European vacation, but we're excited to find out.
For a more in-depth look at what to expect from Spider-Man: Far From Home, be sure to check out our What We Know So Far guide.
Black Panther 2
While Marvel Studios has had no trouble breaking box office records, Ryan Coogler's Black Panther went far beyond anything experts were expecting. Released in early 2018 and expected to serve as an appetizer for Avengers: Infinity War, the film instead managed to out-gross the massive team-up movie domestically, and is not only the biggest Marvel movie ever released in the United States, but is also the third highest grosser the country has ever seen.
We pretty much always expected that Black Panther 2 was going to be in the cards for Phase Four, long before any of the box office numbers, but Marvel Studios made it official in mid-October 2018. It was at that time that it was officially announced that Marvel Studios had made a deal with Ryan Coogler to return to the helm - presumably making him an offer that would have been just impossible to refuse.
Right now we don't actually know where Black Panther 2 is going to fall among the various upcoming Marvel Studios movies, and as a result we really don't know anything about what to expect plot-wise. It certainly doesn't help that we have no idea where Avengers 4 is going to leave things, and that the titular hero turned to dust the last time we saw him on the big screen.
That being said, the expectation is not only that Black Panther 2 will bring back Chadwick Boseman as T'Challa/Black Panther, but also the bulk of the original's ensemble - if not just because of how immensely popular they were. This is a list that includes Danai Gurira (Okoye), Lupita Nyong'o (Nakia), Letitia Wright (Shuri), Winston Duke (M'Baku), Daniel Kaluuya (W'Kabi), and Angela Bassett (Ramonda).
For a more in-depth look at what to expect from Black Panther 2, be sure to check out our What We Know So Far guide.
Black Widow
It's kind of surprising to think about, but Scarlett Johansson's Black Widow was one of the earliest heroes introduced in the Marvel Cinematic Universe, and the third member of the Avengers to make an appearance in live-action (behind Iron Man and Hulk). That being said, her action has been entirely limited to supporting roles. She got her start in Iron Man 2; followed that up with The Avengers; paired with Steve Rogers for Captain America: The Winter Solider; did the team-up thing again in Avengers: Age of Ultron; was one of many key parts of Captain America: Civil War; and then fought against Thanos' forces in Avengers: Infinity War.
That's a lot of history, and now it's being rewarded with a special solo film.
Fans have been clamoring for years, demanding a Black Widow movie, and it looks like they will all get their wish as part of the Marvel Cinematic Universe's Phase Four plans. Of course, when exactly it will be hitting theaters is currently one of the biggest mysteries surrounding the feature. One thing we do know for sure is who is taking the helm of the blockbuster, as the studio has hired filmmaker Cate Shortland as director. The Australian filmmaker doesn't exactly have a long history of blockbusters on her resume, but the reality is that that's basically the description of everyone that makes an MCU movie nowadays.
There have been rumors about Black Widow being a period piece, but they have yet to be substantiated. The truth is that we don't know much about the project right now, but you can be sure that you'll be able to find all of the latest updates here on CinemaBlend.
The Eternals
Because it doesn't look like Marvel Studios is going to start releasing four movies a year any time soon, part of the challenge of Phase Four is going to be balancing sequels and original creations. Fans love to see continuing adventures of their favorite characters, but the only way to prevent things from ever feeling stale is to constantly inject key doses of new. We expect that there will ultimately be a nice split between the two kinds of projects on the upcoming slate, and while most of the non-follow-ups are being kept a secret for now, one we definitely know is happening is The Eternals.
In the same way that nobody expected Marvel to release Guardians of the Galaxy back in 2014, this is a project that is kind of coming together out of left field - though it should do a nice job further solidifying the cosmic side of the cinematic universe. The Eternals were creations of writer/artist Jack Kirby, who established them as a fictional race of alien super beings that were evolved from protohumanity.
The reason why we know this project is coming together is because Marvel Studios has already hired a filmmaker to make it. According to a September 2018 report, Chloe Zhao - another blockbuster novice - has been hired to make the Eternals movie. The feature will be the third that Zhao's has made, following the 2015 drama Songs My Brothers Taught Me, and the 2018 western The Rider.
Continuing the Marvel Cinematic Universe tradition of matching comic book movie action with different genres, it's been said that there will be a bit of romance involved in the narrative, particularly the relationship between the heroes Ikaris and Sersi. That being said, it's worth mentioning that the franchise has already introduced an Eternals character, as Thanos is actually a member of that powerful alien race.
Will The Eternals be one of the first features developed as Phase Four, or will be be held for the back half? Time will tell.
Doctor Strange 2
Like Black Panther 2, the idea of doing a Doctor Strange 2 in Phase Four is kind of a no-brainer - and a future development that most fans could have predicted far before the first movie came out in late 2016. Still, it didn't hurt that the Scott Derrickson-directed blockbuster made $677.7 million globally when it was released, and surely solidified any plans that Marvel was thinking about. Now we can say for certain that there are plans for a follow-up that are definitely in the mix.
Marvel Studios President Kevin Feige himself confirmed that Doctor Strange 2 is in the works during the press tour for Ant-Man And The Wasp. While speaking with CinemaBlend during the Los Angeles press junket, the executive/producer noted that there definitely will be a sequel for Benedict Cumberbatch's would-be Master Of The Mystic Arts, but explained that it would be a few years before it got made. Of course, that was before the whole situation with James Gunn and Guardians of The Galaxy Vol. 3 - which we'll get into in a minute.
Unlike Black Panther 2, which doesn't currently have a super obvious story to tell, there are certain things that we can probably assume will be included in Doctor Strange 2 (including the titular character, again, in spite of events from Avengers: Infinity War). Namely there is the potential return of Karl Mordo (Chiwetel Ejiofor), who we last saw swearing that he was going to basically put an end to the art of sorcery by killing all sorcerers. That was a pretty big cliffhanger in the post-credits of the original Doctor Strange, and it would be really disappointing if it didn't wind up having any kind of satisfying conclusion (which Marvel surely knows).
At this time we aren't entirely sure who is going to take the helm of Doctor Strange 2, as we have not yet heard an official announcement from Marvel Studios, but the smart money is on Scott Derrickson. The first Doctor Strange not only earned a ton of money, but also rave reviews from critics, and those kinds of results are typically rewarded with the job of helming the sequel.
There has been some suggestion that Doctor Strange 2 could wind up getting fast-tracked, so be on the lookout for a lot more updates about the project, particularly in the coming months.
Guardians Of The Galaxy Vol. 3
Prior to summer 2018, Guardians of the Galaxy Vol. 3 seemed like a perfect slam dunk. Both the first and second Guardians of the Galaxy features were absolutely massive successes in their respective years of release, and few Marvel filmmakers earned as much respect as James Gunn for his vision constructing the series. Gunn had completed a screenplay for the film, and there were plans in place to start filming in early 2019 for release in 2020. Then, however, The Tweets were dug up.
Taking issue with James Gunn's political opinions, conservative outlets dug up old posts that the writer/director had written on Twitter that featured inappropriate humor, and as a result Marvel Studios fired him. This action resulted in a great deal of consternation, including an open letter from the Guardians of the Galaxy cast requesting Gunn's reinstatement, but the firing was finalized in early fall 2018.
As a result of the situation with James Gunn, Guardians of the Galaxy Vol. 3 is a project that now remains in limbo and without a director. Individuals who had been hired to do early work for the production were let go and told to pursue other work in late August 2018, and it no longer appears that the film will be hitting the 2020 release date that the writer/director had initially promised. That being said, it doesn't appear that Marvel Studios is just canning the project, and there has been talk that whoever winds up taking the helm will be using the script that Gunn already finished.
When will Guardians of the Galaxy Vol. 3 be able to get back on its feet? What director is going to be willing to take the job? How will the cast ultimately handle the big shakeups? These are all questions that currently have no answers, but we're constantly on the lookout for them.
Your Daily Blend of Entertainment News
Assistant Managing Editor
NJ native who calls LA home and lives in a Dreamatorium. A decade-plus CinemaBlend veteran who is endlessly enthusiastic about the career he's dreamt of since seventh grade.
Your Daily Blend of Entertainment News
Thank you for signing up to CinemaBlend. You will receive a verification email shortly.
There was a problem. Please refresh the page and try again.