Yes, Spider-Man: Far From Home Definitely Is Bringing The Multiverse To The MCU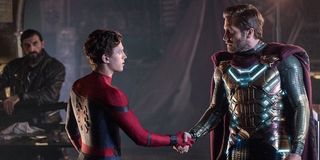 This morning, the second trailer for Spider-Man: Far From Home was released, and with it came a major, post-Avengers: Endgame revelation: there's now a multiverse within the Marvel Cinematic Universe franchise. Although we've visited different dimensions before in movies like Ant-Man and Doctor Strange, now the door is open for these movies to explore parallel Earths, and Jake Gyllenhaal's Mysterio says he hails from one of these other Earths.
Of course, given that Mysterio's M.O. is fooling people, one would be faulted for being initially skeptical about his claim about not being from our Earth, but Spider-Man: Far From Home director Jon Watts is assuring fans that the Web-Slinger's latest movie is indeed bringing the multiverse into play. In his words:
The world has changed in the wake of Avengers: Endgame, and not just Iron Man and Black Widow are dead, Captain America is retired and those who were snapped away during The Decimation five years ago are back and didn't age. Evidently one of the Snaps (Nick Fury doesn't specify which one in the preview) tore a hole in our dimension, and Quentin Beck, a.k.a. Mysterio, was somehow transported from his Earth to ours as a result.
Of course, just because there is a proper multiverse to work with now doesn't mean that Mysterio really comes from another Earth. After all, for decades in the comics and other media, he's antagonized Spider-Man using illusions, hypnotism, weird gadgets and all-around trickery. Maybe Jake Gyllenhaal's version of the character is also a charlatan hiding the truth about his past.
For now, though, we must look at Mysterio as an inhabitant from another Earth in Spider-Man: Far From Home. As for how the rules of the MCU's multiverse differ from the ones laid out for Spider-Man: Into the Spider-Verse's multiverse, Jon Watts wasn't willing to delve into specifics later in his interview with Fandango, saying:
Jon Watts also clarified that the Elementals Peter Parker is teaming up with Mysterio to fight hail from the "same sort of parallel dimension" as Mysterio does. That said, if Mysterio is indeed lying about who he is like I suspect, don't be surprised if these Elementals are part of his elaborate ruse.
Looking to the overall MCU multiverse, it's obviously a game-changer for the franchise. Now major characters can come from different Earths and we can meet doppelgängers of characters we've already met on this Earth. We'll have a better idea of how this concept will be utilized once Spider-Man: Far From Home is released, but now it makes a lot more sense why this is the final installment of Phase 3 rather than Avengers: Endgame.
Spider-Man: Far From Home swings into theaters on July 2, so stay tuned to CinemaBlend for continuing coverage. In the meantime, don't forget to look through our 2019 release schedule to find out what else is hitting the silver screen later this year.
Connoisseur of Marvel, DC, Star Wars, John Wick, MonsterVerse and Doctor Who lore. He's aware he looks like Harry Potter and Clark Kent.
Your Daily Blend of Entertainment News
Thank you for signing up to CinemaBlend. You will receive a verification email shortly.
There was a problem. Please refresh the page and try again.