Spider-Man: Far From Home's Trailer Has A Cool Easter Egg Tying To Peter Parker's Origin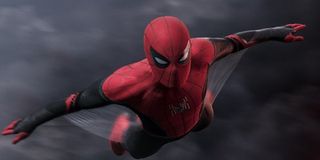 When Spider-Man was rebooted for the MCU, we didn't get another cinematic depiction of the character's origin. Tony Stark and the audience met Peter Parker when he had already been Spider-Man for six months, and that meant no radioactive spider bite, no Uncle Ben death and no testing out of his powers. But Marvel movies are treasure troves for eagle-eyed fans, and the most recent trailer for Spider-Man: Far From Home has a cool Easter egg tying to Peter Parker's origin. Check it out:
In this frame from the trailer, Happy Hogan is telling Peter Parker that he shouldn't ghost Nick Fury, but this humorous exchange isn't the only thing of note. Behind Happy is a poster for wrestler Crusher Hogan. If that name doesn't sound familiar to you, Crusher Hogan is the wrestler that Peter Parker tussled with in the comics not long after he got his powers.
Joseph "Crusher" Hogan was a shoot wrestler that offered $100 (as you can see on the sign) to whoever could last in the ring with him for three minutes. Sadly for Crusher Hogan, a young Peter Parker wanting to test his new powers took him up on the challenge. In the first formal use of his abilities, Peter wore a mask to hide his identity and proceeded to humiliate and defeat Crusher Hogan in the ring.
This was basically the role that Randy Savage's "Bonesaw" McGraw fulfilled in Sam Raimi's Spider-Man, but Crusher Hogan was the comic book inspiration for the Macho Man's character.
We may have never gotten to see Tom Holland's Peter Parker go through this part of his origin, but this poster in Spider-Man: Far From Home is a fun Easter Egg that honors that origin and hints that it may have indeed happened in this universe. It's also funny that the character in the frame with the wrestler's poster is Happy Hogan, who shares a last name with the Crusher.
Who knows, maybe Happy and Crusher are related in this universe. If so, maybe Peter did wrestle Crusher Hogan and Happy was either there to witness it or heard about it from his family member afterward. That could be how Spider-Man first got on Tony Stark's radar; he got a tip from Happy. It would also explain why this poster is here, years after that match would have theoretically happened.
It's intriguing to think about and maybe Spider-Man: Far From Home will shed some light on it. But even if it is nothing more than an Easter egg, it's still a cool one that ties back to the character's lowly beginnings, long after he has fought aliens in space.
This Easter egg wasn't the only point of discussion to come out of the new Spider-Man: Far From Home trailer. The reveal that the events of Avengers: Endgame have brought the multiverse to the MCU is huge and has major implications for this universe going forward.
We'll see the beginning of those repercussions when Spider-Man: Far From Home brings Phase 3 to a close on July 2. Check out our 2019 Release Schedule to keep track of all the biggest movies headed to theaters this summer.
Nick grew up in Maryland has degrees in Film Studies and Communications. His life goal is to walk the earth, meet people and get into adventures. He's also still looking for The Adventures of Pete and Pete season 3 on DVD if anyone has a lead.
Your Daily Blend of Entertainment News
Thank you for signing up to CinemaBlend. You will receive a verification email shortly.
There was a problem. Please refresh the page and try again.