Brightburn Reviews Are In, Here's What The Critics Think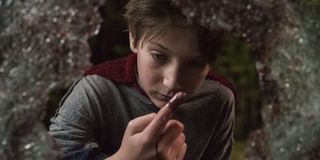 The last several years have been good to superhero movies and horror movies, as those genres have delivered many cinematic offerings that have been met with critical and/or commercial success. This weekend, the two genres are being merged together for Brightburn, the twisted, R-rated story during by David Yarovesky and produced by James Gunn that shows what would happen if a Superman-like figure became a force for evil, using superpowers like super strength, flight and heat vision to wreak havoc on humanity.
With Brightburn only days away from release, reviews for the movie have started coming in, and it looks like it's fallen into mixed territory, with some appreciating the story and others being underwhelmed by it. CinemaBlend's own Eric Eisenberg gave Brightburn 4 out of 5 stars in his review, saying that it's not filled with "big, complex contemplations," but nonetheless succeeds in delivering a number of "fantastic shudder/scream-inducing sequences" and boasting a great cast.
io9's Germain Lussier wasn't as kind towards Brightburn, writing in his review that although he would have watched a sequel right after Brightburn concluded, overall it's a "poorly told story." While Brightburn works within the horror genre structure in how it shows the young Brandon Beyer giving in to his dark impulses and some of the later payoffs and reveals are "satisfying," the movie as a whole suffered from poor execution, which Lussier speculates might have been fixed had James Gunn directed.
Back on the more positive end of the spectrum, Witney Seibold from IGN awarded Brightburn a 7.1 out of 10 score. Seibold noted that many of us have similarly deconstructed Superman, which might make the movie feel "weirdly familiar," and that rather than providing dark commentary on how power corrupts, Brightburn plays out like a standard slasher, making for a "perfectly entertaining" experience.
Conversely, The Wrap's Robert Abele was disappointed by Brightburn, saying that its idea of showing an evil Superman isn't enough to sustain an entire movie and will not please "either horror aficionados or even a caped-crusader fandom hungry for variations on the theme." The main character is unremarkable and there's little weight to the actions his parents take when trying to stop his rampage.
Chris Evangelista from Slashfilm was more receptive towards Brightburn, stamping a 7.5 out of 10 score on it and calling it a "bleak, brutal subversion of the Superman mythos" that works. As mentioned earlier, this isn't a story where redemption is on the table, and Evangelista notes that there a "nihilistic streak" that reminded him of the Rob Zombie Halloween remake. While Elizabeth Banks' part is "disappointingly underwritten," it's David Yarovesky's direction that keeps Brightburn "flying high."
The AV Club's Jesse Hassenger was among those underwhelmed by Brightburn, giving it a C- grade. In Hassenger's opinion, the movie doesn't have a "modicum of wit or insight on its human side," resulting in Brandon's parents being terribly predictable, and Brandon himself fails to be interesting. Ultimately, Hassenger saw Brightburn primarily as a dunk on Zack Snyder's depiction of Superman in the DC Extended Universe.
Finally, William Bibbiani from Bloody Disgusting bestowed Brightburn a 3.5 out of 5 score, calling it a "exceedingly clever genre mash-up," albeit a gross one, both literally and figuratively. The movie also doesn't feel quite "genuine," and it's Brandon's parents that infuse a sense of humanity in the proceedings, but Bibbiani concludes that after watching Brightburn, you'll be left wanting more, signifying franchise potential.
These are just some of the reviews out for Brightburn, so feel free to venture into other corners of the internet find out what other critics are saying. Overall, it sounds like Brightburn won't be everybody's cup of tea, but there are at least a scattering of moments for comic book and/or horror fans to enjoy.
Brightburn's main cast includes Jackson A. Dunn, Elizabeth Banks, David Denman, Matt Jones, Meredith Hagner, Steve Agee and Becky Wahlstrom. The movie is already playing in various territories worldwide, but it'll have some competition this weekend in the form of Disney's live action Aladdin remake and the Olivia Wilde-directed Booksmart.
You can judge Brightburn for yourself starting this Friday, May 24, and stay tuned to CinemaBlend for more coverage on the movie. In the meantime, you can plan your visits to the theater for the rest of the year accordingly by checking out our 2019 release schedule.
Your Daily Blend of Entertainment News
Connoisseur of Marvel, DC, Star Wars, John Wick, MonsterVerse and Doctor Who lore. He's aware he looks like Harry Potter and Clark Kent.