New Brightburn Trailer Shows Off Terrifying Superpowers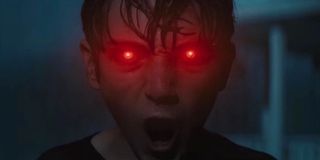 Have you ever wondered what would happen if Superman became a force of evil instead of a superhero? While it's doubtful Warner Bros and DC will ever tell such a cinematic tale, Brightburn is essentially working with that premise, as the boy who's wreaking havoc in the upcoming movie shares many of the same abilities as the Man of Steel. You can see these superpowers at work to instill terror rather than hope in the new Brightburn trailer below.
The first Brightburn trailer dropped back in December, but this latest preview provides a more in-depth look at how the young boy, Brandon Breyer (Jackson A. Dunn), turns to darkness. His story unfold similarly to Kal-El's at first. Found by a couple, Mr. and Mrs. Breyer (David Denman and Elizabeth Banks), after landing on Earth as a baby, Brandon is seemingly raised in a loving and warm environment. Unfortunately for him, kids can be cruel, and while Clark Kent managed to make it through his formative years without being a social pariah, Brandon's classmates have labeled him as a 'creep.' Eventually he hits his breaking point when he's pushed to the ground and breaks the hand of the girl who's been instructed to help him back up.
This is the moment that Brandon starts to realize just how powerful he is, as demonstrated by him putting his hand through a wood chipper and breaking the machinery. (Didn't this happen on Smallville, too?) With the evil inside of him growing, Brandon doesn't waste any time using his powers against others, with his first target being the mother of the girl he harmed, as she wanted him thrown in prison. Super strength, super speed, flight, heat vision, this kid basically has the same power set as Superman, making it easy for him to bring down planes and destroy houses. Despite his actions, Brandon's mother still believes there is good inside of him, but his father is less convinced.
If this were a DC movie and Superman or someone like him went rogue, it would be easy enough to throw either another superpowered individual or some kind of advanced technology in this threat's way. For Brightburn, which fits more snugly in the horror genre than the superhero realm, it's unclear now Brandon Breyer will be neutralized, if at all. As far as we know, there isn't anyone else in this world anywhere near as powerful as him, and there's no sign yet that he has a kryptonite-like weakness. For what it's worth, Brandon tells his mother at the end of the trailer that he wants to "do good," but with all the destruction he's caused and no sign of that darkness inside of him diminishing, the chances of him turning back to the light don't seem likely.
Directed by David Yarovesky, produced by Guardians of the Galaxy's James Gunn and written by Gunn's brothers Mark and Brian, Brightburn hits theaters on May 24. If you're interested in learning what other movies are coming out this year, look through our 2019 release schedule.
Connoisseur of Marvel, DC, Star Wars, John Wick, MonsterVerse and Doctor Who lore. He's aware he looks like Harry Potter and Clark Kent.
Your Daily Blend of Entertainment News
Thank you for signing up to CinemaBlend. You will receive a verification email shortly.
There was a problem. Please refresh the page and try again.