Matthew Vaughn Reveals His Scrapped Plans For Man Of Steel 2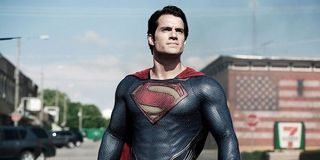 Although the DC Extended Universe franchise is moving forward with numerous movies, including The Batman, The Suicide Squad and Aquaman 2, one character who's still languishing in limbo is Superman. While he was resurrected in Justice League and looked to have a bright future ahead of him, other than making a neck-down cameo appearance in Shazam!, there's been no movement on Kal-El's cinematic future.
Naturally one way he could return is in Man of Steel 2, and at one point Kingsman director Matthew Vaughn was reportedly in talks to helm that sequel. However, Vaughn has now said that the movie is "officially" no longer happening.
That doesn't bode well for Henry Cavill's future as Superman, as it was reported (but not officially confirmed) last year that he was hanging up the red cape. However, Vaughn did provide some details on what his Man of Steel 2 would have looked like, and it borrowed elements from the Superman movie he pitched in 2008.
As Matthew Vaughn explained to Polygon, Matthew Vaughn and comic book heavyweight Mark Millar came to Warner Bros in 2008 with an idea for a cinematic Superman story that would launch a trilogy which would have been, as Millar once called it, "a massive, uplifting, hopeful thing." But Vaughn's Superman movie also would have been incredibly different than what's come before, as it sees Kal-El growing up on Krypton.
The first movie of this proposed trilogy would have taken place almost entirely on Krypton and focused on Jor-El and Krypton's impending destruction. However, these events would have happened later in the timeline, allowing Kal-El to reach adulthood on Krypton, learn about Earth there and then have to reckon with his loyalty to both planets.
Given how Man of Steel began with the more traditional Superman origin story, with Kal-El being sent off Krypton as an infant and the planet exploding soon after, then obviously a Matthew Vaughn-directed Man of Steel 2 couldn't have been a direct adaptation of his Superman pitch from last decade and still fit within DCEU continuity. So unless the plan was for this movie to be set outside that franchise, I'm curious about what ideas Vaughn would have carried over.
Perhaps Man of Steel 2 would have seen Superman departing Earth and going on an adventure elsewhere in the galaxy, as the DCEU has yet to deeply delve into its cosmic roots yet. Henry Cavill had expressed interest in having Brainiac be Man of Steel 2's main villain, and in the modern era, he's usually connected to Krypton's history. That said, perhaps taking that kind of creative approach would have resulted in Man of Steel 2 feeling too similar to the Syfy series Krypton.
In any case, Matthew Vaughn directing Man of Steel 2 didn't work out, although he's not opposed to the idea of still working in the DC Comics realm, saying "it'd be hard to say no" if he was given the opportunity to direct a new Superman movie. At one point Mission: Impossible - Fallout director Christopher McQuarrie was also in consideration to helm Man of Steel 2, but that also fell through.
So for now, Superman is still sitting on the proverbial shelf, and we'll have to wait and see if Henry Cavill ever gets to play him again or if a new actor will don the 'S' shield, whether it be in a DCEU-set movie or a standalone story. For now, you can keep up to date with what the DCEU has coming down the pipeline with our handy guide.
Your Daily Blend of Entertainment News
Connoisseur of Marvel, DC, Star Wars, John Wick, MonsterVerse and Doctor Who lore. He's aware he looks like Harry Potter and Clark Kent.