Avatar's Box Office Record Is Even More Impressive After Avengers: Endgame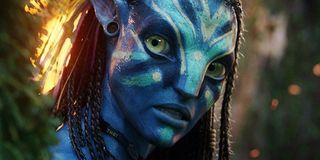 There has not been a movie event in our lifetimes quite like Avengers: Endgame. No amount of pie-in-the-sky box office forecasting or broken pre-sales records could have prepared the industry or us for the opening weekend of Marvel's culmination film. By the time all the money was counted on Monday morning, Avengers: Endgame had obliterated the domestic opening weekend box office record by nearly $100 million and left a sea of exhausted movie theater employees in its wake.
Avengers: Endgame shot off like a rocket and the domestic opening weekend record was just the first major victim to fall to Marvel's decade-in-the-making achievement. One by one, the Russo Brothers film climbed the box office charts, breaking records and felling many other massive movies, including those of the MCU, on its way to the top. Records are made to be broken, and like a blow from Stormbreaker, Endgame has done plenty of breaking.
But there is one record in particular left to break. One record that cements a movie as the biggest ever and the all-time box office champ. One film that stands alone. That record is for the worldwide box office gross, and it belongs to James Cameron's Avatar.
After an opening weekend that got it over 40% of the way there, and after it sunk James Cameron's other box office stalwart Titanic, it seemed to many like it was a matter of 'if', not 'when' Avengers: Endgame would break Avatar's record. That inevitability might have been premature though.
Avengers: Endgame currently sits at $2.713 billion worldwide, but Forbes' Scott Mendelsohn does not see it having enough juice to make it to the $2.788 billion and beyond needed to match Avatar and claim the worldwide box office crown. Instead, he predicts that it will top out at a staggering, but still second-place, total $2.766 billion.
It is still a monumental achievement and no one involved has anything to hang their heads over if the film has to 'settle' for being 2nd to James Cameron's 2009 film. Yet, regardless of whether the MCU film ultimately claims the top spot on the worldwide charts or comes up just short, Avatar's box office record is even more impressive after Avengers: Endgame.
I think we sometimes hand wave Avatar's record and take it for granted because it has become a constant in our minds. We all know that Avatar is the biggest movie of all time, but the abstract nature of that fact has made it seem at times less like something that the film achieved and more like something that just is. That detracts from how impressive its run really was.
First, it must be addressed how long Avatar's record has lasted. Avatar was released in December of 2009 and since it ended Titanic's reign at the top, it has never once been so much as threatened until Avengers: Endgame. That's nearly a decade of dominance where the biggest films Hollywood could muster all failed to even sniff Avatar's record.
The Na'vi held off the reboot of the Jurassic Park franchise, a franchise whose original 1993 film once held the worldwide record before Titanic. The end of Harry Potter, the animated phenomenon Frozen and the MCU's finest and biggest films all fell short. Even the return of Star Wars, an incredible cultural and cinematic moment, with Star Wars: The Force Awakens, wasn't enough.
Hollywood may have become more myopically focused on tentpole blockbusters since 2009, but in that time it still couldn't craft one that could to bring down Toruk Makto. And if Avengers: Endgame too falls short, Avatar's long reign will continue on.
Domestically, Avengers: Endgame beat Avatar and currently sits at $815.7 million according to Box Office Mojo. That makes it the second film, after Star Wars: The Force Awakens (which made $936.7 million domestically, a record Endgame definitely won't be beating) to best Avatar's $760.5 million take.
Consider this though: Avatar got to $760.5 million domestically and that current Number 3 spot with a max domestic theater count of 3,461. At the height of its run Avengers: Endgame enjoyed a theater count of 4,662. That's over 1,200 more theaters than Avatar had to achieve what it did. And according to the National Association of Theater Owners, the average U.S. ticket price was $7.50 in 2009 versus $9.11 last year.
Inflation means that movie tickets were less in 2009, which would be to Avatar's benefit, but James Cameron's movie was also the first, and arguably last, 3D event, and thus demanded premium ticket prices from audiences wanting the full experience. So to be fair, that issue gets a bit financially muddled. And domestically, when adjusted for inflation, the movie that sold the most tickets and remains and will forever remain the GOAT is Gone With the Wind.
Also, while Endgame started out with a massive bang at the box office that got it a lot of its haul very quickly, it also burned out faster. Whereas Avatar was a slow burn at the box office, with small percentage drops week to week that saw it methodically build its total. Avatar did also have a special edition re-release in the summer of 2010 that added $10.74 million domestically to its final tally.
Endgame debuted with a stunning $357.1 million and held on to the top spot on the domestic charts for 3 weeks. Avatar didn't even crack $100 million opening weekend, making $77 million. That puts it in 97th place for opening weekends. But it stayed in first place for seven straight weeks and didn't leave the top 10 until week 15. That's crazy, and internationally Avatar's accomplishments are just as impressive.
Avengers: Endgame has opened to a record $866.5 million overseas and to date has made $1.897 billion. Compare that with Avatar, which opened to a meager $164.5 million and went on to make $2.029 billion. And although blockbusters often make a huge chunk of their gross internationally, the foreign box office of 2009 wasn't what it is today.
We often cite the ever-growing importance of the China market for Hollywood films, but Avatar only made $204.1 million there. That's because back then China only had less than 5,000 movie theater screens. Today the Middle Kingdom has around 60,000 according to The Washington Post. That incredible market growth has given blockbusters like Avengers: Endgame greater opportunity to make money. Endgame did just that, with $614.3 million in China so far, triple what Avatar did.
More screens equals more money, and because it played on fewer screens worldwide, Avatar had to do more with less, which makes the fact that it is still Number 1, whether it stays that way or not, all the more impressive.
Those are all just quantitative measures though and when you consider the qualitative factors of Avengers: Endgame and Avatar, the latter's worldwide record is even more admirable.
While we sing the praises of Avatar's record, it must be said that for all the factors like inflation and theater count, James Cameron's film did have some distinct advantages that Avengers: Endgame did not enjoy. The most obvious of those is that Avatar released in December of 2009, years before studios decided on a year-round blockbuster season. That's something Avatar arguably started, Disney continued with Star Wars and will soon alternate holiday seasons between Star Wars movies and the Avatar sequels.
In the weeks and months that followed Avatar's release, Sherlock Holmes, The Book of Eli, The Wolfman, Percy Jackson & The Olympians: The Lightning Thief and Dear John were released. It wasn't really until March of 2010 when a true blockbuster arrived in the form of Alice in Wonderland. Endgame was given no such quarter, with Detective Pikachu, John Wick: Chapter 3 – Parabellum, Aladdin and Godzilla: King of the Monsters all following in the month or so after its release.
Nevertheless, despite its advantageous release month, Avatar still had more work to do than Endgame to reach the heights it did. Avatar was an original movie, from the filmmaker who made Titanic sure, but it had no real star power beyond James Cameron and Sigourney Weaver in a supporting role. We've seen other original sci-fi blockbusters from name filmmakers and some with even more star power fail to launch, and Avatar could have easily gone the way of Jupiter Ascending.
It had to succeed by selling audiences through its marketing and in the theater, and it did so with fantastic word of mouth and repeat viewings from audiences that fell in love with the spectacle of the film and wanted to live in Pandora.
Conversely, Avengers: Endgame was always guaranteed to be huge. Before we saw the first trailer, I'd say it had a good chance to snag the opening weekend record. That's because it was the culmination of a franchise and characters audiences have invested in for over a decade. Everyone had already made up their minds to see it a long time ago.
It has the powerful Marvel branding and is the biggest film in the MCU, which is the biggest franchise in movie history. Those factors made Avengers: Endgame a true monoculture event that everyone wanted to be a part of, and the frenzy opening weekend is testament to that.
So the fact that it had all that going for it and it still might not surpass Avatar, and if it does it will be close, throws into stark relief just how impressive what Avatar did was. That's not to take anything away from Avengers: Endgame, which has been a monumental achievement and no matter what film holds the top spot, Disney is the winner in all of this with Fox's Avatar now under its umbrella.
That Avatar has finally been challenged though shows just how much it takes to beat it and looks to be a truly herculean and perhaps Sisyphean task. The question then becomes, if something like Marvel's biggest film can't beat it, can anything?
Your Daily Blend of Entertainment News
Nick grew up in Maryland has degrees in Film Studies and Communications. His life goal is to walk the earth, meet people and get into adventures. He's also still looking for The Adventures of Pete and Pete season 3 on DVD if anyone has a lead.