Dragon Ball Super: Broly May Already Be Getting A Sequel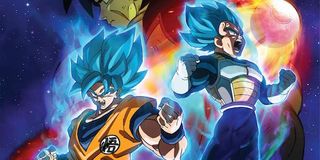 It may not have worked out bringing the Dragon Ball franchise into the live action realm with 2009's Dragon Ball: Evolution, but things are still going well on the animated front after all these decades. Most recently, the 20th Dragon Ball movie, Dragon Ball Super: Broly made $124.5 million in theaters worldwide, making it the highest-grossing Dragon Ball movie ever and one of the highest-grossing anime movies of all time.
With a financial performance like that, plus positive critical reception, chatter about a sequel would understandably start. Sure enough, on the Japanese Blu-ray and DVD release of Dragon Ball Super: Broly (via Twitter user Goresh), Akio Iyoku, head of the Dragon Ball Room over at Shueisha, said that he and his team have already "steadily making preparations for the next Dragon Ball movie."
The fact that a sequel to Dragon Ball Super: Broly is already being discussed seems like a fairly quick turnaround, but fans shouldn't expect this follow-up to be incredibly similar to its predecessor. Akio Iyoku also mentioned that with the next Dragon Ball Z movie "things will probably head in a completely different direction," with the end result being "even more incredible." Producer Norihiro Hayashida added that following the experience with Broly, they will "continue to aim even higher and higher."
It's hard to say if Akio Iyoku means this Broly sequel will be different tonally or plot-wise, but either way, the creative team are clearly pouring a lot of thought into how to keep the cinematic side of the Dragon Ball franchise going. Officially speaking, 20th Century Fox Japan and Toei Animation haven't announced a Broly sequel is on the way, so hopefully there will be an update soon that makes this more of a sure thing.
In case you're unfamiliar with the deeper corners of the Dragon Ball franchise, Broly, like Goku and Vegeta, is an incredibly powerful Saiyan, and the original incarnation of the character was the villain across three movies: Broly - The Legendary Super Saiyan, Broly - Second Coming and Bio-Broly. However, Dragon Ball Super: Broly opted to bring a new iteration of the character into the main continuity thus making those previous three movies non-canon.
While the new Broly was still an antagonist like the original version, Dragon Ball Super: Broly depicted him more sympathetically, though no less dangerous. No spoilers here for those who haven't seen the movie, but there's definitely a lot of room to continue exploring Broly should the Dragon Ball team decide to go further along this track.
Related: Watch The First 20 Minutes of Dragon Ball Xenoverse 2
As you can easily deduce from the title, Dragon Ball Super: Broly picked up after the events of the Dragon Ball Super TV series, which concluded in Japan last summer, but is still airing in the United States. Since there's no official word about a follow-up TV series to Super being in the works, at the very least, delivering a sequel to Broly lets fans hang out a little longer in this colorful and explosive universe.
If/when an official announcement is made concerning a Dragon Ball Super: Broly sequel, we here at CinemaBlend will be sure to let you know about it. For now, plan your trips to the movie theater this year accordingly by browsing through our 2019 release schedule.
Your Daily Blend of Entertainment News
Connoisseur of Marvel, DC, Star Wars, John Wick, MonsterVerse and Doctor Who lore. He's aware he looks like Harry Potter and Clark Kent.