Tom Holland Says Spider-Man: Far from Home's 'Biggest Hurdle' Was Avengers: Endgame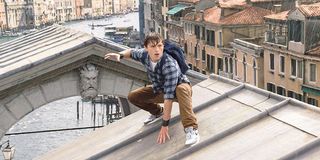 Avengers: Endgame spoilers follow.
Avengers: Endgame is a monumental achievement for both the superhero genre and for modern cinema as an ever-evolving whole. As if that's not enough, it's also a killer movie. But it easily could've failed to keep two inherent, important promises: to close out what we know and to set up what's coming. Spider-Man: Far From Home falls into the latter category, a fact that Spider-Man actor Tom Holland brought up in a recent interview.
In factor, Holland recently revealed the "biggest hurdle" to putting together the upcoming movie was being the flick that came next. He elaborated:
And grieve we will continue to do. The last Avengers film is profoundly sad and incredibly poignant, giving it a depth that other MCU movies lacked. We lost characters we loved and saw others head off in search of new beginnings. We experienced joy, anger, sadness, relief, and almost every emotion available to the human heart. It was a rollercoaster in every sense of the word but we're glad it was as good and as impactful as it turned out to be. From what Tom Holland told Uproxx, that was a lot to come after.
Endgame may have cast a pall over Far From Home, but judging from early reactions to the web-slinger's latest adventure, it appears that director Jon Watts hit another Home run with his post-Thanos MCU film. And based on what we've seen in the trailers and other promotional materials, the film will keep the infectious energy and light tone that made its predecessor such a blast.
Oh, and the post-credits scenes are phenomenal, too. Don't miss those (like you'd even think of doing such a thing).
The film marks a number of seismic changes for the MCU, the two most notable being the fact that Tony Stark is gone and that the film never planned to include Stan Lee. Whether or not those two things will affect or change the film's vibe remains to be seen.
But a few things haven't changed. Tom Holland and his love for Spidey's many suits are among them. As are Jon Watts's passionate direction and Kevin Feige's unrivaled universe-building skills. Here's to hoping that a post-Avengers world doesn't look too different.
Spider-Man: Far From Home will hit theaters on July 2, 2019. Stay tuned for updates on this film and every film Marvel has planned for us! It should continue to be quite the ride, folks.
Your Daily Blend of Entertainment News