5 Problems The MCU Could Face In The Next Decade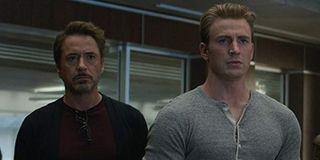 Over the course of a decade, Marvel has transformed the MCU into a force of nature in the realm of pop culture and at the box office. Now, we're on the verge of Phase Four, and neither Marvel or Disney has signaled there is any intention of slowing down. Can the MCU really maintain this rampant pace and speed of quality films through another phase or another decade?
Anything is possible, although it'd also be crazy to think the MCU will have as smooth of a run as it often had in the course of its first ten years. Especially when it has largely been immune to some of the problems that massive franchises can sometimes run into over a period of time. Take a look at some of the potential issues that may or may not have been problems for Marvel in Phases One, Two or Three, but could pop up over Phase 4 and beyond.
Audience Fatigue
To Marvel's credit, audiences seem pretty high on superhero movies despite the increasingly rampant release of films over the past decade. Rest assured, however, the shoe is likely to drop at some point, and people will eventually tire of showing up for Marvel movies multiple times a year. Just think of how many Western movies used to be released, and how many we see now. History dictates audience fatigue will happen at some juncture.
Fortunately, Marvel has made some effort to shake things up in its movies narratively with entries like Thor: Ragnarok that are unlike its standard fare. With that said, these movies are still very uniform, and Marvel has parted ways with guys like Edgar Wright from projects for being too loose or creative when it comes to its storytelling. Formulaic storytelling may provide consistent results, but eventually audiences will recognize the beats, and the formula will be a harder sell.
Finding New Fans
As The MCU continues to grow and expand, so does the wealth of knowledge required to fully appreciate it. As the number of movies required to understand all those references and characters continues to climb, the number of new people willing to dive in who weren't around at the start will likely decline. Comic book companies know this, which is why heroes are often rebooted following major comic book events.
So, does Marvel have a full-scale reboot planned in the MCU's future? Probably not, considering many heroes introduced in its previous phases will likely have movies in Phase 4, which keeps some knowledge in play that will shut out newer fans looking to jump into the MCU. Of course, I guess someone who just likes one hero can watch that hero's catalog and ignore the rest. Provided they're OK with a few things going over their heads, what's the harm?
Controversy With The Talent Involved
Marvel has been blessed to have limited talent controversy throughout the course of the MCU's tenure, but it hasn't been perfect. Many will remember the whole mess with James Gunn, and the amount of drama it caused that eventually put its wildly successful Guardians of the Galaxy franchise on pause before things got sorted out. The franchise is back on track now, but will there ever be a day when Marvel has to cut ties with another big talent?
With the number of actors, actresses, directors, and writers tied up within the MCU, it would be crazy to assume controversy like that will not happen again in the next decade. Recastings and new hires can always happen, but any talent controversy may not end up working out in the same way James Gunn did.
Keeping The MCU Connected
As previously mentioned, Marvel will continue to make movies for certain heroes, and may even tie those adventures into incoming heroes planned for Phase Four. While Marvel has done a superb job of keeping its film universe largely connected to this point, it's not going to get any easier the more heroes that are added into the mix.
Of course, Marvel seems to have a plan in place for this problem already, and is already introducing the multiverse into Spider-Man: Far From Home. This should solve a lot of the issues in making sure everything is connected, as separate universes ensure certain franchises can canonically remain separate until Marvel decides otherwise. There's still plenty of opportunity for things to get messy, but the MCU has been pretty solid thus far, so perhaps there's no need to start doubting now.
Failed Origins Or Reboots
The MCU has had some movies met with a polarizing response, but nothing so bad that it had to abandon plans for sequels or anything of that nature. Of course, there have been Marvel movies that failed in this era, and now that Disney has acquired Fox, it is now firmly in control of two franchises that have floundered in this age of superhero cinema.
So, was The Fantastic Four's reboot flop a fluke? Can Disney/Marvel create an X-Men franchise that's consistently solid with each installment? Will audiences respond well to the next actor who plays Wolverine? Will Disney even attempt to bring Wolverine into the MCU? Perhaps most importantly, what happens if one of these reboots fails? We're not sure how the MCU will handle that because we really haven't seen it happen.
Every Marvel Movie To Date, Ranked
Of course, just because these things can happen doesn't necessarily mean they will. For all we know, Disney and Marvel have a master plan that will keep the superhero genre relevant for the next three decades, and some of these franchises will be relevant long after we're dust in the wind. That feels more likely than the whole ride just ending anytime soon, honestly, despite what history has shown with popular movie trends.
Got a prediction or idea for a big problem the MCU may face in the next 10 years? Drop all suggestions down in the comments, and continue to stick with CinemaBlend for more info on superhero movies, as well as other news regarding film and television.
Mick likes good television, but also reality television. He grew up on Star Wars, DC, Marvel, and pro wrestling and loves to discuss and dissect most of it. He's been writing online for over a decade and never dreamed he'd be in the position he is today.
Your Daily Blend of Entertainment News
Thank you for signing up to CinemaBlend. You will receive a verification email shortly.
There was a problem. Please refresh the page and try again.