Jake Gyllenhaal Recalls Almost Playing Spider-Man When Tobey Maguire Got Injured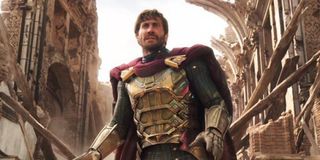 Before Tom Holland, there was Andrew Garfield. Before Andrew Garfield, there was Tobey Maguire. Before Tobey Maguire? There wasn't really anyone who had brought a live-action Spider-Man to mainstream audiences. Star Wars: The Empire Strikes Back novelization writer Donald F. Glut and Nicholas Hammond portrayed the character in an unauthorized 1969 short and a 1977 television series, respectively, but Maguire was the first to bring him to the big screen in Sam Raimi's films. Interestingly, Jake Gyllenhaal almost shared these bragging rights.
Yahoo writer Kevin Polowy mentioned Tobey Maguire's reported injury on the Seabiscuit set, saying he heard Jake Gyllenhaal was in the running with a number of other actors to potentially replace Maguire in Spider-Man 2. Here's Gyllenhaal's response:
Ultimately, of course, Tobey Maguire did play Peter Parker in Spider-Man 2. Behind-the-scenes, his back injury from Seabiscuit was seen by some as a negotiation tactic. Sony wasn't having it, and started looking for a new Spider-Man. That's reportedly when Jake Gyllenhaal and other actors had their numbers called. Maguire eventually returned for the Sam Raimi movie and then Spider-Man 3.
Now, Jake Gyllenhaal stars as classic Spider-Man villain Mysterio/Quentin Beck in the well-received Spider-Man: Far From Home. And, to make things more interesting, his character is reportedly not who he seems. With a name like "Mysterio," he's definitely gonna pull one over on us.
While many have called Far From Home the best Spider-Man film ever, others had more measured criticisms. Still, the prevailing sentiment seemed to be that while it's lacking in certain areas, it's an incredibly solid entry in the franchise.
Given the fact that director Jon Watts still isn't sure how the Tom Holland trilogy will end, it seems that, in some respects, Marvel is along for the ride just as much as we are. No doubt they've still got some kind of plan, though. Marvel Studios boss Kevin Feige won't have it any other way. But the fact that there doesn't appear to be as solid of a direction this time around isn't concerning as much as it's unusual.
Regardless, I still trust Marvel and look forward to what they have planned. The MCU has very few duds so preemptively dismissing their newer films isn't necessary.
Loaded with surprises, new suits, and capped off with killer post-credits scenes, Spider-Man: Far From Home is sure to be a crowd-pleaser. General audiences will know for sure when the film hits theaters on July 2. Stay tuned for updates on this film and on Marvel's slate of upcoming films!
Your Daily Blend of Entertainment News
Your Daily Blend of Entertainment News
Thank you for signing up to CinemaBlend. You will receive a verification email shortly.
There was a problem. Please refresh the page and try again.