Daisy Ridley Admits She Felt Like Quitting Early On With Star Wars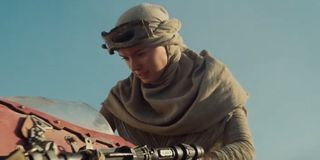 It's not easy joining a major franchise filled with high expectations from the fanbase. It's particularly not easy if you are joining a major franchise without really even being an established actor or actress yet.
That's what has happened with a lot of the young cast in the latest Star Wars trilogy. People like Daisy Ridley, John Boyega and Kelly Marie Tran had all acted before landing their respective parts, but not in a major franchise movie and particularly not one with as much storied history as the Star Wars universe.
Given that, it's not really a massive surprise that Daisy Ridley revealed on a recent episode of Happy Confused Sad that she was super intimidated for quite some time on the set of Star Wars: The Force Awakens. In fact, early on, she even felt like quitting, as she was having trouble on set and the whole thing seemed ludicrous to her.
While relating the story, she also revealed she voiced some of these concerns, but there's not really much that could be done at the time. She was already there doing the job and Daisy Ridley admits there's not much you can say if you are on the receiving end of someone talking like that. Eventually, she started gelling with J.J. Abrams and her Star Wars experience starting coming together. But it took a long time to become confident in her abilities.
When Daisy Ridley first signed on for Star Wars: The Force Awakens, she was a relative unknown, though she did have a few acting credits to her name. She mentioned on the Happy Sad Confused podcast that she was bartending before the gig came her way, so it was a big deal to land the role. She even said she had to spend months making it clear to the press she had a real role in the movie.
Even her mother seemed pretty astonished she landed the role as Rey. Along with mentioning having to work into feeling comfortable on the Star Wars: The Force Awakens set, Daisy Ridley also told a funny story about a conversation she had with her mother at the premiere months later, noting,
At this point we're heading into the final movie in the trilogy, Star Wars: The Rise Of Skywalker, and it's good to see that Daisy Ridley has gained confidence playing Rey [no last name given], even though she says she hasn't been able to convince the other stars to get matching tattoos (like one other franchise that won't be named) yet.
Star Wars: The Rise of Skywalker is out on December 20th. To see what else is coming up in theaters in the coming months, make sure you check out our full movies schedule.
Your Daily Blend of Entertainment News
Reality TV fan with a pinch of Disney fairy dust thrown in. Theme park junkie. If you've created a rom-com I've probably watched it.