Who Is Daisy Ridley? Meet The Newest Star Wars Star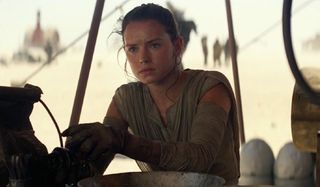 While we pretty much always knew that Star Wars: The Force Awakens would bring back the likes of Harrison Ford, Carrie Fisher and Mark Hamill, we're more fascinated by the names that caught us off guard when the cast was first announced. John Boyega turned heads in the suburban sci-fi thriller Attack the Block. Girls co-star Adam Driver will reunite with his Inside Llewyn Davis cohort Oscar Isaac for a mission in a galaxy far, far away. And Max von Sydow's presence in the celebrated cast photo was the most welcome bombshell we could hope to receive. There is one actor in the ensemble, however, who we really don't know much about.
Who is Daisy Ridley? She was occupying a couch with Harrison Ford at the Star Wars: The Force Awakens table read, but what did she appear in before landing this coveted gig? Who is she playing in the film? What's her future with the legendary science-fiction franchise? We answer all of those questions and more in the following guide!
Her Background
Born in Westminster, London in April of 1992, Daisy Ridley actually came into this world with acting in her blood. Her great-uncle was William Arnold Ridley – a playwright and performer who most notably scripted the play The Ghost Train and starred on the long-running BBC sitcom Dad's Army.
Not much is public about her upbringing, though she attended the Tring Park School for the Performing Arts in Hertfordshire, and graduated from the program in 2010. It was only a few years later that she started getting professional acting gigs.
Her Television Work
According to her IMDb page, Daisy Ridley's first credit came filming a short for a phone app called Lifesaver (in which the user has to make lifesaving decisions), but it was that same year – 2013 – that she landed her first television role. In an episode of the long-running medical drama Casualty - titled "And The Walls Come Tumbling Down" - the actress played Fran Bedingfield, and old school friend of series lead Robyn Miller (Amanda Henderson). This, however, was a one-shot appearance.
Later that same year, Daisy Ridley joined two other television shows - albeit with more of a comedic bent. In an episode of the show Youngers titled "A to B and the Apology," she played a student named Jessie, and she appeared as a stage hand in the Toast of London episode "Vanity Project."
The actresses work on the small screen continued right up until her Star Wars casting, and also just after it. A few months before the big blockbuster announcement, Ridley appeared in a two-part episode of the British crime show Silent Witness ("Fraternity"). In it, she played Hannah Kennedy, the best friend of a teenager who was discovered murdered and left in an open grave. Her only appearance since being added to the Star Wars cast is in a second season episode of Mr. Selfridge - where she played a young woman named Roxy.
Her Film Work
Fun fact about Daisy Ridley: when she appears on screen for the first time in Star Wars: The Force Awakens, it will be her first ever appearance in a feature film. As we just went over, her career to this point has been spent primarily on television – so the big, legendary blockbuster will be a huge move for her career in significant ways.
While the young actress hasn't done any feature work before, she has starred in a short. In 2013 directors Georgina Higgis and Lee Jones cast her in the lead of their sci-fi thriller Blue Season. In it, Ridley plays a young woman named Sarah who wakes up to find herself hanging upside down and seemingly trapped. While screaming for help, she discovers a ringing phone, and learns instructions from the other side of the line that will seemingly lead to her escape. Of course, whether or not this person can actually be trusted is a big question.
You can actually watch Blue Season in its entirety below:
In case it's unclear, there's a very good reason why you have never heard of Daisy Ridley outside of a Star Wars context: we've yet to really see her in anything notable. That changes very soon.
Star Wars Casting
On April 29th, 2014, Daisy Ridley's life changed considerably – and there isn't a single person on this planet who could have seen it coming. While hundreds of reports had been published about the cast of Star Wars: The Force Awakens in the run-up to the official announcement, there was never a single mention of the possibility that she would land the female lead. In fact, there weren't really many reports that even suggested that the film would have a female lead (most were focused on the character who would ultimately be played by John Boyega). But she was seated right next to Harrison Ford and chatting with Carrie Fisher in the legendary photo from the first table read:
As you can see from that post, Daisy Ridley's name was listed as the second in the cast – but completely lacked any and all details regarding who she would be playing. Could she be the daughter of Han and Leia? Or could she be a brand new villain being introduced to the Star Wars? Back then, we had absolutely no idea – and the truth is that we still don't really have a full grip on exactly what's going on with her character (Force Awakens still has no detailed plot synopsis). That being said, over the last year and half we have seen enough footage in various trailers and television spots and learned enough information from interviews to start gaining an understanding of who Rey is and how she may fit into the larger Star Wars universe.
Who Is Rey?
Looking back on the original Star Wars trilogy, you'll notice something a bit irksome: female characters are almost non-existent. This is one of the few areas that the prequels actually improved upon, and it appears that Rey will be leading the charge in this regard for the future of Star Wars films. Footage has suggested that she has a central role in the plot of The Force Awakens, and why the filmmakers and actress have been as hush-hush as possible, we have learned some key details about who she is.
While it was originally suggested by the rumor mill that she lives on the planet Tatooine, the truth is that Rey lives on a completely different desert planet: Jakku. From what we've seen, the place is basically a dumping ground for old spaceships – but those ships also happen to be Rey's trade. She is a scavenger who goes into the vessels to find parts that she can either use or sell. Daisy Ridley has described her character as being self-sufficient and solitary – but it's after a chance encounter with a stranger that she finds herself vaulted deep into the beloved sci-fi saga. It's been heavily hinted that this partner is John Boyega's Finn, who is a Stormtrooper for the First Order who winds up getting stranded and ultimately going rogue.
That's how Rey's adventure in the Star Wars universe will begin, but what hasn't been made clear is exactly where the journey will take her. We know that she will eventually find herself teaming up with Han Solo and Chewbacca, flying around in the Millennium Falcon and getting in all kinds of dangerous situations, but exactly why she is doing all of it has been kept a purposeful mystery. The marketing for the film is steadfastly refusing to give away anything notable about the plot of the The Force Awakens, so we'll just have to patiently wait and see how Rey's story winds up unfolding on the big screen.
Her Future With Star Wars
Not knowing anything about the plot of J.J. Abrams' Star Wars: The Force Awakens, it's basically impossible to guess where it will leave things standing within the sci-fi universe – but one things we do know is that the saga is getting at least two more chapters. While the movies' releases will be broken up by "Anthology" films that will come out every other year (starting with Gareth Edwards' Star Wars: Rogue One), we are expecting to see Rian Johnson's Star Wars: Episode VIII in 2018, and Colin Trevorrow's Star Wars: Episode IX in 2020. But will Daisy Ridley and Rey be along for the entire ride?
For now, all signs seem to point to yes. Back in August of 2014, the actress signed on with a new talent agency, and the report about it suggested that Daisy Ridley is going to be a part of the Star Wars franchise for a very long time. According to the story, the plan for the 23-year-old is "for her carry through to the second and third films." This presumably means that she has signed a multi-picture contract with Disney and Lucasfilm, tying her to the long-running series.
In truth, we won't have a really clear picture of Rey's future in the Star Wars universe until the end credits roll while watching The Force Awakens. If she dies a dramatic and symbolic death, we probably won't be seeing her in the sequels, and if she survives chances are that we'll continue to follow her in the next adventure. So, for now we'll just say that answers are forthcoming in this department.
Other Future Projects
Being a part of Star Wars in any capacity is a huge deal in Hollywood, and for Daisy Ridley it's going to open up every single door imaginable. Her resume may only include a few one-shot appearances in British television shows, and a sci-fi short film, but in just a few short weeks everyone in the world is going to know who she is – and studios are going to want to take full advantage of that fact.
What's interesting is that hasn't exactly happened just yet – as though the entire system is waiting to pounce with offers the day that Star Wars: The Force Awakens plays in theaters. The only project that the actress has set to come out after the release of her first blockbuster is actually a small British film that was in production all the way back in 2012. Written and directed by Welsh filmmaker Peter Hearn, Scrawl centers on a young boy and his best friend who sit down to write a comic book together. What they don't expect to happen, however, is that the events that they write and draw wind up happening in real life. In the movie, Ridley plays a character named Hannah, though it's not entirely clear what role she plays in the plot.
It's entirely possible that the reason Daisy Ridley hasn't started picking up new projects is because her schedule is already booked solid. As noted earlier, it hasn't been confirmed in any capacity whether or not she will be back for future Star Wars titles, but if she is, that's going to take up a lot of her time. Filming on Star Wars: The Force Awakens took a full seven months, and if Ridley is a lead in Star Wars: Episode VIII, that means it will take up more than half of her calendar in 2016. Surely more information on this front will be available as she starts doing press rounds promoting her role in the first of the new movies.
Your Daily Blend of Entertainment News
Assistant Managing Editor
NJ native who calls LA home and lives in a Dreamatorium. A decade-plus CinemaBlend veteran who is endlessly enthusiastic about the career he's dreamt of since seventh grade.
Your Daily Blend of Entertainment News
Thank you for signing up to CinemaBlend. You will receive a verification email shortly.
There was a problem. Please refresh the page and try again.