Vanessa Kirby Rumored To Be A Catwoman Contender For The Batman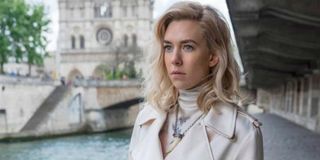 Relatively little is known about Matt Reeves's upcoming The Batman. Besides Robert Pattinson's recent casting as the title character and the reported "Hitchcock-like" feel it will try to evoke, we don't really know anything. Rampant rumors have dominated the internet, but how many of them will turn out to be true? Probably very few. Many fans like their rumors spicy but flavorless. But regarding more recent talk, there's word that Mission Impossible: Fallout star Vanessa Kirby might play Catwoman/Selina Kyle in the new blockbuster. Take this with a MASSIVE grain of salt, as nothing has been confirmed in any way.
In addition to her role as the mysterious White Widow in Mission Impossible: Fallout, Vanessa Kirby has also starred in a number of films such as Kill Command, Me Before You, Bone in the Throat, and Everest. She will next appear as Jason Statham's onscreen sister in the forthcoming Fast and the Furious Presents: Hobbs and Shaw. She's gaining some serious traction as an actress, and a role in such a high-profile film would undoubtedly be a game-changer for her career.
This rumor comes from Geeks WorldWide, which didn't really say much about the potential casting beyond whisperings that Matt Reeves is possibly interested in having her play Gotham's most elusive cat burglar. Again, take this with a grain of salt because it could easily turn out to be false. We've previously reported on other actresses who are eager to play the role, and it could very well be that many are still in contention. That being said, Kirby would definitely be an interesting choice.
There are many other actresses who could play the role just as well, including (but not limited to) Morena Baccarin (my first choice), Aubrey Plaza, and Kristen Stewart... maybe? A Twilight reunion in a Batman movie would be all kinds of amusing and the two would fall right back into that onscreen chemistry swaths of the movie-going audience loved so much. In all seriousness, though, Stewart could probably kill it, especially considering her role in the upcoming Charlie's Angels reboot has been praised time and again by director Elizabeth Banks.
Other details and rumors surrounding the film, including those involving potential villains, haven't yet been confirmed. It's really anyone's guess at this point what's going to be featured in The Batman. And sadly, we probably won't hear much more about it for at least a few more months. The film is a little less than two years away, after all, and it probably won't be until the project is really gearing up for production that we start to hear some real official announcements from Warner Bros.
The Batman will hit theaters on June 25, 2021. While you're waiting, keep your eyes on the CinemaBlend news feed for any future updates/developments on the film's progress.
Your Daily Blend of Entertainment News