Why You Should Be Excited About The 2020 Ghostbusters Movie, Starring Finn Wolfhard And Paul Rudd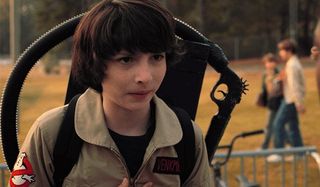 It's official. Ghostbusters 2020 is on the way to the big screen next year and there is a whole lot to be excited about already. The biggest news so far is that the movie, scheduled for release on July 10th, 2020, is a straight sequel to the original two movies, not a reboot like the controversial 2016 version and it is almost certainly going to reunite many from the original cast and crew.
The original Ghostbusters, starring an all-star cast of Bill Murray, Dan Ackroyd, Harold Ramis, Ernie Hudson, Sigourney Weaver, Annie Potts, and Rick Moranis is one of the funniest movies of all-time. While its sequel wasn't nearly as funny, it still has some great moments, like Bill Murray wondering if it is all you can eat rib night at Sizzler.
For decades, there have been rumors regarding a third sequel, and there have been forays into various other media, including cartoon television shows, more than a dozen video games -- some of which have included original cast members voicing their characters from the show -- and of course, the 2016 reboot. Yet a third sequel with the original cast remained elusive and with the tragic death of the co-writer and co-star of the originals, Harold Ramis in 2014, it looked like a third was (sadly) never going to happen. Now, Ghostbusters 2020 is happening and there are a lot of reasons to be psyched about it already.
It's A Direct Sequel To The Original Ghostbusters Movies
The 2016 reboot, Ghostbusters: Answer The Call starring Melissa McCarthy, Kristen Wiig, Kate McKinnon, and Leslie Jones, was a bit of a bomb at the box office. After years of rumors and false starts of a reunion of the original cast for a third film, Sony finally went ahead with a complete reboot, including an-all female cast of new Ghostbusters. It didn't work for a lot of fans. Despite some good reviews (and plenty of bad ones), the film flopped.
For the new Ghostbusters, the creators are going back to the original source. This isn't a reboot, it's a sequel, set in the same universe, so to speak, with new characters and old ones expanding on the events found in the first two hit films.
Paul Rudd Has Signed On To Star
Paul Rudd is one of the most charming and funniest people in Hollywood today. With the recent announcement that he would be a part of Ghostbusters 2020, we have a good reason to start getting excited for the project. Rudd is sure to bring that charm and humor and add a fresh face to the franchise, ensuring that it won't just be a retread of the old jokes updated for a new millennium. He's not the only new addition to be excited about either.
Jason Reitman Is Set To Direct
This is fantastic. Jason Reitman, being the son of Ivan Reitman, who produced and directed both the original Ghostbusters in 1984 as well as the first sequel Ghostbusters II in 1989, means that the franchise is keeping it in the family, so to speak. It also allows for a fresh, creative voice to update the property and bring new ideas to the franchise.
The younger Reitman is no novice of course, having directed hits like Juno, Up In The Air, and Thank You For Smoking. Having this new voice from someone related to part of the original creative team is like having your cake and eating it too. Oh – and Jason Reitman actually had a cameo as a snotty little kid at a birthday party in Ghostbusters II!
Stranger Things Star Finn Wolfhard Is In The Cast
Given Finn Wolfhard's character's Halloween costume in Season 2 of Stranger Things was Ghostbuster Peter Venkman, it's pretty perfect that he will be one of the stars in Ghostbusters 2020. There is no word on what his role will be, but some rumors have said that the story will be center around four teenagers, which seems likely given the announcement of Wolfhard in the cast. Maybe they should just add the whole Stranger Things cast if that's the case!
Captain Marvel's Mckenna Grace Will Also Play A Role
Speaking of up-and-coming child stars and fresh off her role as a young Carol Danvers in Captain Marvel, McKenna Grace has also been announced as a cast member. While she seems a little young to be a junior Ghostbuster (she's 13 and Wolfhard is 16), her star is definitely rising and she's a great addition to the cast.
Carrie Coon Will Play Mckenna Grace's Mother
Another exciting addition to the cast is the star of the television show Fargo, Carrie Coon, who has been announced as Mckenna Grace's mother. We don't know much of anything about the story, but we do know the actress' career pretty well. In fact, she has most recently voiced and motion-captured the character Proxima Midnight in the last two Avengers movies.
Bill Murray, Dan Aykroyd, And Sigourney Weaver Might Be Back Too
Ok, but there are strong indications that at least three or four of the cast members from the original Ghostbusters will be back in one way or another for this new one. So while there is nothing definitive about their possible appearances in Ghostbusters 2020 it does look promising.
Recently, Bill Murray, who made a cameo in the 2016 Ghostbusters as a character that was NOT Peter Venkman, has continually expressed interest in returning as the smartass doctor of psychology and parapsychology, so maybe this will the time. Sigourney Weaver has also made statements recently that she would be returning as the role of Dana.
Of the other cast members, including Dan Aykroyd, Ernie Hudson, and Annie Potts, none have been announced as part of this project, but all have said in the past that they would be up for the idea. All have also participated in other Ghostbusters media, like past video games. One more intriguing thought is that if they all sign on to the project, could this be the film that pulls the great Rick Moranis out of retirement? THAT would something to get very excited about.
The Ghostbuster franchise has been a very interesting one for the last 35 years. It's amazing that it has sustained as long as it has on only the two movies from the '80s, at least until the reboot in 2016. It's even more amazing that it has obviously survived the box office disappointment of that reboot, but with the new flick on the way next year, the Ghostbusters are clearly still popular and the buzz, even a year out, is palpable.
After decades of rumors, hints, innuendoes, vague statements, and gossip, there finally is a continuation of the original Ghostbusters franchise. That news alone should be enough to ratchet up the excitement level to eleven on your P.K.E. meter.
Your Daily Blend of Entertainment News
Hugh Scott doesn't believe aliens are hidden at Area 51 or that Elvis is alive, but he does believe birds are real and Meghan Markle isn't treated fairly by the tabloids. He's been writing about music, movies, and celebrities for most of his adult life after realizing stocking shelves in a paper warehouse in college wasn't all it was cracked up to be.
Your Daily Blend of Entertainment News
Thank you for signing up to CinemaBlend. You will receive a verification email shortly.
There was a problem. Please refresh the page and try again.