4 Reasons To Be Excited For Disney's Live-Action Mulan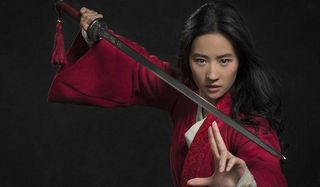 When the first trailer for Mulan made its way online, people were swayed. It was called "stunning" and "grand," and it was clearly going to become a big-screen spectacle. It might only be 22 years since the original 1998 animated film made its way into theaters, but nostalgic viewers nevertheless were ready to revisit the tale again in a major way.
With that in mind, although Disney hasn't had a perfect track record, this upcoming live-action remake does suggest something promising: What if Mulan (2020) is not only good, but maybe even better than the film we got already? Is it possible?
That's a hard thing to determine with several more months to go until Mulan (2020) makes it way into theaters. However, it does raise the idea we can and probably should be excited for this new film, as there are several exciting reasons why this new take on the classic story might be worth our while.
Admittedly, I've been a skeptical about these Disney live-action remakes. Still, the trailer for 2020's Mulan looks promising, and with this remake, Disney has a chance to not only provide audiences with the same thrills found in the 1998 animated film, but to also improve and expand on the original film more. Here are just a handful of reasons why Mulan (2020) is worth getting excited about, even if you may be getting tired of all these live-action remakes.
It's An Epic, Big Budget Martial Arts Movie From Disney
It's safe to note that Hollywood isn't known for making a slew of martial arts movies -- certainly not these days, at least. When it comes to action, while there are films like John Wick Chapter 3 or even The Matrix that are indebted to the filmmaking techniques of this genre (referred to as "gun fu" in it's Americanized variation), it's an exception rather than the norm to get a lavish, high-spectacle martial arts movie from Hollywood — let alone from the folks at Disney.
With Mulan, however, we're finally being given an opportunity for Disney to produce a huge, big-budget martial arts movie. Thanks to the pull of the studio, we're going to have a chance to see such a huge martial arts movie like this on some of the biggest and best screens in the world. That's certainly a major deal, and it provides Disney with the golden opportunity to explore a genre that's been underserved by both the studio and even the American market.
As someone who loves martial arts movies, I generally find it a pleasure to see them on the big screen. Yet, only rarely am I provided that opportunity. Thanks to Mulan, however, I'll be able to see one of the biggest martial arts movies of the last few decades in theaters near me. The thought gets me personally excited. Hopefully, it does the same for you.
It's A Female-Directed Blockbuster
Studios are becoming more open and accepting to the idea of signing female directors, while also providing more opportunities for women to helm major movies, including a new, highly-anticipated Disney production. When it comes to Mulan, it felt imperative that if this story was brought to the big screen again, it should have a woman in the director's chair of this major film. Thankfully, Disney felt the same way; the studio gave the job to Niki Caro.
While you might not know Niki Caro by name, there is a good chance that you are familiar with at least a couple of her movies. She is perhaps most famously known for directing Oscar-nominated movie likes Whale Rider and North Country, which were her second and third films, respectively. Caro is also the director behind McFarland, USA, another Disney production, and her most recent movie, The Zookeeper's Wife. Through this newest movie, Niki Caro will be breaking new ground. Thanks to its $290 million budget, Mulan (2020) is set to become the most expensive film ever directed by a woman.
That's obviously an extraordinary accomplishment. Hopefully, it's just the beginning for movies directed by women. Particularly if Mulan is a success, Niki Caro's movie could be a sign of what's to come next.
All The Main Characters Will Be Played By Chinese Actors, Including Famous Performers Like Jet Li
Asian representation in Hollywood has often been scarce. That is, until recently, when Chinese productions and co-productions with Hollywood have allowed more Chinese representation to be seen in major Hollywood movies. Throughout the past five to 10 years, Hollywood has allowed more Asian actors to appear in the spotlight, and that has meant films like 2017's likable Crazy Rich Asians have been seen in major cinemas across the world.
Nevertheless, when it came time to make this newest version of Mulan, there were concerns from the Asian community this new blockbuster would be white-washed. Similar to how Ghost in the Shell and Aloha were heavily criticized for casting white actors in Asian roles, there were people worried this huge, big-scale movie would not put Asian actors at the forefront. Those concerns were relieved when the cast was announced.
Allegedly after the backlash from Matt Damon's casting in The Great Wall, Disney may have decided to make sure everyone in the primary cast was accurate to Mulan's history in response. The cast includes a splendid ensemble, from newcomers to seasoned professionals like Jet Li. While there are many understandable setbacks with these recent live-action remakes, Disney has made more of a point to cast people of color into prominent roles. That tradition continues with Halle Bailey being picked to play Ariel in The Little Mermaid remake.
This Remake Is Expected To Be More Accurate To The Original Legend
One of the main reasons why the new trailer for Mulan took people by delighted surprise is because the footage shown in the movie let viewers know that this version of the story was hopefully planning to be more accurate to the original story, "The Ballad of Mulan," and the legendary real-life warrior.
The trailer for this new movie didn't include Mushu or any of the songs from the original movie. While a few folks were taken aback by the omissions, what this new Mulan hopes to do is provide a movie that will hopefully adhere closer to the folklore and mythology of the character, rather than what was included in the animated movie. Especially when you consider how a few of these live-action remakes feel like carbon copies of their animated counterparts, including the forthcoming The Lion King, Mulan (2020) has a great chance to build and expand on the original. You can take a first look at Mulan's 2020 live-action remake below.
Per The Mary Sue, the Disney story had notably "westernized" the story of Mulan with the 1998 animated movie in order to appeal to a wider audience, making changes that might've seemed minor to some folks, but were ultimately taking away from what the original story was trying to say.
With that in mind, this remake of Mulan has the wonderful opportunity to do what most remakes should do: improve upon the film before it and provide audiences with a richer, more meaningful story with characters they know and love. With that in mind, Mulan (2020) isn't guaranteed to be a success, but it does have the opportunity to succeed in ways that most other Disney live-action remakes, including Beauty and the Beast, have not.
It's perfectly understandable that people see the upcoming release of Mulan (2020) and think, "Oh great, another live-action Disney remake." Believe me, I've had that feeling as well — especially when Disney refuses to do things differently enough to warrant a remake in the first place. Still, it's clear that if it's done well and told effectively, Mulan (2020) has a chance to succeed in ways that only a few of these ongoing remakes have so far.
By allowing a woman director to helm the movie and make history, while also letting Asian actors round out the cast and give audiences around the world a martial arts movie on an epic scale and also--hopefully--doing proper justice to the original source material, we might have the rare Disney live-action remake that does what it promises. If it does succeed in that particular way, it could also change the current on the public's perception of these films.
Remakes aren't inherently bad things in and of themselves. They can actually be great; it's just that Hollywood sometimes chooses to do them the wrong ways. Mulan (2020), however, can hopefully be the exception and do what a remake should do. Of course, I'd also like to point out changes don't mean the original animated movie is bad, particularly given the popularity of characters like the indestructible Mushu. I like it a good deal, the way that many other people do too. But it's clear that there is room for improvement, and it sounds like Disney is hoping to make changes for the better with the new version.
Your Daily Blend of Entertainment News
Will is an entertainment writer based in Pittsburgh, PA. His writing can also be found in The Playlist, Cut Print Film, We Got This Covered, The Young Folks, Slate and other outlets. He also co-hosts the weekly film/TV podcast Cinemaholics with Jon Negroni and he likes to think he's a professional Garfield enthusiast.