Who Disney Should Cast As The New Mulan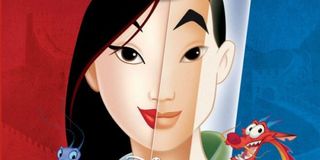 The announcement that Disney has given a specific release date to their live-action Mulan means that the pre-production process will begin to get rolling. Above all, that means casting an actress to play the lead. This is a huge opportunity for a young Asian or Asian-American actress. Considering the recent controversies surrounding white actresses cast in roles that were written as Asians, we figure Disney is going to go the less controversial route and cast a young Asian actress as Fa Mulan.
But one of the reasons that people like Scarlett Johansson get cast in movies like Ghost in the Shell, is that there's almot no such thing as a female Asian movie star in Hollywood. But there are plenty of young women who could become bonafide movie stars if Mulan is as big a hit as The Jungle Book. Here are just a few of the possibilities.
Jamie Chung
This one's a layup, but we'll start simply and easily. The fact is that that there's already an existing live-action Mulan. Jamie Chung has played the role as needed on the ABC series Once Upon A Time for the last few years. That version isn't identical to the Disney movie that the live-action film will be based on, but it's close enough to get started. We know she can do it. Why not give her the opportunity to reprise the role on the big screen? She also has additional experience working with Disney as the voice of Yo-Yo from Big Hero 6.
Claudia Kim
Claudia Kim isn't a name that a lot of people know right now, but we have a feeling that's going to change very soon. Most might recognize her as Khutulun from Netflix's Marco Polo series, or from her role as Dr. Helen Cho from Avengers: Age of Ultron. With a role in the upcoming Dark Tower movie as well, it's clear that Claudia Kim is going to continue to be cast in some major films. Mulan could be her graduation from supporting role to major lead, and she's only 21-years-old. One way or another, expect to see a lot more of her in the future.
Celina Jade
Celina Jade is probably best known by genre fans as the character of Shado, and her twin sister Mei, from the CW series Arrow. While she was never a major character outside of flashbacks, what we saw in those scenes certainly shows that Jade has the ability to kick some serious ass. Mulan is one of Disney's few action-oriented princesses, and Jade certainly has the ability to do fight scenes and even use a bow, which will very likely come into play. We'd love to see her do more and this role could be a great place for that.
Paris Berelc
One thing we know from previous experience is that Disney likes to keep things in the family. Once you're part of a Disney project, the odds of you getting future work with the company seem to really go up. This leads to some pretty serious big screen promotions. Actress Zendaya recently made that jump from Disney Channel series to Spider-Man: Homecoming, reportedly playing the major character role of Mary Jane Watson. If the company were to look to their young actress stable again, we could see them tapping Paris Berelc from the Disney Channel series Lab Rats and it's spinoff to play Mulan. While she is younger than most everybody else on this list, there's no reason that Mulan can't be young, and it just means there's even more potential for sequels if the first one is a hit.
Samantha Jo
This one's a bit out of left field, but it's a sentimental favorite. For the most part, Samantha Jo has made her career as a stuntwoman, not an actress. Unless you saw the web series Mortal Kombat: Legacy (where she played Kitana) you've probably never seen her- although she will have a role as Euboea in Wonder Woman next year. However, one of the places where she currently does stunt work is as the stunt double for actress Ming-Na Wen on Agents of S.H.I.E.L.D. Why does that matter? Because Ming-Na Wen was the voice of Mulan in Disney's original animated feature. Casting Samantha Jo would keep it all in the family and make a connection back to the actress that originally brought the character to life.
Katrina Law
We haven't talked about Arrow for a few entries, so let's do that again. There's another great actress from that show who would make for a solid option as Mulan. Katrina Law portrayed Nyssa al Ghul, the daughter of the Demon's Head on the series. Like Celina Jade, there's no question whether she could take on the more physical aspects of playing an action heroine. Her role on Arrow wasn't without aspects of the mystical and magical either, which, if this version of the film is taking its cues from Disney, the new movie will also have.
Rinko Kikuchi
Finally, we wrap up with our favorite breakout actress of recent memory. Nobody knew who Rinko Kikuchi before Pacific Rim came out, but she was pretty much everybody's favorite part. We'd almost like to not put her on this list, hoping to give somebody else the same star making chance that she got. However, since Hollywood has absolutely failed to make this woman the goddamn movie star she deserves to be in the last three years, we all apparently need a refresher course on how awesome she is. So let's cast her in Mulan and maybe it will take on the second try.
CinemaBlend's resident theme park junkie and amateur Disney historian. Armchair Imagineer. Epcot Stan. Future Club 33 Member.
Your Daily Blend of Entertainment News
Thank you for signing up to CinemaBlend. You will receive a verification email shortly.
There was a problem. Please refresh the page and try again.