Looks Like The World Is Getting Star Wars Homes, And Kanye West Is Involved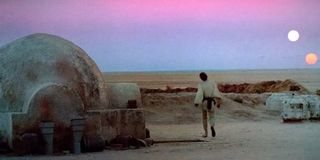 Kanye West is always getting up to new and unique projects, whether that be collaborating with NASA, working on new fashion lines, or even bringing Fatburger to the masses. Not all of these projects have worked out (RIP midwestern Fatburger), but that doesn't stop the rapper from trying. And his next project will take him to a galaxy far, far away. Well, if you count San Francisco as "far, far" from Los Angeles.
New broke this week that Kanye West is hoping to build homes in the San Francisco area that will resemble the homes on Tatooine we've see in the Star Wars universe. The houses are being designed as low income housing units that look as if they could be the home Luke Skywalker lived in as a child.
In addition, if the project goes through, the houses are expected to be prefabricated and easy to put together. Currently the houses are in the design stage, but if they go forward, people's dreams of living in Tatooine-like structures could be a future reality.
The news comes from a Forbes profile highlighting some of the stuff Kanye West is up to these days, when he's not appearing on Keeping Up With The Kardashians, of course. The oblong structures are listed as something he's currently working on but are in the prototype phase, and are described as "looking like the skeletons of wooden spaceships."
Meanwhile, Kanye West is still working on his Yeezy shoe line and was even involved in some of the creative strategy for his wife Kim Kardashian-West's recent shapewear line. (You know, the one that made headlines for its branding, so take of that what you will.)
Kanye West has been a longtime fan of Star Wars. The rapper references the popular franchise in a couple of his songs, even. "Gone" features the line "if they ever flip sides like Anakin" and "Guilt Trip" has a line referencing Chewbacca related to fur: "Star Wars fur, yeah I'm rockin' Chewbacca." It's safe to say he's at least casually excited about the franchise.
Then, there's that time his wife Kim Kardashian dressed in the Princess Leia slave costume for Alligator Boots, a legendary Comedy Central show that never made it to air. But if we had gotten it, we would have gotten to see Kanye play a Stormtrooper alongside Kardashian's Carrie Fisher homage. It was a meet-cute moment for the couple as well.
So, it's clear the family has ties to Star Wars or at least a love for the sci-fi franchise. What's unclear is whether or not these Tatooine houses will ever get off the ground beyond the prototypes that have already been built, but to me it seems like they would have a purpose somewhere on earth for fans if the low income housing idea doesn't work out.
Amazing Race & Top Chef superfan with a pinch of Disney fairy dust thrown in. If you've created a rom-com I've probably watched it.
Your Daily Blend of Entertainment News
Thank you for signing up to CinemaBlend. You will receive a verification email shortly.
There was a problem. Please refresh the page and try again.