Why Samuel L. Jackson And Chris Rock Are Exactly What The Saw Franchise Needs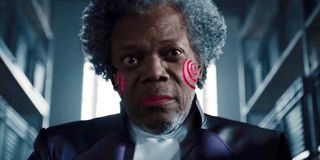 It seems that comedians are the new horror auteurs and A-list action heroes are the genre's new icons. The news that Samuel L. Jackson will star in producer Chris Rock's reboot of the Saw franchise leads me to believe this is the new normal.
It was reported in May that comedian Chris Rock pitched a concept for a new Saw movie to Lionsgate and the studio gave it the green light immediately. This was followed by rumors that Samuel L. Jackson, The Avengers' Nick Fury himself, would join the cast, which were recently confirmed to be true.
Years ago, this would have been very surprising news, and not just because the Saw movies already saw a revival of sorts two years ago with Jigsaw. However, in a world in which Jordan Peele has won an Oscar for a horror film that starred an MCU actor, I can see it working.
I would even go as far as saying that a story from the mind of Chris Rock and the mere onscreen presence of Samuel L. Jackson is exactly what the Saw movies need. Hear me out:
The Saw Movies Have Lacked Star Power For A While Now
The first Saw, released in 2004, was directed by future The Conjuring helmer James Wan and written by future Insidious scribe Leigh Whannel, who were both relatively unknown at the time. What helped get the film noticed, other than its twisted concept and graphic intensity, was its surprising cast.
Dr. Lawrence Gordon, one of the two protagonists trapped in a bathroom by Jigsaw and forced to kill the other to escape, is played by Cary Elwes. Even if the name is not familiar, the face certainly is, given his roles as the heroic Westley in 1987's The Princess Bride and Mel Brooks' farce Robin Hood: Men In Tights, or even villainous roles, such as fiendish Mayor Larry Kline in Season 3 of Stranger Things.
Hot on Dr. Lawrence Gordon's trail, suspecting he is the Jigsaw Killer, is Detective David Trapp, played by Danny Glover. Unless you count Predator 2, it was unheard of to see Lethal Weapon's Roger Murtaugh in a horror film before Saw, but now it is quite common to see Glover pop up in thrillers, such Jim Jarmusch's quirky zombie film The Dead Don't Die.
Tobin Bell became a horror icon after he was revealed to be Jigsaw at the end of the first Saw and became the face of the franchise since, even after his character's death. Also, Donnie Wahlberg, brother of Mark, made for a very intriguing protagonist as Detective Eric Matthews in Saw II.
Outside those aforementioned names, most of the Saw movies have relied on a rotation red shirts to fall victim to the franchise's signature death traps instead of a recognizable cast to keep audiences invested. Also, James Wan, now a mega-budget filmmaker, and Leigh Whannell, not far from the same level with his upcoming Escape from New York remake and The Invisible Man reboot, have pretty much abandoned the franchise they pioneered.
A new Saw movie from the mind of a household name is just what the franchise needs to boost intrigue, especially from a veteran almost purely of comedy like Chris Rock. Samuel L. Jackson, being one of the most beloved and profitable actors in history, is more than enough reason to get people interested in returning to the world of Jigsaw.
Not to mention, when it comes to horror, Saw will not be Samuel L. Jackson's first rodeo.
Samuel L. Jackson Is A Veteran Of The Horror Genre
The first thing you often picture when you think of Samuel L. Jackson is bible-quoting assassins or eye-patched comic book characters. However, Jackson is an actor of various personas and has taken on every genre here and there, and horror is no exception.
From his blink-and-you-miss-it appearance in 1990's The Exorcist III to his starring role in the Stephen King adaptation 1408 alongside John Cusack, Samuel L. Jackson knows the ins and outs of horror, having represented both sides of the bloody conflict. For instance, he defended passengers of a plane full of snakes and fought prehistoric beasts running amok in a theme park, as well as forced innocent, desperate Luke Wilson into a trail of blood in 2012's Meeting Evil.
There is still much to learn about the upcoming Saw reboot, including Samuel L. Jackson's role. I, however, am confident that whether he is playing a new apostle of Jigsaw or a detective racing to save his daughter from a death trap, he will nail it with ease and, potentially, invoke a refreshing persona that the horror genre has long ignored.
If there is one personality trait that Samuel L. Jackson has mastered on screen it is fearlessness. All any non-villainous character does in the Saw movies is cry and beg for mercy.
If Samuel L. Jackson were to play a victim in Saw, I can only imagine him being the one guy who gives Jigsaw a run for his money, effortlessly dodging death traps by crafting well-calculated escape plans and throwing threatening remarks over the intercom. Even if a trap did claim his character, a drop of his signature F-bomb could make it the actor's most epic death scene yet, and you know his death scenes never disappoint.
Saw Movies Could Benefit From Chris Rock's Humor
The original Saw movie is a thoroughly bleak and often ferociously graphic film that is just a few gratuitous sex scenes and extra disemembered limbs away from pure grindhouse fodder. The subsequent entries to the franchise certainly steered toward that tone as it progressed, focusing more on elaborate death traps and blood splatter, ultimately becoming the subgenre it inadvertently pioneered: torture porn.
What the sequels did not leave much room for was humor, which may sound like a sickly prospect, but it has been known to work well before. The Final Destination franchise increased in popularity as its death scenes grew more ridiculous and some of Blumhouse's biggest hits are just as funny as they are creepy, which is usually intentional.
Chris Rock has made it known that humor will be an element to his Saw reboot. I believe that this is the perfect way to revive the franchise and make it more accessible to an audience looking for a good time at the movies, in lieu of unwavering petrification for two hours.
Jigsaw made a point of adding a refreshing aura of dark comedy to its typical moments of high tension thrills and shocking carnage, and many fans have cited that as one of their favorite aspects of the sequel. By throwing in Chris Rock's legendarily brutal comedic sensibilities, maybe this new Saw will become a new fan favorite.
When is the last time you were this excited for the ninth entry of a horror franchise? Until Chris Rock's Saw reboot starring Samuel L. Jackson is released on October 23, 2020, check back for more updates on that matter here at CinemaBlend.
Jason has been writing since he was able to pick up a washable marker, with which he wrote his debut illustrated children's story, later transitioning to a short-lived comic book series and (very) amateur filmmaking before finally settling on pursuing a career in writing about movies in lieu of making them. Look for his name in just about any article related to Batman.
Your Daily Blend of Entertainment News
Thank you for signing up to CinemaBlend. You will receive a verification email shortly.
There was a problem. Please refresh the page and try again.