Why Spider-Man: Far From Home Scrapped Plans For A Donald Glover Cameo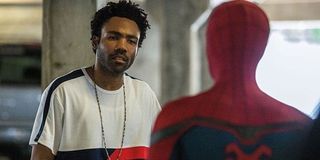 As an actor and writer of the highest caliber, Donald Glover is, without a doubt, one of Hollywood's hottest stars. With credits such as the universally acclaimed television series Atlanta, Dan Harmon's Community, and Solo: A Star Wars Story under his belt, he's shown that he can adapt to a role -- and that typecasting is something he actively avoids. So when word slipped that he would possibly appear in Spider-Man: Homecoming, fans were ecstatic. Some speculated that he would play Miles Morales. As it turned out, he did appear, but not as Morales. And his appearance, while brief, even got Into The Spider-Verse's Brian Tyree Henry excited.
Unfortunately, Glover's character, Aaron Davis (Miles Morales's uncle) didn't appear in Spider-Man: Far From Home, and people wondered why he vanished. As a fun but unnecessary side note, he isn't the only character missing from Far From Home.
Spider-Man: Far From Home writers Chris McKenna and Erik Sommers offered some insight in a recent interview. As it turned out, Donald Glover's absence from the 2019 film wasn't for personal or professional reasons. No matter how hard they tried, they just couldn't fit him into the story they had planned.
Here's what Chris McKenna told The Hollywood Reporter:
Co-writer Erik Sommers said something similar, adding:
Their reasons for excluding Donald Glover are absolutely valid, although it probably broke their hearts a bit. Glover is absurdly talented and a highly sought-after figure in the industry. Any director would rightfully be thrilled to sign him on to their movie.
But ultimately, director Jon Watts and the screenwriters made a wise move. Far From Home is a phenomenal movie, its busy but brilliant plot replete with richly realized characters, inspired performances, and fun, twisty developments. In many respects, it's superior to Homecoming, even if that's only because Jake Gyllenhaal absolutely kills it as Mysterio. Michael Keaton's Vulture was amazing, but Gyllenhaal takes villainy to an entirely new level.
Spider-Man: Far From Home is playing in theaters now. Check it out if you haven't. It's really good.
Your Daily Blend of Entertainment News