Disneyland's Attendance Has Been Down Since Galaxy's Edge Opened, But It's Actually A Good Thing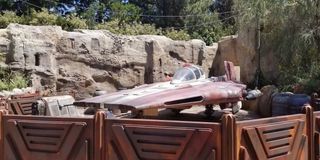 Star Wars; Galaxy's Edge was one of the most hotly anticipated additions to Disneyland that the park had ever seen. For two years fans waited and wondered just what we would get. Then, the land finally opened, and while it was met with a great deal of praise and fanfare, almost from the beginning it seemed that a lot of people were expecting, well, more.
It turned out that the massive crowds that were expected to appear never really materialized. Disneyland on the whole was being called a ghost town. It seemed to be emptier on the whole than one would expect during the busy summer season.
On Tuesday, during the regular quarterly earnings call, Disney confirmed that its domestic parks have seen a slight dip in attendance, about 3% compared to the previous quarter. While the knee jerk reaction here is to claim that Galaxy's Edge has been a disappointment, if even to a small degree, that's actually not what happened here at all. Disneyland's attendance may be down, but it's because of a concerted effort by Disney to manage crowds and guest experiences, and it worked perfectly.
It was confirmed later in the call that the decrease in attendance is almost entirely due to the fact that most Annual Passports have been blacked out since Star Wars: Galaxy's Edge opened in May. It's the people that can't use their passes that haven't been going to the park. In fact, paid admission, the people who actually bought their tickets in the last quarter, actually saw an uptick.
This makes some sense as Disneyland Resort hotel occupancy also saw a slight increase. People who have annual passes tend to be Southern California locals who can visit the park often and don't need hotel rooms.
There were other reasons cited by Disney CEO Bog Iger for the attendance drop, not all of which were entirely within Disneyland's control. Some potential guests may have stayed away because they expected large crowds. Many hotels surrounding the Disneyland Resort boosted their prices in order to try and boost their own bottom line, which might have made the trip too expensive for some.
In addition, some may have delayed a planned Disneyland trip because one of the land's major attractions, Rise of the Resistance, did not open with the land. We now know it will open at Disneyland in January.
The fact that Passport holders couldn't get in the park certainly still had an impact that shouldn't be overlooked. When those people do go to Disneyland, they buy food and merchandise and they weren't there to do that this last quarter. The fact that the people who did visit Disneyland this quarter actually spent 10% more on tickets, food, and merch, shows how much Disneyland potentially lost by not letting the AP holders in. A 10% increase is a huge boost. That's a lot of $200 lightsabers.
The fact that the people who were at Disneyland spent more money is a clear indication that Disneyland, and Galaxy's Edge, are doing just fine. The idea that only massive crowds mean success is crazy. Universal Orlando's newest roller coaster had massive crowds, so I guess that means it was a success, even though those crowds meant the ride ran longer than anticipated and had to shut down during daytime hours for maintenance. I'm not saying Hagrid's Magical Creatures Motorbike Adventure was a failure either, simply that being busy is not the only way to determine success. Sometimes, smaller crowds are better.
And honestly, smaller crowds are better at Star Wars: Galaxy's Edge than almost anyplace else. The land wants to be an immersive Star Wars experience. It wants you to feel like you're standing on an alien world. That's a bit more difficult to accomplish when you're packed in with other tourists like sardines. With some freedom to roam around Batuu you can feel like you're really there.
The fact is, that with the smaller crowds, the people who were at Disneyland almost certainly had a better time. People who enjoy themselves tend to spend more money, they tend to come back, and they tend to tell their friends what a great time they had.
There's also a point of diminishing returns. If the crowds are so big that you decide not to bother to wait in line to get food or merchandise, then Disneyland doesn't get your money. And let's face it, at the end of the day, they want your money. They want those lines as long as can be justified, but not one person longer.
Theme parks are a balancing act. You want them full of people spending money but you also want them full of people having a good time. In the long run, that's good for business. However, if they're too full of people, nobody has a good time. That's bad for business in the long run, even if you get a lot of people's money now.
The other reason we shouldn't read too much into Disneyland's attendance, and what it means for Star Wars: Galaxy's Edge, is that Disneyland wasn't the only park to see a slight attendance drop. Walt Disney World, the most popular theme park resort on the planet earth, also saw a decline.
Star Wars: Galaxy's Edge hasn't even opened there yet, so any disappointment in the land can't be blamed. In fact, Disney claims that the decline there was, at least in part, due to people waiting for Galaxy's Edge to open. It will finally happen at the end of August.
Certainly, Disney wasn't planning for its parks and resorts to lose money. The company knows that the launch of Disney+ is going to cost more to create than it's going to bring in, at least at first, but that's all the more reasons the other parts of Disney need to pick up the slack.
Having said that, erring on the side of guest experience is the better long term decision. Star Wars: Galaxy's Edge is a long term investment. It's going to mean increased business for Disneyland Resort for decades. In the end, if Disneyland can do more business with fewer guests in the park, that's a benefit. They can always get more guests. A slight blip in the business side of things might make investors freak out, but for fans it's actually a good thing.
Your Daily Blend of Entertainment News
Content Producer/Theme Park Beat
CinemaBlend's resident theme park junkie and amateur Disney historian. Armchair Imagineer. Epcot Stan. Future Club 33 Member.