David Harbour's Hellboy Sequel Would Have Introduced A 'Vastly Different' Abe Sapien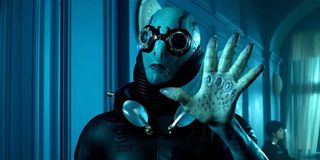 When plans to make the long-discussed Hellboy III fell through, Lionsgate decided to reboot the Hellboy property in the hopes that it could spawn a new film series. Alas, that's almost certainly not going to happen, as the cinematic tale starring Stranger Things' David Harbour as Big Red was met with mostly negative reception and bombed at the box office.
That means we'll never get to meet this new version of Abe Sapien who was teased at the end of Hellboy, but according to makeup artist Joel Harlow, who worked on the reboot, the new Abe Sapien would have been quite different from the one played by Doug Jones in the Guillermo del Toro Hellboy movies. Harlow explained:
In case you haven't seen Hellboy or need a refresher on its ending, Hellboy and his team found Abe Sapien's water tank when they conducted a raid on the Oannes Society months after the main storyline wrapped up. As Joel Harlow mentioned while speaking with Comic Book Movie, although Abe's hand was briefly shown, had Hellboy 2 moved forward, the character's overall design would have been a fully fresh take, and his demeanor would have been different from the ones fans are used to from the printed page and earlier Hellboy movies.
Abe Sapien has been part of the Hellboy mythology since the beginning, being an important character not just in the main Hellboy book, but also making regular appearances in the B.P.R.D. spinoff series and even leading his own ongoing comic book. Doug Jones physically played Abe in both of Guillermo del Toro's Hellboy movies, with David Hyde Pierce voicing him in 2004's Hellboy and Jones also handling vocal duties for 2008's Hellboy II: The Golden Army.
In the Dark Horse Comics continuity, Abe was originally a human Victorian scientist who was turned into his amphibian form by a magical ritual, and his body was contained in a water tank until being discovered over a century later. Since he now had no memory of his past life, he was named Abe because a piece of paper attached to the tube dated April 14, 1865, the day President Abraham Lincoln was assassinated.
The previous movies kept Abe Sapien's basic background intact, and he was an incredibly polite, well-spoken scholarly individual. So to go from that to a 'very thug'-like personality is a big departure, though it certainly would have have made him stand out more. Given that this Abe Sapien had also been contained for a long time, we can assume he also hailed from the Victorian era, but perhaps instead of being a scientist, he was a blue-collar worker, hence why he's rougher around the edges.
Regardless, considering that the Hellboy reboot only made $40.8 million worldwide, not even covering its $50 million budget, unless Lionsgate is feeling extremely generous, we won't be officially meeting this Abe Sapien or reuniting with these versions of the Hellboy cast. Who knows, though. Now that Dark Horse has a deal set up with Netflix, maybe there will come a day when a live action Hellboy TV series is made, and there we can meet an Abe Sapien who shares some personality quirks with the one who was supposed to grace the silver screen.
Besides being a critical and commercial failure, Hellboy also dealt with a lot of behind-the-scenes problems during the creative process. They reportedly included the cinematographer being replaced, producer Lloyd Levin interrupting director Neil Marshall and the script being rewritten numerous times. David Harbour later acknowledged that the reboot had "major problems," which had to do in part with too many voices chiming in during production.
That said, regarding Hellboy's poor reception, David Harbour felt that the movie was unfairly compared to the Marvel Cinematic Universe, with audiences expecting a certain "flavor" from their superhero movies. Milla Jovovich, who played Nimue the Blood Queen, wasn't bothered by how Hellboy was received, saying that all her "raddest films" have been "slammed" by critics.
In some ways, the Hellboy reboot was a more faithful adaptation of the Hellboy mythology. It was inspired by the "Darkness Calls," "The Wild Hunt" and "The Storm and the Fury" and Hellboy in Mexico" story arcs, and it featured characters like Alice Monaghan, Ben Daimio, Baba Yaga and even Lobster Johnson.
Unfortunately for Hellboy fans, it just didn't hit during its time in theaters, so barring some theatrical miracle, it'll be a one-and-done tale. This is the second time that Abe Sapien has drawn the sort straw when it comes to film, as around the time the reboot was announced, it was revealed that there were plans to give Doug Jones' version of the character a spinoff.
It's also worth noting that there was also talk about having Doug Jones cameo in the reboot, though presumably as a different character. While Jones never got to make Hellboy III with Guillermo del Toro and Ron Perlman, he did reunite with del Toro on the Academy Award-winning The Shape of Water, where he played the amphibious creature that looks like it could be one of Abe Sapien's relatives.
Hellboy is now available on Blu-ray, DVD and Digital HD, and stay tuned to CinemaBlend for any news about if the property will return to the screen, big or small. For now, you can keep track of what movies are coming out for the rest of the year in our 2019 release schedule.
Connoisseur of Marvel, DC, Star Wars, John Wick, MonsterVerse and Doctor Who lore. He's aware he looks like Harry Potter and Clark Kent.
Your Daily Blend of Entertainment News
Thank you for signing up to CinemaBlend. You will receive a verification email shortly.
There was a problem. Please refresh the page and try again.