Brie Larson Lifted Thor's Hammer, And Natalie Portman Had The Perfect Response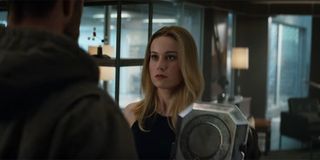 Thor's Hammer Mjolnir isn't just a weapon of immense power, it's also a good, if imperfect judge of character. To date, only a few characters in the Marvel Cinematic Universe have proven capable of wielding it, Thor, Odin, the Goddess of Death Hela, who was its original wielder, and in a crowd-pleasing moment in Avengers: Endgame, Captain America. Now one of the Avengers' heaviest hitters Captain Marvel herself, Brie Larson has lifted Thor's hammer. Check it out:
Man, Mjolnir is really getting around these days. It seems that Captain Marvel is worthy to lift the dwarf-forged, enchanted war hammer, even if she's so powerful she doesn't really need it most of the time. Still, Brie Larson seems quite pleased with herself for having lifted what so many other Avengers failed to in Avengers: Age of Ultron. If this picture is any indication, lifting Mjolnir didn't require much effort either.
Although she doesn't want to be that person, the Captain Marvel actress can't help but deliver an 'I told you so' to whoever the naysayers were that thought she couldn't lift it. My guess is it was probably Rocket who doubted her, or maybe Thor himself, the two of them did have a bit of a standoff at the beginning of Avengers: Endgame.
Brie Larson's expression in her Instagram picture is perfect too, and very much what we would expect from Carol Danvers. She is simultaneously smug that she lifted Mjolnir, but is also giving it a look of skepticism and almost disappointment, like 'That's it?'
The actress better be careful though, just because she's worthy doesn't mean that Mjolnir belongs to her. The hammer belongs to Thor, or to be more specific, Mighty Thor Jane Foster who will take up the mantle in the Phase 4 film Thor: Love and Thunder (Will she wield Mjolnir or Stormbreaker?). Jane Foster herself Natalie Portman took notice of Brie Larson's post and had the perfect response:
Natalie Portman respects the physique of her MCU co-star, but she's putting Captain Marvel on notice that Mjolnir has an owner so she better be careful with it and show it the proper respect. The future Mighty Thor held Mjolnir at Comic-Con when Thor: Love and Thunder and her return as Jane Foster were announced and she said to remember that image for when she gets jacked. So Brie Larson won't be the only one rocking superhero muscles before long.
Now the question is, will we ever see these two onscreen together? It seems unlikely to happen in Thor: Love and Thunder but we don't know for sure what Phase 4 and Phase 5 will build to. Presuming it's some sort of crossover/team-up film, maybe these two will get to meet onscreen at some point.
Thor: Love and Thunder opens in theaters on November 5, 2021. Assuming you want to see some movies before then, you can check out the rest of what's coming out this year in our premiere guide.
Nick grew up in Maryland has degrees in Film Studies and Communications. His life goal is to walk the earth, meet people and get into adventures. He's also still looking for The Adventures of Pete and Pete season 3 on DVD if anyone has a lead.
Your Daily Blend of Entertainment News
Thank you for signing up to CinemaBlend. You will receive a verification email shortly.
There was a problem. Please refresh the page and try again.