The Most Intriguing Under The Radar Movies Of 2019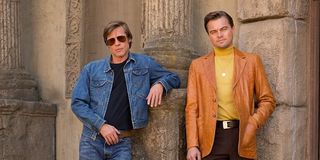 To say that 2019 is a huge year at the movies is a massive understatement. This year is full to bursting with superhero films, long-awaited sequels, reboots, remakes of animated classics, video game adaptations, blockbusters aplenty and a little thing called Star Wars: Episode IX.
You could probably stick to the tentpole movies that fall on the 'most anticipated' lists and have a great year at the theater, but chances are if you're reading this site, you have a bigger cinematic appetite and desire more than just the movies that will have huge opening weekends.
This year has a lot of intriguing movies flying just under the radar of the big blockbusters. You may have heard of some of these, but it's a good bet the public at large is unaware of many of these films. The majority of them don't even have trailers yet. Nevertheless, these movies are all intriguing for different reasons, be it the talented filmmakers behind them or a compelling and original premise.
This list is by no means all encompassing, and there is a ton of stuff that we do and don't know about that will probably make a splash before the year is out, but here are the most intriguing under the radar movies of 2019.
Serenity
When it comes to intriguing looking films, 2019 starts off fast with Serenity, from Steven Knight, director of Locke and creator of Peaky Blinders. This thriller stars Matthew McConaughey as a fishing boat captain whose past catches up with him when his ex-wife, played by Anne Hathaway, comes calling for help. His life becomes embroiled in mystery and he finds that not all may be what it seems. It's hard to say what Serenity will be, but it looks weird and pulpy, like an island blend of Twin Peaks and Bloodline. Serenity also stars Djimon Hounsou, Diane Lane and Jason Clarke.
Release Date: January 25
Chaos Walking
What do you get when you pair Spider-Man actor Tom Holland and Rey actress Daisy Ridley? Chaos Walking, the new dystopian sci-fi film from Edge of Tomorrow director Doug Liman. Based on a series of young adult novels by Patrick Ness, Chaos Walking tells the story of Todd Hewitt (Holland) a boy in a world with no women, where all living creatures can hear each other's thoughts through a stream of visual and auditory input called Noise. When Todd is forced to flee his town, he discovers a girl, Viola (Ridley). Together the two must escape their pursuers and discover the truth.
Release Date: March 1
Us
Jordan Peele's directorial debut Get Out flew under the radar until it didn't, and he's returning once again to the horror genre for his follow up. Us stars the MCU's Lupita Nyong'o and Winston Duke as a couple that take their kids to their beach house, only to have their holiday interrupted by some unexpected, horrific and eerily familiar visitors. Get Out was creepy, but the first trailer for Us indicates that for his sophomore film, Jordan Peele has created something truly terrifying. Everything about Us is compelling and it will be interesting to see if Jordan Peele can make it 2 for 2.
Release Date: March 15
Where'd You Go, Bernadette
Director Richard Linklater is back, and like his previous effort, Last Flag Flying, he is adapting a popular bestseller for the screen. Where'd You Go, Bernadette is based on the novel by Maria Semple and stars Oscar winner Cate Blanchett as an anxiety-ridden mother and architect who disappears after her daughter Bee asks for a family trip to Antarctica. In a story not unlike last year's Searching, Bee, played by Emma Nelson, must search her mother's letters and emails to try and find where she went. The film looks light and fun, and with Richard Linklater directing, Where'd You Go, Bernadette is a film worth paying attention to.
Release Date: March 22
Rocketman
Last year had A Star is Born and Bohemian Rhapsody, and 2019 looks to continue the hit music movie trend with Rocketman. The Elton John biopic actually comes from Dexter Fletcher, the man who took over directing duties on Bohemian Rhapsody after Bryan Singer was fired. Here we'll get to see what he does with a film about another music icon when he has the reigns from the start. What makes Rocketman especially intriguing and unique is that it will be taking less of a traditional approach to the material and instead be more of a highly stylized biopic that will have fantasy elements to it. Rocketman stars Taron Egerton as Elton John, as well as Richard Madden, Bryce Dallas Howard and Jamie Bell.
Release Date: May 31
Ad Astra
The Lost City of Z and We Own the Night director James Gray delves into the realm of science fiction for Ad Astra. The film stars Brad Pitt as an Army Corps engineer and astronaut who journeys into space to find his missing father, played by Tommy Lee Jones, who disappeared decades ago on a search for alien life. The premise has Interstellar vibes as a sci-fi film with a core family element at its heart. What makes Ad Astra especially intriguing is the mystery element because finding out why Tommy Lee Jones' character disappeared in the first place may prove just as important as actually finding him.
Release Date: May 24
Ford v. Ferrari
To the dismay of some Star Wars fans, we aren't getting a James Mangold-directed Boba Fett movie, but the Logan director still has an exciting new movie in the pipeline. Ford v. Ferrari tells the true story of the Ford Motor Company's attempt to reinvent itself in the 1960s by entering the world of European racing and taking on perennial powerhouse Ferrari. Ford v. Ferrari stars Christian Bale as driver Ken Miles, Outlander's Caitriona Balfe as his wife Mollie, and The Punisher's Jon Bernthal as Lee Iacocca. Matt Damon will play automotive legend Carroll Shelby. We don't get many racing movies, and the talent involved and story here makes Ford v. Ferrari one of 2019's most intriguing movies.
Release Date: June 28
Once Upon a Time in Hollywood
If he is to be believed, Once Upon a Time in Hollywood could be Quentin Tarantino's penultimate feature film. Regardless of whether or not that holds true, the auteur has a highly intriguing film on the books for this summer. Set in 1969, Once Upon a Time in Hollywood follows a former Western TV star, Rick Dalton and his stunt double, trying to find their place in a changing Hollywood. The film takes place during Charles Manson's reign of terror, with Margot Robbie on board to play Sharon Tate. The film has been described as Pulp Fiction-esque, which is highly appealing because that 1994 film is probably Tarantino's most famous one. Tarantino has assembled perhaps his most impressive cast to date, including Brad Pitt, Leonardo DiCaprio, Dakota Fanning, Kurt Russell, Al Pacino, Timothy Olyphant and James Marsden.
Release Date: August 9
The Kitchen
We all know about the big superhero movies coming in 2019, but comic books have more to offer than just brightly colored heroes fighting aliens. The Kitchen is based on a Vertigo comic by Ollie Masters. It follows the wives of three gangsters in 1970s Hell's Kitchen who, after their husbands go to prison, continue running their rackets. The Kitchen marks the directorial debut of Straight Outta Compton writer Andrea Berloff and stars Melissa McCarthy, Elisabeth Moss and Tiffany Haddish as the wives of the Irish gangsters who take to the business. The film also stars Common, James Badge Dale, Margo Martindale and Domhnall Gleeson.
Release Date: September 20
Gemini Man
Gemini Man has languished in development hell for two decades, but it will finally see the light of day this year. Oscar winning filmmaker Ang Lee directs Will Smith as an over-the-hill hitman who must face off with a much younger clone of himself. Modern de-aging technology means that this film can be done in a way it couldn't twenty years ago, and with Ang Lee at the helm, this Looper-esque sci-fi story will hopefully push emotional boundaries in addition to technological ones. Gemini Man also stars Mary Elizabeth Winstead, Clive Owen and Benedict Wong.
Release Date: October 4
Knives Out
If you rewind back before Star Wars: The Last Jedi split the fandom, everyone was excited for Episode VIII because of what Rian Johnson had done with his original films like Brick and Looper. Now a much more divisive filmmaker, Rian Johnson is back with his new original film Knives Out. The film, written and directed by Johnson, has an incredible cast that includes, Ana de Armas, Chris Evans, Daniel Craig, Michael Shannon, Jamie Lee Curtis, Toni Collette, Christopher Plummer and Lakeith Stanfield. That murderers' row of talent is fitting for what is described as a modern murder mystery. We don't know much about this whodunit film, but the secrecy only adds to the interest for a Rian Johnson film without the expectations of Star Wars.
Release Date: November 27
The Last Thing He Wanted
Following her previous Netflix film Mudbound, Dee Rees is returning to the streaming service with The Last Thing He Wanted. Based on the novel by Joan Didion, the film follows Anne Hathaway's character, a journalist covering the 1984 Presidential primaries. She quits her job to do a favor for her father and winds up becoming an arms dealer for a covert government agency. That is a riveting premise that is loaded with potential. The Last Thing He Wanted also stars Ben Affleck, Willem Dafoe and Toby Jones. As a Netflix movie, this one is flying under the radar, but it definitely seems like something worth keeping an eye out for.
Release Date: TBD 2019
The Irishman
After a decade or so tackling other subjects, Martin Scorsese, the director of Mean Streets, Goodfellas and The Departed, is back with a new mob movie. Robert De Niro stars as Frank "The Irishman" Sheeran, a mafia hitman who, near the end of his life, claimed to have killed Teamster leader Jimmy Hoffa, who will be played by Al Pacino. The wildly expensive Netflix film will be something of a retrospective as Frank looks back on his life and the choices he made. The Irishman will use the increasingly in vogue de-aging technology for the flashbacks, showing us a younger De Niro and Pacino. This mobster film fan's dream also stars Ray Romano, Bobby Cannavale, Anna Paquin, Joe Pesci, Jesse Plemons and Harvey Keitel.
Release Date: TBD 2019
For all of 2019's movies big and small, check out our release schedule.
Your Daily Blend of Entertainment News
Nick grew up in Maryland has degrees in Film Studies and Communications. His life goal is to walk the earth, meet people and get into adventures. He's also still looking for The Adventures of Pete and Pete season 3 on DVD if anyone has a lead.
Your Daily Blend of Entertainment News
Thank you for signing up to CinemaBlend. You will receive a verification email shortly.
There was a problem. Please refresh the page and try again.