The Irishman's Runtime Is No Joke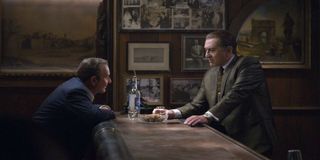 As Martin Scorsese's The Irishman inches closer to its November release, audiences are beginning to learn a bit more about the mysterious project and what to expect from it. The film's first trailer hit computer screens last month, giving viewers their first real glimpse at a de-aged Robert De Niro in the title role. Since then, we haven't heard much. We know that De Niro, Al Pacino, and Joe Pesci are leading an incredibly impressive cast and that the film has a massive budget.
Now, though, we've got a better idea of how long the film will likely be, a detail that seems insignificant until your bladder is fixing to burst during the most pivotal scene in the movie. Happens to the best of us, I suppose-- especially after the last two Avengers movies.
According to Vanity Fair, Scorsese's latest will clock in at a daunting 210 minutes (well over three hours). The news comes from report which gathered the information from the New York Film Festival website. The posted runtime has since been taken down, but that just means it is probably accurate.
While this makes The Irishman Scorsese's longest film to date, it's worth noting that many of his previous projects haven't been short, either. Goodfellas ran for 146 minutes, which is definitely pushing it. The Wolf of Wall Street and Silence were even longer. Luckily, all three of those movies were great so the credits always roll before you want them to. Existing outside this trend is the phenomenal Taxi Driver, which was under two hours long.
Based on Charles Brandt's true crime best-seller I Heard You Paint Houses, Scorsese's latest film focuses on an older Frank "The Irishman" Sheeran as he looks back at what he has done, where he has been, and what he was willing to do for an insanely powerful crime family. A World War II vet and hitman, Sheeran plays a pivotal role in the disappearance of friend and labor union leader Jimmy Hoffa (portrayed by Pacino). Pesci will portray mafia leader Russell Bufalino.
The cast alone is more than enough reason to get excited for this film. With names such as Ray Romano, Harvey Keitel, Bobby Cannavale, Sebastian Maniscalco, and Anna Paquin attached to the project, the film promises more talent than I think any of us are truly prepared to see. Bring it on anyway! I'm so ready for this movie.
Will you be watching The Irishman? What do you think of the film's reported runtime? Does that dissuade you from seeing it or are you watching the film regardless? How on Earth are you gonna properly time your bathroom breaks? Let us know in the comments below and remember to brush up on what's coming to theaters this year.
Your Daily Blend of Entertainment News
Thank you for signing up to CinemaBlend. You will receive a verification email shortly.
There was a problem. Please refresh the page and try again.