Joker: An Updated Cast List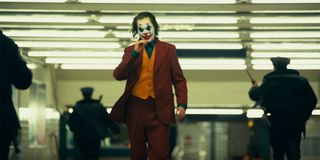 Much of the excitement and anticipation about Todd Phillips' Joker has centered on Joaquin Phoenix, and rightfully so. The acclaimed actor has eschewed superhero roles in the past so seeing what someone of his caliber can do with a character as captivating as the Joker is an exciting proposition. But Joaquin Phoenix is far from the only talented actor taking part in the standalone DC film, he is surrounded by familiar faces in roles that are both new to this film and ones that are staples of the Batman mythos.
Joker premiered at the Venice Film Festival and the first round of reviews has already hit the web. It'll still be around a month until most audiences can see it though, so now is as good a time as any to get a look at who is in Joker and who they're playing. This list isn't all-inclusive, but these are the actors and characters to watch for in what is sure to be one of the year's most talked about films.
Joaquin Phoenix – Arthur Fleck/Joker
Joaquin Phoenix needs no introduction. The actor who has starred in movies like Gladiator, Walk the Line, The Master and Her, here plays a man called Arthur Fleck. Arthur is a failed stand-up comedian and a man disregarded by society who eventually becomes the iconic Batman villain known as the Joker. Joaquin Phoenix lost 52 pounds for the role and the early reactions to the film have already heralded this performance as a surefire Best Actor Oscar contender.
Robert De Niro – Murray Franklin
In a nod to his character Rupert Pupkin from Martin Scorsese's The King of Comedy, two-time Oscar winner Robert De Niro plays talk show host Murray Franklin. In the trailers for Joker we witness Murray making fun of Arthur Fleck's attempts at comedy, but we also see that once he becomes the Joker, Arthur makes his way on to Murray's show. So whether Arthur kidnaps Murray like in King of Comedy or not, Joker's appearance on Murray's show looks like it could be a pivotal moment in the film.
Zazie Beetz – Sophie Dumond
Atlanta and Deadpool 2 actress Zazie Beetz plays a character named Sophie Dumond in Joker. This character does not appear in the comics, but we know that she is a single mother and a potential love interest for Arthur Fleck in the film. Arthur and Sophie are even seen making out in the trailers and she appears to bring some joy into the life of the tragic soul prior to his transformation. If I had to guess, unless she's this version of the story's Harley Quinn, they won't be living happily ever after.
Marc Maron – Ted Marco
Avowed disliker of comic book movies and their fans, comedian Marc Maron stars here in the comic book movie Joker. The star of Netflix's GLOW joined the film for a chance to work with Robert De Niro, which is totally fair and understandable. Marc Maron plays a character named Ted Marco, who is the booking agent to De Niro's Murray Franklin. He is the one who books Arthur Fleck on Murray's show, a move that I have to imagine he will come to regret. Whatever his opinions on comic book movies, Maron is hilarious and plays snarky characters really well so we'll see if he does something similar here.
Brett Cullen – Thomas Wayne
In a role that was originally supposed to go to Alec Baldwin, Person of Interest and The Dark Knight Rises actor Brett Cullen plays Thomas Wayne, as in father of Bruce and person who should avoid going to the theater. Thomas Wayne is clearly still a public figure in Gotham based on the trailers for Joker and something leads to him getting into a physical altercation with Arthur Fleck himself.
Frances Conroy – Penny Fleck
Frances Conroy is perhaps best known for her role on HBO's Six Feet Under, but she also starred in that rightfully forgotten Gotham film, Catwoman. Here she plays Penny Fleck, the mother of Joaquin Phoenix's Arthur. Rather than being the kind of abusive parent that might raise a sociopath, Penny really believes in Arthur and the two appear to have a loving relationship, as indicated by the scenes of the two dancing in their living room and Arthur giving Penny a bath.
Brian Tyree Henry – Arkham State Hospital Clerk
Brian Tyree Henry's role in Joker is one of the more mysterious. The star of Widows, Child's Play and future Eternal Phastos will apparently play an Arkham State Hospital Clerk according to his listing on IMDb. Maybe he never gets named in the film but in the trailers he is seen talking to Arthur through a grate at the hospital so their interaction might prove important to Arthur's overall journey.
Douglas Hodge – Alfred Pennyworth
With Thomas Wayne in Joker it seems only right for Alfred Pennyworth to also make an appearance; who else will open Thomas' car door for him? Here Alfred will be played by Douglas Hodge, an actor with an extensive resume in shows like Penny Dreadful and Lost in Space and movies like Red Sparrow and the upcoming The Report. It's unknown what part Alfred will play in proceedings, maybe he'll break out his special forces training, but I imagine he'll be showing up alongside the next entry on our list.
Dante Pereira-Olsen – Young Bruce Wayne
Dante Pereira-Olsen will be new to many audiences, I mean he's only been alive for 9 years, but this will be his second time showing up in a film alongside Joaquin Phoenix. He previously starred in You Were Never Really Here. He also had a role in SYFY's series Happy! Here he plays a young Bruce Wayne, the future Batman and the Joker's future nemesis. I don't know how much interaction there will be between Bruce and Arthur in the film, if any. But maybe we'll get a quick scene alluding to the characters' shared destiny or Bruce could just show up alongside his father at some point.
Shea Whigham – Detective Burke
With his roles in Waco, Fargo and Boardwalk Empire, actor Shea Whigham is practically a professional onscreen cop at this point. Here he plays, wait for it… a cop. Shea Whigham stars in Joker as Detective Burke, a law enforcement officer we can safely assume most contend with Joker once Arthur Fleck's switch is flipped. In the trailers, Burke is seen chasing Joker through the subway station as he is overwhelmed by the throng of mask-wearing individuals.
Joker opens in theaters on October 4. Check out our 2019 Release Schedule to keep track of all this year's biggest movies.
Your Daily Blend of Entertainment News
Nick grew up in Maryland has degrees in Film Studies and Communications. His life goal is to walk the earth, meet people and get into adventures. He's also still looking for The Adventures of Pete and Pete season 3 on DVD if anyone has a lead.