New Star Wars Comic Has Kylo Ren Visiting An Empire Strikes Back Location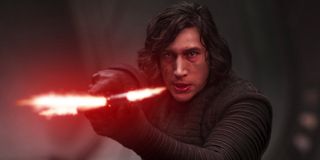 Thus far in the Star Wars Sequel Trilogy, all the locations our heroes and villains have traveled to are worlds previously unseen in a galaxy far, far away. But a Star Wars comic book being released next week sees Kylo Ren, formerly known as Ben Solo, visiting the place where Luke Skywalker learned to become more skilled in the Force and where Yoda lived when the Empire reigned: Dagobah.
Since the beginning of the year, Marvel Comics has published a series of 'Age of' one-shots that highlighted major protagonists and antagonists in the Star Wars universe. The 'Age of Republic' line covered Prequel Trilogy characters, the 'Age of Rebellion' line covered Original Trilogy characters' and we're currently in the middle of the Sequel Trilogy characters being covered in the 'Age of Resistance' line, with Supreme Leader Snoke being highlighted next.
In a preview for the Snoke one-shot shared by the official Star Wars website, we see him and Kylo Ren, having only recently established their master/apprentice dynamic, landing on Dagobah and traversing through its marshy terrain. Snoke mentions that Luke Skywalker, "one of the most formidable Jedi," began his training on the planet, and when Kylo asks why Snoke refers to Luke with respect, Snoke responds that Luke earned both his respect and fear, and that if Snoke had Luke by his side instead of Kylo, he'd be controlling the galaxy by now.
Eventually the two find the cave where Luke fought his fears and darkness manifested in the form of Darth Vader (albeit with Luke's head in the helmet instead of Anakin's), and upon entering it, Kylo finds himself confronting a manifestation of the older Luke circa the time he was training Ben. Kylo and the faux-Luke duel while Snoke provides commentary, instructing his pupil at the end of the preview to "Strike against the light within you."
You'll have to pick up Age of Resistance — Supreme Leader Snoke #1 (written by Tom Taylor and illustrated by Leonard Kirk) to learn how this tale concludes, though we know in the long run that Kylo Ren will stay by Snoke's side until Star Wars: The Last Jedi, when he finally has enough and slays his master. Still, for folks who are curious about Kylo and Snoke's early days together, this one-shot will shed a little light on that period.
Dagobah proved to be a key location in the Star Wars mythology, as Yoda lived in exile there after Emperor Palpatine rose to power because it was remote and lacked any advanced civilizations, as well as was strong in the Force. Force Ghost Obi-Wan Kenobi instructed Luke Skywalker to go seek Yoda on Dagobah early into The Empire Strikes Back (Mark Hamill's favorite Star Wars movie), and while Luke learned much from the elderly Jedi Master there, he didn't complete his training and left when he learned his friends were in danger on Bespin.
Luke Skywalker returned to Dagobah in Return of the Jedi, but at that point Yoda at death's door, and once he revealed that Luke had a sister, he passed away. Revenge of the Sith had a deleted scene showing Yoda landing on Dagobah, and the planet was shown a few times in The Clone Wars TV series.
Although this winter's Star Wars: The Rise of Skywalker will wrap up the Skywalker Saga and looks to be revisiting at least one familiar location (Endor, judging by the wreckage of the second Death Star being shown), the chances of Dagobah being visited too seem slim. In fact, even with more movies and several live action TV shows on the way, it's hard to say if we'll ever see Dagobah screen again, so at least this comic book lets us take in its… marshiness again after so long away (within the official canon, that is).
You can purchase your copy of Age of Resistance — Supreme Leader Snoke #1 digitally and at your local comic book store next Wednesday, September 11, and Star Wars: The Rise of Skywalker opens in theaters on December 20.
Your Daily Blend of Entertainment News
Connoisseur of Marvel, DC, Star Wars, John Wick, MonsterVerse and Doctor Who lore. He's aware he looks like Harry Potter and Clark Kent.
Your Daily Blend of Entertainment News
Thank you for signing up to CinemaBlend. You will receive a verification email shortly.
There was a problem. Please refresh the page and try again.