Kristen Stewart Had The Best Reaction To Robert Pattinson Playing Batman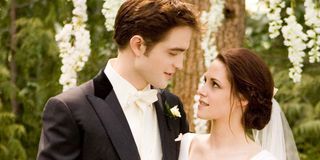 Kristen Stewart and Robert Pattinson may be known for their respective roles as Bella Swan and Edward Cullen in the Twilight series, but their more recent work points to their growth as people and performers.
Kristen Stewart stars in the upcoming Charlie's Angels reboot, turning in a performance that, according to director Elizabeth Banks, will surprise viewers. In the years following Breaking Dawn: Part 2, the young actress has also appeared in a number of other films, such as American Ultra, Snow White and the Huntsman, Still Alice, Seberg, Cafe Society, and many others. Both she and Robert Pattinson have started appearing in smaller films, broadening their horizons as entertainers and proving that they are more talented than Twilight might have led us to believe.
They both juggle roles big and small, but Robert Pattinson's career is about to change even more. And Kristen Stewart couldn't be happier about it.
During a red carpet interview with Variety, Stewart expressed how excited she was for Pattinson after he was cast as the new Batman.
Wow. That's high praise. She may be slightly biased, but Pattinson has repeatedly proved himself as an actor and continues to wow fans of every genre. And Stewart isn't the only Twilight alum who has praised the casting. Dakota Fanning also gave Pattinson her glowing endorsement.
The interviewer also hilariously (and randomly) mentioned Robert Pattinson's cheekbones, but Kristen Stewart was too excited to notice.
Personally, I'd say this is the most wholesome thing I've seen all day. A much-needed break from all the doom and gloom out there. She looks so excited and happy. It's honestly super contagious. You can check out the full interview below!
Robert Pattinson will debut as Batman in the Matt Reeves-directed The Batman, which is currently scheduled for release on June 25, 2021. Before that, though, you can catch him alongside Willem Dafoe in Robert Eggers's The Lighthouse, out October 18, 2019. That film is already generating a ton of positive buzz and may turn out to be one of the year's best films (if what I've heard is accurate).
What do you think of Kristen Stewart's comments? Are you more excited for the film after hearing what she has to say? Less excited? Cautiously optimistic? Completely indifferent? Drop a comment below and don't forget to check out the other films we have yet to see in 2019. There are quite a few films coming out that we are super excited for, but what are you looking forward to seeing?
Your Daily Blend of Entertainment News
Your Daily Blend of Entertainment News
Thank you for signing up to CinemaBlend. You will receive a verification email shortly.
There was a problem. Please refresh the page and try again.