Ryan Reynolds And Will Ferrell Are Teaming Up For A Christmas Carol Musical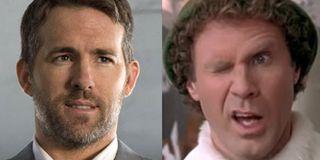 Charles Dickens's A Christmas Carol has been adapted, spoofed, and drawn from so many times that it's difficult to justify the existence of another one. Sure, some of its many previous adaptations have taken liberties with its original premise (such as Mickey's Christmas Carol, The Muppet Christmas Carol, and a handful of others), but we've reached a point where we need to leave Dickens's story alone. There is only so much you can do with Scrooge's story, and we're reaching the point where the practice of adapting A Christmas Carol has begun to feel forced and cheap. Low-hanging fruit, if you will. That being said, a new adaptation is most likely coming, and it has the potential to be really good. I'll reserve full judgment until its release.
The Hollywood Reporter brings word that Daddy's Home directors Sean Anders and John Morris are scripting and helming a musical based on Dickens's 1843 classic. Will Ferrell and Ryan Reynolds will star in the film, but details surrounding the nature of their involvement remain shrouded in mystery. Anders and Morris are still sending the script around, but there are plenty of interested parties. And, according to industry insiders, studios have already placed their bids for the project. So yeah, it's happening.
Both Will Ferrell and Ryan Reynolds have demonstrated range as actors, so they could absolutely turn in quality performances here. The former starred in films such as the comedy-drama Stranger than Fiction, the absurd Talladega Nights: The Ballad of Ricky Bobby, the heartfelt Elf, and the hilarious Step-Brothers (totally going to ignore Holmes and Watson here). He recently parted ways with longtime collaborator and director Adam McKay, a move that may explain his involvement here. Reynolds is perhaps best known for his roles in the Deadpool movies and, more recently, for voicing Pikachu in Pokemon: Detective Pikachu.
With the aid of these powerhouse actors and a solid creative vision, this new reimagining of A Christmas Carol could turn out to be a good time at the movies. It will be interesting to see how Anders and Morris go about crafting a film that isn't something we've seen done the exact same way (or nearly the exact same way) so many times. They have definitely got their work cut out for them, but success is absolutely achievable for them. Heck, look at what Scrooged was able to accomplish. I'm confident Anders and Morris can pull this off.
What do you think, though? Could Will Ferrell and Ryan Reynolds make a worthwhile version of A Christmas Carol? Do you think the directors will do a good job? Are they even the right directors for the job? Sound off in the comments below and make sure you check out other films slated for release.
Your Daily Blend of Entertainment News
Your Daily Blend of Entertainment News
Thank you for signing up to CinemaBlend. You will receive a verification email shortly.
There was a problem. Please refresh the page and try again.