Jeff Goldblum Is Psyched About Reuniting With Jurassic Park Co-Stars For Jurassic World 3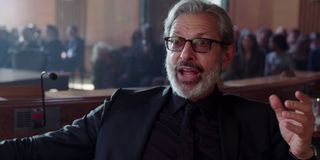 Learning the original trifecta from Jurassic Park would officially be returning for Jurassic World 3 was really exciting news yesterday, and now everyone's favorite acting weirdo Jeff Goldblum has come out of the woodwork to explain how happy he is to be back for more.
Actually, I think his exact words were "happy as a clam-asaurus," and I couldn't make that up if I tried. But you can actually just check out his thoughtful post, below.
Jeff Goldblum is always good for a fun social media post or five, but the actor isn't the only person who seems stoked about the original cast's return to the franchise.
In fact, yesterday, Chris Pratt got really pumped about the news finally being out in the open after months of rumors indicating the cast could – and probably would – come back. Pratt also promised the movie will be the "biggest, baddest and best" movie in the franchise. Those are pretty high expectations for this third film.
His co-star Bryce Dallas Howard also shared the news with a fun throwback post, similar to the one Jeff Goldblum shared.
The news originally broke at a fan event for the new short film in the franchise "Battle At Big Rock" earlier this week. Of course, we've known for a while that Sam Neill would probably be back playing Dr. Alan Grant, even though he chose to "clam" up about it in an interview. Given Jeff Goldblum's Dr. Ian Malcolm made an appearance in the last movie, adding Laura Dern's Ellie Sattler was simply just putting the last puzzle piece into place.
Although Jurassic World 3 doesn't have an official title yet, we do know quite a bit about the direction the third movie will take, thanks to the events in Jurassic World: Fallen Kingdom and the aforementioned "Battle At Big Rock," both which show dinosaurs out and about in society as a whole.
It should be noted the three original trilogy characters were around through the course of the first three movies, following Jurassic Park, they weren't in another movie together. Jeff Goldblum was in The Lost World: Jurassic Park sans the other two. Then Ellie and Alan were back for Jurassic Park III, but without Ian Malcolm. Of course, Jeff Goldblum also had a cameo in Fallen Kingdom.
So, this really should be a special reunion of the characters, even if it means this third movie is going to be hitting a lot harder on the nostalgia.
I'm really excited to see these three characters back together on the big screen – although we'll have to wait until 2021 for that to happen – but I do think it's worth pointing out the new trilogy has done a good job of introducing characters we care about too, particularly thanks to Owen Grady and Claire Dearing.
Even if she does run in heels some of the time.
Reality TV fan with a pinch of Disney fairy dust thrown in. Theme park junkie. If you've created a rom-com I've probably watched it.
Your Daily Blend of Entertainment News
Thank you for signing up to CinemaBlend. You will receive a verification email shortly.
There was a problem. Please refresh the page and try again.