7 Crazy Ways To Get Permanently Banned From Walt Disney World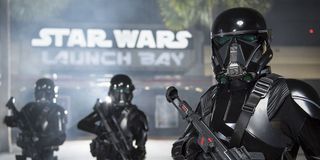 For me, there's no place in the world I'd rather be than Disneyland, with the possible exception of Walt Disney World. The fun these theme parks create is limitless. Whenever I leave, I begin to plan my next trip. The idea there might never be a next trip is unthinkable. I don't know what I'd do with myself if I couldn't go back. Is there even another place to go on vacation?
But for a handful of people, and it seems an increasingly large number of people, there will never be another trip to Walt Disney World. Because they've been banned from the park for life. While there are a couple of cases here where the banning seems to be a crazy decision on behalf of the park, what's mostly insane about this list is that these people actually did these things. The punishments seem obvious.
Punch A Cast Member
We shouldn't have to tell you not to punch people. In general, punching people is bad. Punching people at Walt Disney World is worse. Punching a cast member at Walt Disney World is going to get you thrown out of the place.
And yet, somebody did that earlier this year. It seems a party of people tried to get on the Twilight Zone Tower of Terror at Disney's Hollywood Studios through the FastPass+ line, but without the requisite FastPasses. When the cast member at the front of the line told them they couldn't get on the ride, an altercation ensued where a woman started messing with the attraction button's on the podium, and when the cast member attempted to stop this, she got hit in the face for her trouble.
Kick A Cop
One of the more recent instances of Disney parks banning also took place at Disney's Hollywood Studios. A Walt Disney World cast member was investigating a commotion just outside the gates of the park where they found a woman in a physical altercation with a cab driver. Apparently, the woman had asked the driver for a cigarette, but he didn't have one, and her response was to try and hit him.
The woman, was found to be intoxicated and police were called. She refused to cooperate and when she was taken into custody she reportedly tried to kick the arresting officer. According to Walt Disney World, it was the violence, and not the public intoxication, which was the technical reason for the ban.
Ignore Your First Warning
Walt Disney World is supposed to be a place for everybody. That means that you won't see a lot of opinionated material while inside the parks. You can imagine that guests espousing public political opinions might rub the park the wrong way. But there's no evidence that doing so will actually get you banned.
Technically, the politics were not the reason for the banning of one gentleman in 2018. He held out a Trump 2020 sign while on Splash Mountain and was removed from the park because the displaying of signs and banners by third parties is against park rules. He wasn't actually banned outright then, but he returned, and then did the same thing on Expedition Everest. The second rule violation, combined with the fact that he'd be warned before, was enough to earn the lifetime ban.
Sneak Backstage
The Disney Parks have a pretty big fan base, which means that a lot of people, when they're not in the parks, and consuming media about the parks. There's a host of great blog and YouTube talent out there making theme park content, but for one of them, the drive to get something special blew up in his face.
Adam The Woo called himself a Disney Explorer and a lot of his Walt Disney World content was focused on behind-the-scenes material in spaces that guests couldn't normally go. The problem was, he wasn't allowed to be there either. Eventually, Disney security caught up with him and a lifetime ban was issued. A few years later Adam appealed his ban and it was lifted, because Disney does sometimes do that.
Make the Wrong Joke
Of all the items on this list, this one is probably the most truly surprising to see a ban result. Back in 2015 a guest was evicted from his room at a Walt Disney World resort, and banned for life, because he made a joke.
The guest was waiting to speak with a cast member at his hotel, in hopes of extending the length of his family's stay. It apparently took a while for the cast members to see to him, causing him to make a joke that he could "build a meth lab" in the room before anybody spoke to him. Somebody apparently didn't think it was much of a joke. That night, the Sheriff's Department raided the room, the family was evicted from the room, and the man who made the joke was given a permanent ban.
Grope the Guests
On the other side of the coin, this ban-worthy incident is crazy because it's unbelievable somebody thought they could get away with this without being tossed out on their ear. During the Fourth of July weekend in 2016 a visitor to Disney's Typhoon Lagoon water park was accused of inappropriately touching six different people.
He was charged with four counts of lewd behavior and two counts of battery, and you can bet he was added to the permanent trespass list at Walt Disney World. While it's unclear how the criminal charges resolved themselves, the ban was probably the least of this guy's problems.
Climb The Attractions
Ok, so I have to admit, I'm actually making an assumption here that climbing the attractions will get you banned from Walt Disney World forever. The truth is, it's not clear.
There have been at least two instances where people decided to see how high they could climb at the park. In 2015, somebody who was clearly intoxicated preceded to scale the Mexico Pavilion at Epcot. Then, in 2017, no less than four people tried something similar with the Tree of Life at the center of Disney's Animal Kingdom.
The thing is, we don't actually know what happened to these people. There's no report that security ever caught any of them, it's possible they all got away scot-free. Still, I feel confident saying that if they had been caught, they would have received permanent bans. If the rest of the items on this list will get you thrown out forever, how could this not?
Getting banned from Walt Disney World is seriously a fate worse than death. For many of these people, perhaps it didn't matter. They likely knew what they were getting themselves into before it happened. For others, it might truly have been a terrible punishment.
As happened in one case listed here, Disney can review the case and overturn the lifetime ban. For some of these folks, that might be warranted, for others, it's really, really not.
Your Daily Blend of Entertainment News
Content Producer/Theme Park Beat
CinemaBlend's resident theme park junkie and amateur Disney historian. Armchair Imagineer. Epcot Stan. Future Club 33 Member.
Your Daily Blend of Entertainment News
Thank you for signing up to CinemaBlend. You will receive a verification email shortly.
There was a problem. Please refresh the page and try again.