The Most Anticipated Horror Movies Of 2020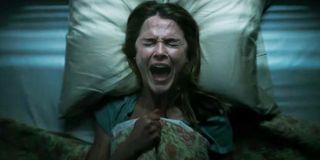 It's October, the best month of the year to watch your favorite scary flicks and (hopefully) receive no shortage of spooktacular delights. But when it comes to this month's horror movies, the selection is surprisingly a bit limited. It's not entirely slim pickings, necessarily, but it's not as plentiful as you might hope. Thankfully, 2020's round-up of horror hopefuls appears to be a little more plentiful than what we have gotten from 2019.
Whether it's original horror treats, returns to classic properties, or some new takes on some familiar favorites, 2020 will give movie lovers no shortage of selections in the horror genre. We've rounded up a few of the titles that we're excited to see in the next calendar year. It's still early, of course, and there are certainly gonna be a lot of movies announced in the next few months that'll hopefully get us buzzing. For now, though, let's take a look at a handful of upcoming horror films that piqued our interest and will likely provide us with no shortage of chills and thrills.
The Grudge (January 3rd, 2020)
It's become a tradition in Hollywood to release a major horror movie in the first weekend of January, in an effort to provide an early fright for the brand new year. 2020 is no exception, and the title-in-question might actually be more high-profile than your average early January pick. Specifically, January 2020 welcomes moviegoers with The Grudge, another retelling of the hit Japanese horror franchise, which is (once again) from producer Sam Raimi.
While horror reboots are almost always a source of weariness, especially when producer Sam Raimi's remake came out only 16 years prior, there is reason to be hopeful about this Grudge. Namely, it's the third film from writer/director Nicolas Pesce. While Pesce isn't necessarily a household name, his first two films, 2016's The Eyes of My Mother and 2018's Piercing, are astonishingly confident and filled to the brim with sharp visual prowess, especially from a young filmmaker. His bold, fearless vision might provide a tale that's more striking and distinctive than your usual Hollywood reboot.
Underwater (January 10th, 2020)
Underwater hasn't had the easiest road to theaters. Shot back in the spring of 2017, it'll be almost three years later when the Kristen Stewart-fronted horror film makes its way into theaters on January 10th, 2020. Due to both the Fox merger and the blockbuster featuring a prominent supporting turn from disgraced comedian T.J. Miller, there were worries that this nautical action-horror flick might sink ever deeper into the recesses of stalled release date hell. But even though its January release could be reasonable cause for concern, the exciting first trailer proposes that it could be worth the wait.
Underwater will essentially provide audiences with "Alien at the bottom of the sea"-esque tale, based on its early promotions. Though it could be a shameless rip-off, it could also be an inventive non-IP horror film with one of the best working actresses today. Whatever it might be, we'll put on our scuba gear, dig through the bottom of the ocean trenches and see what lurks underneath this unearthed seaside adventure.
The Turning (January 24th, 2020)
Based on the 1898 novella The Turn Of The Screw by Henry James, The Turning looks to be an old-fashioned freight fest from talented director Floria Sigismondi (The Runaways), as made evident by the recently unveiled trailer. Starring great talents like Mackenzie Davis, Finn Wolfhard, and The Florida Project's standout star Brooklynn Prince, The Turning has the nice creepy vibe that could make for a cool, spooky night at the movies.
Once again, it's hard to know for sure if a January release will live up to its potential, especially when it comes to horror movies. But here's hoping that this throwback genre flick is closer to the vein of the nifty, underrated The Woman in Black than countless other underwhelming turns.
Fantasy Island (February 14th, 2020)
This is an odd one. The popular '70s television series Fantasy Island is finally getting the movie treatment, but not in the way it was seen before. No, this version is similar to something like this year's The Banana Splits Movie, in that it'll take a classic television series of yore and turn it on its head —imagining what it would be like if it were in the horror genre instead. It's a risky gamble, especially if they want to appeal to fans of the old TV series. But it's also under the Blumhouse mold, which might give it the boost it needs to become both profitable for producers and enjoyable for moviegoers.
With no footage to give us an idea of what this movie might entail, we're going off the strange description to give us hope that this modernized horror take on Fantasy Island turns into a fun surprise. It's directed by Jeff Wadlow, who previously helmed the panned Truth or Dare, which might not be the sign of confidence this movie needs. But it has a good cast, including Michael Rooker, Lucy Hale, and Maggie Q. So, color us intrigued. Who knows how it'll be, but we're excited to see this fantasy turn into a nightmare.
The Invisible Man (February 28th, 2020)
After 2017's The Mummy failed to turn the classic Universal monster movies of old into a Marvel-esque cinematic universe, the studio got the bright idea to give these properties over to the Blumhouse folks, restoring the low budget roots of these characters and hopefully providing a style-friendly, low(er) stakes reboot at these classic characters. The first attempt to rejuvenate public interest is writer/director Leigh Whannell's The Invisible Man.
This new take on H.G. Wells' classic novel will take a curious approach to the source material, which follows Elisabeth Moss as a woman who rebuilds her life after her invisible ex-boyfriend commits suicide, before discovering that her partner might not be dead. It's a fresh take on the popular story, and one that hopefully provides an interesting spin on the familiar story. It's also benefitted by being Leigh Whannell's follow-up to his exceptional sophomore feature, last year's Upgrade.
A Quiet Place: Part II (March 20th, 2020)
John Krasinski surprised a lot of people as both an actor and director at the forefront of the emotional family horror-drama A Quiet Place. An intriguing concept was given emotional heft and no shortage of tense thrills through the television actor's unexpected talents as a genre filmmaker. Few people expected this underground hit to become such a critical/box office smash, but there was no question that a sequel would be made shortly thereafter.
Without diving into any major spoilers, John Krasinski will likely take on more duties as a director than actor for this upcoming sequel. But with the cast expected to expand, particularly with Cillian Murphy and Djimon Honsou joining the ensemble, it will be very intriguing to see where this sequel takes this fruitful premise next. Who knows if it'll work as well the second time, but it's certainly gonna make a lot of noise.
Untitled Saw Project (May 15th, 2020)
Particularly after the highly underwhelming and ultimately forgettable 2017 reboot/sequel, Jigsaw, failed to bring much interest back to the Saw series, it was apparent that the franchise needed to go in a much different direction if it wished to continue. After the inventive original Saw, the series hasn't found the same spark, resulting in gorier deaths and more scattered limbs, but less brains and big ideas being thrown around.
Thankfully, this reboot on the Saw franchise, which is currently untitled but has been referred to as The Organ Donor, features a story by Chris Rock and a cast that includes Samuel L. Jackson, Max Minghella, Marisol Nichols, and Rock himself. The details are presently kept under wraps, but we'll keep an eye out for what Rock and his team have sewn together.
Candyman (June 12th, 2020)
Considered a "spiritual sequel" to the 1992 film of the same name, Candyman, from producer Jordan Peele, finds Tony Todd reprising his title role as the character returns to a now-gentrified Chicago neighborhood, which is where the original story began. With Peele involved and Todd reprising his iconic role, there's great promise here. Hopefully, it's one of the long-awaited sequels that — similar to 2018's Halloween — does the original justice.
The Purge 5 (July 10th, 2020)
There are a few certainties in this world: death, taxes and another Purge movie. It was only a matter of time before we returned to the world of crime is annually legal for one night in the year. Not much is known about this newest film in the series, but there is a chance that this sequel might be the end.
At least, that's what James DeMonaco, the writer behind the movies (including the prequel, The First Purge), told Entertainment Weekly. While the third movie, The Purge: Election Year, felt very definitive, it's optimism about the 2016 election proved unfounded. So, DeMonaco found another idea that might be the true ending. Time will tell, but we'll be back for another Purge night.
The Conjuring 3 (September 11th, 2020)
While The Conjuring series has ballooned into a series of spin-offs and conjoining stories, notably with the Annabelle trilogy, The Conjuring 3 will likely be rounding out its original story with this newest installment. While James Wan isn't back to direct, there isn't any reason to mourn his absence. He'll be there more than simply in spirit; he serves as both a producer and story co-developer. So, Wan's influence will be seen and felt throughout the film.
Thankfully, Patrick Wilson and Vera Farmiga are back, and they'll be under the helm of Michael Chaves, who previously directed Curse of La Llarona earlier this year. This story will follow a case where a defendant claims he was possessed during his alleged crimes. It'll likely add to a more complex and dynamic story, and hopefully it'll produce a sequel that's befitting of the previous two installments.
Last Night in Soho (September 25th, 2020)
Edgar Wright first grew in fame as the director of the horror-comedy, Shaun of the Dead. Now, several years later, Wright will finally make his first straight horror film, Last Night in Soho. He's joined by the lovely Anya Taylor-Joy in a new mysterious horror-drama with a story that's currently unknown. But what more do you need to know? It's the new film from Edgar Wright, and it's a horror movie no less. Surely, it'll be something great.
Even if it's not (and that's highly unlikely), we'll still be there. It's always an event when Edgar Wright is at the helm of a new film. This newest genre spin has been one the director has worked towards practically his whole career. Finally, we're gonna see what an Edgar Wright horror film looks like.
Halloween Kills (October 16th, 2020)
Director David Gordon Green surprised many folks with his sequel to John Carpenter's classic, Halloween. His modern continuation, which saw Jamie Lee Curtis returning once again to play Laurie Strode, didn't match the mastery of the original, but it certainly did a better job than many other sequels, and it also garnered Carpenter's blessing — no small feat. After the movie made a killing, another sequel seemed only inevitable — even though the last film's ending felt like a proper wrap-up. Nevertheless, Michael returns with Halloween Kills.
Not too much is known about this sequel, but it's serves as one of two sequels we'll soon get, with Halloween Ends coming in 2021. It's weird to know that we'll get another one immediately after this movie, which might make the tensions less palpable. But we'll be sure to see Michael's return.
Antlers (TBA 2020)
Not much was known about Antlers, the new horror film from journeyman director Scott Cooper (Crazy Heart, Black Mass). But its eerie, compelling trailer came out of the blue and it was very quick to draw your attention, which makes the lack of a proper release date all-the-more frustrating to bare.
The foreboding trailer doesn't tell us much in terms of plot. But its stark imagery, beautiful camerawork, rich rural backdrop and exceptional ensemble, including Keri Russell and Jesse Plemons, makes it clear that this is one we shouldn't overlook. We'll be on the hunt for Antlers.
Army of the Dead (TBA 2020)
16 years after Zack Snyder made his directorial debut, a 2004 remake of George A. Romero's beloved classic Dawn of the Dead, the contentious auteur is back in the land of zombies with his latest, Netflix's Army of the Dead. While there are many folks who might not appreciate what Snyder brings to the table, even some of the filmmaker's biggest critics admit that Dawn of the Dead is a solid remake. Hopefully, he gets back onto people's good sides with this film, which will hopefully find the famous director getting final cut again.
Not a whole lot is known about the newest Zack Snyder zombie movie, besides a cast list that includes Dave Bautista, Ella Purnell, and several other talents, but we'll definitely keep ourselves attentive to this new zombie feature.
We're sure you have your own favorites. Let us know which horror movies you're most looking forward to in the comments.