Will Robert Downey Jr's Popularity Be Enough For Dolittle, Despite Bad Buzz?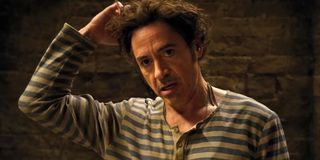 In the last 15 years, Robert Downey Jr. has been at the center of an impressive comeback story. After a troubled period that involved drug abuse, arrests, rehab stints and relapses in the early '00s, he found his way back in Hollywood's good graces – most notably with his quintessential role as Iron Man. Not only that, he has become one of the most beloved celebrities in the world and highest-paid actors. So naturally, fans want to see what he'll do next following his exit from the Marvel Cinematic Universe in Avengers: Endgame. Come January, it will be Dolittle. But as the marketing campaign for the movie has started to roll out this past week, there are a few red flags flying about the Universal release.
It's interesting to have a movie such as Dolittle be Robert Downey Jr.'s first non-Marvel movie in five years. Will his massively popular status bring the studio success no matter the content? Or could the bad buzz prevail and mark a failure for Downey following his work as Tony Stark? Will fans watch anything that with which the star is involved? Or is there a particular line? It's RDJ we're talking about, so let's discuss!
To set the mood for this piece, if you have yet to experience the poster, check it out below:
There's no elephant on the poster, but there's definitely one in the room here. Can we just all agree the photoshop job on this isn't great? Yes, it hopes to highlight the A-list-voiced animal characters around Robert Downey Jr's Dr. John Dolittle, which is a ridiculous task to begin with, but it just looks strange. This is a movie with a reported production budget of $175 million - which is a cost $15 million greater than Spider-Man: Far From Home, which featured Tom Holland, Samuel L. Jackson, Jake Gyllenhaal and the rest of the cast on an adventure to various European locations. Yet, the first presentation of Dolittle's visuals is far from enticing.
Moving away from comparisons to the beloved Eddie Murphy version set in a modern era, Robert Downey Jr's Dolittle will adapt the famous children's books by Hugh Lofting, first adapted into a movie in 1967 and set in the Victorian era. Downey will play a veterinarian to Queen Victoria, impressively skilled at his job thanks to the fact that he has the ability to talk to animals. He lost his wife seven years prior, and has become somewhat of a hermit in his home, which is filled with a menagerie of all types of animals. He must leave the comfort of his manor when the queen becomes ill, and he sets sail to an island to find her a cure.
Check out the first Dolittle trailer below:
It seems to be marketed as a dramatic tale in the vein of Disney live-action movies like Dumbo or Christopher Robin. The trailer even highlights ties to Disney by pointing out the involvement of filmmakers who made Alice in Wonderland and Maleficent. And considering the huge success of live-action Disney properties featuring talking animals, such as The Lion King's $1.6 billion worldwide haul, it makes sense for Universal to want to trick audiences that Dolittle comes from the House of Mouse.
Apart from his specific accent choice, which is a bit odd, Robert Downey Jr. and the rest of the cast have few memorable lines. Besides Dolittle nabbing Robert Downey Jr. in the titular role, the family-friendly movie has enlisted an incredible voice cast of huge stars including fellow MCU actor Tom Holland, Rami Malek, Emma Thompson, Kumail Nanjiani, Octavia Spencer, John Cena, Ralph Fiennes and Selena Gomez providing their voices, and Antonio Banderas and Michael Sheen as live-action characters.
The trailer has taken off in terms of popularity, becoming the #1 trending video on YouTube, and being viewed 14 million times over the past three days. That being said, not all of the views are necessarily by people who are definitely going to buy a ticket. With what we've seen so far from Dolittle in mind, there are some behind-the-scenes negative warning signs surrounding the flick.
The title of Dolittle was recently changed from The Voyage of Doctor Dolittle, but that's hardly the most significant way things have shifted behind the curtain. The release date for Dolittle was originally set for May and then, oddly, April 2019. With Avengers: Endgame dominating the season, the studio dodged a big bullet and changed it to January 17, 2020. Given the extra time, it was reported that Universal hired directors Jonathan Liebesman and Chris McKay to do some extensive reshoots, replacing Stephen Gaghan. Even with all that, there is still the confidence-shaking fact that January is infamously a stiff month for movies, and not exactly where studios release what they expect to be their biggest hits of the year.
And according to an April report by Collider, Dolittle was viewed by some of its producers, who subsequently felt the film had major issues with its visual effects and comedic delivery. The first trailer doesn't exactly suggest particular wit, either. Are these issues still present in the film? And by the way, the concerning matters continue. Someone who allegedly worked on the film took to Reddit to rant about the "production hell" it was working on the movie, calling Gaghan a "batshit director". Check out his words:
Controversies aside, Robert Downey Jr's name is on the top of the callsheet and that alone is a selling point for tons of movie fans. Plus, the additional voice cast can really only help the buzz on the film, and their involvement is the reason some reactions online have been positive about the release:
Dolittle could find its fans this way. A stacked cast has enticed moviegoers before, and there are a lot of big names behind the animals. But this is ultimately Robert Downey Jr.'s show, and the numbers suggest that. In a recent Cosmopolitan online poll, 61% of readers admitted they would go to see Dolittle because of its star. That's still a bit of a polarizing result, but it shows a significant amount of people are interested in it for this reason.
If Dolittle is going to potentially succeed, getting the support of a curious Marvel fanbase would be huge. After Robert Downey Jr. said goodbye to Tony Stark earlier this year, there's definitely interest in what his career is going to look like going forward, and how people will continue to get their RDJ fix.
It's true that following Endgame, RDJ certainly doesn't need to keep acting. One would expect him to take a hiatus before finding his way back into the public eye after a swan song such as Endgame. But who knows? Dolittle could be a much better movie than the marketing is letting on. It has potential to be a heartwarming update to the children's stories!
What do you think? Are you excited to see Dolittle in theaters? Does RDJ's presence add to your interest? Let us know your thoughts below.
This poll is no longer available.
YA genre tribute. Horror May Queen. Word webslinger. All her writing should be read in Sarah Connor's Terminator 2 voice over.
Your Daily Blend of Entertainment News
Thank you for signing up to CinemaBlend. You will receive a verification email shortly.
There was a problem. Please refresh the page and try again.