The 9 Best Nicole Kidman Movies, Ranked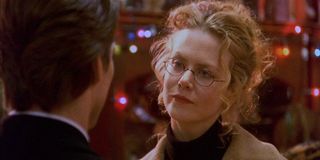 Nicole Kidman is a great actress. One would be extremely hard-pressed to say otherwise. For the past three decades, Kidman has proven herself to be an exceptionally versatile and vulnerable performer, capable of astonishing range and dramatic fortitude, with projects like To Die For and Lion. There are no shortage of strong, powerful performances from Nicole Kidman, and we want to take a moment to highlight a mere few of her exceptional roles throughout her extensive career.
Whether it's comedy, drama, action, adventure, fantasy or musical, to name a few of the genres she has worked in throughout her busy career, Nicole Kidman has provided audiences everywhere with an extensive array of compelling performances, challenging herself in a variety of acclaimed and intriguing titles. While not all of them can be winners (perhaps the less said about 2005's Bewitched or 2007's The Invasion, the better...), Kidman has displayed an impressive and accomplished showcase of her talents, and we want to take this opportunity to highlight a few of our personal favorites.
Now before we ruffle any feathers, we should note some of the films that didn't make the cut. That's not because they weren't worthy of being considered, but because we only have a certain amount of time and space and we can't give every movie its fair due. For instance, after going back and forth, we decided to cut Birth, Margot at the Wedding, Lion, Australia, The Stepford Wives, Dogville, Practical Magic, To Die For, Days of Thunder and, perhaps most controversially, Moulin Rouge.
The reasons vary between personal preference, differing opinions and some critical blind spots in my viewing habits. Nobody is perfect, after all, and I can't say I've seen every movie on Nicole Kidman's resume — though I should definitely make a point on catching up on a few. In any case, keep all that in mind. Now, without further ado, here's how we would rank some of the best of Nicole Kidman's movies.
The Beguiled
Sofia Coppola's 2017 film, The Beguiled, is certainly one that lives up to that title. Filled with intrigue and spellbinding visuals, it's a captivating film. And part of that reason is because Nicole Kidman's subtle, dependable performance carries the film through its soft presentation.
Commanding as ever as the woman who runs a girl school in Virginia in the midst of the Civil War, Nicole Kidman's performance is certainly one that demands respect. In just one glance, she channels so much intensity and ferocity, and for an actress as great and commendable as Kidman, it's great that she is capable of providing so much in such a simple gesture. This movie doesn't get as much attention and notoriety as some of the other films on Nicole Kidman's resume, but it's certainly one that's worth checking out if you are a fan.
Stoker
Park Chan-Wook's English-language debut, Stoker, is certainly a hard film to describe. A psychological thriller written by Wentworth Miller and brought to the same sort of chilling conclusion as some of Chan-Wook's other noteworthy films, it is probably best to leave the details of the plot a mystery if you haven't had a chance to see the film for yourself. But if you're looking for a good reason to see Stoker, one would certainly be Nicole Kidman's performance.
The actress once again displays the ruthless energy that is found in her best work, displaying a commendable sense of conviction and devastation in even a single utterance of a well-written sentence. The result is a ferocious performance that also contains the tenderness found inside her best work.
The Others
Nicole Kidman has found herself inside the horror genre more times than one would assume, as displayed in this article. But to date, one of her most memorable genre exercises remains the tense, twisty tale of The Others. Allowing the actress to display her strengths in a genre that — at the time — was not at one of its peaks, the result is another compelling performance in a role that once again allows the actress to flourish.
To reveal too much more would probably be unkind, since the film relies quite heavily on its twists, but The Others has become in one of the actress' most popular films. And while the horror genre doesn't always garner the best reviews — often unjustly — this film remains one of the most celebrated and acclaimed films on her resume, which is certainly saying something, considering the number of high-grade movies she has starred in.
Paddington
Who can hate sweet, dear Paddington? The formal, well-spoken and immensely polite little British bear is one of the kindest, sweetest souls to make his way to the big screen in quite some time. And while the trailers for 2015's film adaptation, the appropriately-titled Paddington, were dire, the film turned out to be a ravenous surprise, filled with great bouts of wit, charm and flights of whimsy. It's hard not to fall instantly in love with Paddington.
With that said, Nicole Kidman really had her work cut out for her in this family-friendly romp. As the villain of the movie, she had to do something damn near impossible: be antagonistic to that lovely English cub. Nevertheless, it's a major credit to her acting talents that she not only pulled it off, but pulled it off so convincingly. As if audience members needed more reasons to root for Paddington, Nicole Kidman provided them plentifully here. And while it's easily among Nicole Kidman's most well-liked and well-reviewed movies, it's not entirely fair to call it a "Nicole Kidman movie." Hence, why it is a little lower in this ranking than it would've otherwise been.
Cold Mountain
Though it doesn't get remarked upon quite as often now as it did in the decade prior, Cold Mountain is a commendable, richly textured tale. And it's made even stronger by its three central performances from Jude Law, Nicole Kidman and Oscar-winner Renee Zellweger. The film demands a lot out of its viewer through its two-and-a-half hour runtime. And it does like to take its time in slow, contemplative measures. Yet, through the compelling, mindful performances of our lead actors, the journey is worth the trail.
While Renee Zellwegger got the most attention and accolades for her performance, Nicole Kidman is also quite commendable in her role. As a woman hoping to keep things together during the troubles of the Civil War, she displays her talents for showcasing strength and vulnerability in equal measures. It's a strong performance, and one that doesn't often get as much consideration as it should in Nicole Kidman's strong-filled career.
Rabbit Hole
Emotionally authentic yet dramatically challenging, Rabbit Hole continues to be one of Nicole Kidman's finest performances to date. Given the fantastic material from playwright David Lindsay-Abaire, who adapted his play of the same name, and compelled by the sensitive, yet impactful, direction of the great John Cameron Mitchell, Rabbit Hole is a tragedy, filled with sorrow and pathos at every scene. But it never falls into misery, thanks largely to the incredible performances from Aaron Eckhart, Dianne Wiest and a pre-fame Miles Teller. But Kidman, in particular, stands out.
As a mother who is grieving from the death of her young son, Nicole Kidman delivers a commanding, yet deeply vulnerable, performance, filled with emotional intensity and dramatic nuance. It's a tremendous showcase for her dramatic versatility, showcasing the wide range of troubled emotions that come to a person when something this tragic, traumatic and heartbreaking is unfortunately found in someone's lives. The result is a beautifully-realized, delicately somber tale filled with sadness and tenderness in each measures. Kidman was also rightfully nominated for an Oscar for this role.
The Killing Of A Sacred Deer
Before Yorgos Lanthimos won awards voters' affections with last year's wickedly entertaining The Favourite, the Greek filmmakers alienated more than a few viewers with his divisive dark psychological horror flick, The Killing of a Sacred Deer. The film, which follows a cardiac surgeon (Colin Farrell) who makes the sullen company of a strange teenager (Barry Keoghan) who begins to torment the medical expert's family before the surgeon's past sins, is definitely not one that can be enjoyed by a wide audience. It's a moody, bleak, ruthlessly oppressive film, and that is at its kindest moments. But if you're someone who likes their movies a little more bitter than most, The Killing of a Sacred Deer is one that's most certainly worth your while.
And one of the film's greatest strengths is Nicole Kidman. The actress plays Colin Farrell's romantic partner in the movie, and through her commanding, often chilling performance, she helps to capture the unsettling in the everyday mundanities of white collar suburban living. It is most certainly a supporting turn in the film, but Kidman's presence is still welcomed nonetheless, and she helps capture the darkened mood perfectly. Come to think of it, The Killing of a Sacred Deer would make a strange, yet sort of perfect double feature with the next film on this particular ranking.
Eyes Wide Shut
Stanley Kubrick's final picture, 1999's moody, mysterious Eyes Wide Shut, is a confounding conclusion to some, and a melodic, poetic final brush stroke for others. I can't speak for everyone, but I'm definitely in the latter category. Kubrick's swan song doesn't quite reach the same heights as a few of his other masterpieces, but this bizarre, yet alluring, cult film (in more ways than one) is, nonetheless, benefitted enormously by Nicole Kidman.
As carefully constructed as every movie from Stanley Kubrick's filmography, Eyes Wide Shut can often seem haphazard and indecisive as you watch it. But it's one that definitely sticks with you and one that matches the obsessive compulsion that is found in our bewitched main character, played by Tom Cruise, Nicole Kidman's real-life husband at the time. Although the couple on-screen share a real, intimate relationship together, one that feels real for that very reason, they don't have quite the same radiant chemistry —intentionally so — that you would expect from your Hollywood A-listers. It is a credit to Kidman, though, that she often sells the humanity and the mystery that is so crucial to this story. And for what it's worth, there are only a few stars who have dropped the f-bomb as well as Kidman does here.
The Hours
In what might remain her most transformative performance to date, The Hours was the film that finally won Nicole Kidman her Oscar back in 2003, and it's not hard to see why. The actress disappears into the role, physically as well as emotionally, in her memorable, stunning portrayal of Virginia Woolf. And that's certainly not a role that an actress can play lightly, particularly with the emotional tribulations that her character goes through here.
Portraying the mental illness that is found in the literary figure, Nicole Kidman dives deep into the role, capturing the emotional highs-and-lows of this character through her acting prowess. The result is widely considered one of her strongest performances to date, and the role is well-accoladed for that particular reason. If you have a chance to check it out, you should do so.
So that's our lineup of the best Nicole Kidman movies, but what do you think? Let us know what's your favorite among the actress' filmography in the comments below.
This poll is no longer available.
Your Daily Blend of Entertainment News
Will is an entertainment writer based in Pittsburgh, PA. His writing can also be found in The Playlist, Cut Print Film, We Got This Covered, The Young Folks, Slate and other outlets. He also co-hosts the weekly film/TV podcast Cinemaholics with Jon Negroni and he likes to think he's a professional Garfield enthusiast.