The Current War Was Almost A Musical, Which Cracks Up Benedict Cumberbatch And Michael Shannon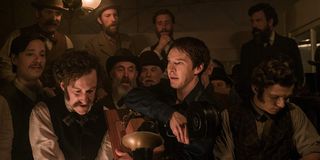 In the long and wild history of The Current War: Director's Cut's journey to the big screen, there's one story that hasn't been told just yet. Or at least, hasn't been told in great detail, as writer Michael Mitnick's tale of Thomas Edison and George Westinghouse clashing for the future of electrical power began its life in a very different genre. As it turns out, Mitnick first wrote what would eventually become The Current War: Director's Cut as a musical.
Even wilder is the fact this musical ran for a time at Yale, back in 2008, but eventually the story was reworked into the historical drama starring Benedict Cumberbatch and Michael Shannon that we are able to see today. Oh, what could have been if that first pass was so successful that Michael Mitnick couldn't deny this story its musical roots.
After learning that amazing story for myself during research for The Current War: Director's Cut junket, I asked those on hand during the press day for the film if they'd have still done the project if it was in its original musical form. The first time I posed that question was in a room with both Benedict Cumberbatch and Michael Shannon, as well as their co-star Tuppence Middleton, as the three were teamed up for one of the interviews that day.
Each of their immediate reactions was as priceless as you'd expect:
Unfortunately for the cast of The Current War: Director's Cut, they never got to hear the music for Michael Mitnick's musical pass on the project. But their reactions to the prospect were absolutely hysterical to behold, as any actor's approach to a project is sure to change once a person proposes singing and dancing be included in the mix.
That's exactly what's proposed in the actual footage of the interview I took part in, on behalf of CinemaBlend, and you can watch the cast's further reaction to the prospect below.
As you can see above, not everyone involved with The Current War: Director's Cut was in the dark about the musical roots to this very idea, as director Alfonso Gomez-Rejon not only knew of the original form this story too, but he got to hear songs from it as well! Unfortunately, Gomez-Rejon did not get to read the original book to The Current War: Director's Cut's more stage-ready counterpart, but he did head into the movie with a sort of simpatico sort of mindset when it came to how music meshed with the film.
Music was so important to the vision that Alfonso Gomez-Rejon had for his reworking of The Current War: Director's Cut that he actually used a totally new score for the film in its second iteration. Originally, composers Volker Bertelmann and Dustin O'Halloran were drafted to score The Current War in its original cut; and a track from their original work still exists on the internet if you want to hear what that version of the score would have sounded like.
Yet, with the time between the 2017 festival cut and 2019's Director's Cut, Gomez-Rejon opted to have the film re-scored by composers Danny Bensi and Saunder Jurriaans. It was one of the many additions and subtractions the director had approached working into The Current War: Director's Cut's now final form. While it's not the musical that this project once was, Alfonso Gomez-Rejon did see music as a vital part of what made this film so special, as he continued to explain during our interview together:
The scoring isn't the only musical flourish that Alfonso Gomez-Rejon used to bring The Current War: Director's Cut to life. During a crucial scene at the Chicago World's Fair, we see the event light up with an electric glow as the exhibition's grand display of power illuminates a dreary looking night. Faces are lit up, attractions are powered, and all the while Max Richter's track "Spring 1," a "recomposed" portion of Vivaldi's "The Four Seasons," is playing to grand effect.
Musical moments like that are some of the highlights of The Current War: Director's Cut's ultimate vision, but it's still hard to shake the idea that a full musical treatment could have been undertaken at one point or another. Plus, on top of telling me that he is a huge fan of musicals -- and musical directors like Bob Fosse, Stanley Donen, and Vincente Minnelli -- the director laid out how his musical version of The Current War could work; if it ever existed:
It may be too late for The Current War: Director's Cut to become a musical, but it's still an interesting idea to mull over, especially if anyone is interested in retelling Thomas Edison and George Westinghouse's "war of the currents" through that very medium.
Maybe the film version can resurrect Michael Mitnick's original book and score for some sort of stage engagement. Honestly, stranger things have happened, especially in a world where not one, but two versions of this very story exist on film. So if you're one of those brave souls who wants to make a mark on Broadway's musical landscape, you could probably get Michael Shannon to help you lead the way; and that's not bad company to have in this sort of situation.
The Current War: Director's Cut is in theaters now. However, if you're looking for something else to catch your fancy at the movies, head over to our 2019 release schedule, and take a look at what else is in store at a theater near you.
Senior Movies Contributor
CinemaBlend's James Bond (expert). Also versed in Large Scale Aggressors, time travel, and Guillermo del Toro. He fights for The User.
Your Daily Blend of Entertainment News
Thank you for signing up to CinemaBlend. You will receive a verification email shortly.
There was a problem. Please refresh the page and try again.