The Current Wars Trailer: Watch Benedict Cumberbatch And Michael Shannon Face Off As Edison And Westinghouse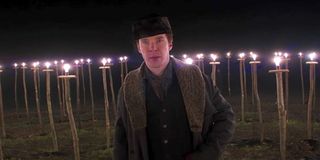 The Weinstein Company has just released the trailer for director Alfonso Gomez Rejon's upcoming historical drama The Current War for online consumption. The film stars Benedict Cumberbatch as Thomas Edison, Michael Shannon as George Westinghouse and Nicholas Hoult as Nikola Tesla in a drama that explores the intense competition that wound up changing the entire world. As you'll see below, the trailer is literally electrifying!
In 1878, renowned inventor Thomas Edison (Benedict Cumberbatch) began to tackle his biggest challenge to date: the electric light bulb. Later that year, he formed the Edison Electric Light Company with the goal of replacing gas lights with his new creation and, by 1882, several dozen Manhattan residents were receiving his direct current. It wasn't long thereafter that George Westinghouse (Michael Shannon) took notice and began developing his own electrical service provider, the Westinghouse Electric Corporation. Officially launched in 1886, Westinghouse managed to achieve an edge by working with young inventor Nikola Tesla (Nicholas Hoult), who pioneered an alternating current.
The Current War also boasts a pretty impressive supporting cast. Inherent Vice and Alien: Covenant star Katherine Waterston plays the wife of Michael Shannon's character, Marguerite Westinghouse. In real life, Marguerite and George Westinghouse were married for 47 years until they both passed away in 1914, just three months apart. Spider-Man: Homecoming's Tom Holland, meanwhile, is taking on the role of Samuel Insull. Born in England, Insull came to America in 1881 and began working with Thomas Edison at age 21. He went on to become a major player in the rise of the electrical current, eventually helping to found Edison General Electric. The company dropped the Edison from its name and became General Electric in 1892.
Also among The Current War's supporting cast is Tuppence Middleton, who previously worked with Benedict Cumberbatch in 2014's The Imitation Game. Here, she plays Thomas Edison's wife, Mary, whose death is likely to be an early part of the film. In real life, Mary Edison passed away in 1884 as the "War of Currents" was just beginning. Then, rounding out the cast, is Frost/Nixon star Matthew Macfadyen as J.P. Morgan. The banker famously invested in Thomas Edison, playing an important part in helping to bring the electric lightbulb to the masses.
The Current War also has an interesting individual in the director's chair with helmer Alfonso Gomez-Rejon. Following a decade of work as a second unit director, Gomez-Rejon made his full directorial debut with 2014's slasher sequel The Town That Dreaded Sundown. He followed that up with the acclaimed indie comedy drama Me and Earl and the Dying Girl in 2015. With The Current War, he working off a screenplay by Michael Mitnick. Mitnick's credits include the 2014 Lois Lowry adaptation The Giver and the HBO original series Vinyl. It was The Current War itself, though, that helped Mitnick make a name for himself. His script landed on the 2011 Black List. Oddly enough, the top entry that year was Graham Moore's script for Benedict Cumberbatch's last biopic, The Imitation Game.
The Current War hits theaters on November 24. You can stay up to date with what's still on the way using our 2017 movie release date calendar.
Your Daily Blend of Entertainment News
Thank you for signing up to CinemaBlend. You will receive a verification email shortly.
There was a problem. Please refresh the page and try again.