One Matrix Sequels Star Would Be 'Delighted' To Return For The Matrix 4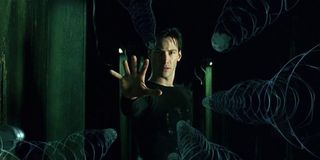 There's still a lot of mystery surrounding The Matrix 4. While we know that some key players are returning, there are still unanswered questions about how they'll successfully revive the revolutionary franchise. And it turns out that even some former cast members are still in the dark about their characters' fates. But at least one of the sequels' stars would gladly return for the next installment.
In a recent interview with Entertainment Weekly, Harry Lennix, who played Commander Lock in The Matrix Reloaded and The Matrix Revolutions, was asked about his feelings about the next chapter for the series. He was enthusiastic about The Matrix 4's prospects, though less certain of his own role in it, saying:
Harry Lennix is right about the impact The Matrix series has had on film. And that's why fans are watching news about the latest chapter carefully. Thus far, we know that it isn't going to be a reboot or remake, but a continuation of the existing story. There's been encouraging news, like the return of Keanu Reeves, Carrie-Anne Moss, and Jada Pinkett Smith. And it looks like there will be some new faces in the mix, too -- though at least one may be taking up the mantle of one of the series' most iconic characters.
While the response to The Matrix's two sequels were mixed at best, this could be a chance to get the franchise back on track. The cast and crew have a big job ahead of them. Fans will definitely want the film to address unanswered questions about the series' complicated universe and bring something new to the table. We'll see how it all comes together when The Matrix 4 hits theaters in 2022.