All The Times Star Wars Cut Ties With Creative Partners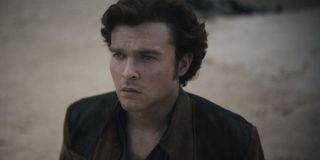 As soon as Disney bought Lucasfilm, a new trilogy was announced and it was made clear that new Star Wars movies weren't going to be going away even after that was done. The franchise was here to stay. However, the attempts to bring Star Wars back haven't come without a series of growing pains.
We're on the verge of the end of the promised trilogy, but even that didn't arrive quite as advertised, and it seems that every time a Star Wars movie is rumored or announced, it runs into problems. Yesterday Star Wars hit yet another hurdle with the former Game of Thrones creative team working on the next film taking their ball and going home, but they're not the first, not by a long shot.
Josh Trank - Boba Fett
It wasn't long after the new trilogy was announced that another set of three films were also put into production by Lucasfilm. These "anthology" movies would tell new stories in the galaxy far, far away, not directly related to the characters that made up the core of the Skywalker Saga. One was set to be a movie about the team that stole the original Death Star plans, one became an origin story of fan favorite Han Solo, and the third was reported to be a movie about bounty hunter Boba Fett.
However, that movie never came to be. Josh Trank, the director of Chronicle, was set to helm the project. There have been conflicting reports about what exactly happened, but one of the reports indicated that the clusterfuck that was the Fantastic Four reboot led to Lucasfilm's decision to cut ties with Trank. Officially, the decision to part ways was chalked up to "creative differences" (get ready to hear that phrase a lot in this piece) though Trank has also said he made the decision to walk away.
Phil Lord And Christopher Miller - Solo: A Star Wars Story
The most high-profile departure for a Star Wars movie came in the case of the second of the anthology films that were planned. In this case, Lucasfilm took the unorthodox approach of parting ways with a director, or in this case, directors, while filming on the Han Solo-led movie was still going on. It's not unusual for a director to leave a project before shooting starts, or even after it's done, but in the middle of filming is almost unheard of.
This means that the "creative differences" between Lucasfilm and Phil Lord and Christopher Miller must have been extensive. The stories that came out of the production were that the directors weren't relying much on the script, causing a rift with longtime Star Wars writer Lawrence Kasdan, and that the pair were shooting a significant number of takes of most shots, causing production to take much longer than planned, though Miller has denied some of that. Ron Howard was brought in to finish the film.
Colin Trevorrow - Star Wars: The Rise Of Skywalker
While most of the difficulties that Star Wars had in finding directors had been limited to the spinoff films, the core trilogy hasn't been entirely safe either. While J.J. Abrams and Rian Johnson both wrote and directed movies with zero drama (at least none that made it public), the same was not the case with Star Wars Episode IX. Back in the fall of 2017, in the run up to The Last Jedi, it was announced that Jurassic World director Colin Trevorrow would not be helming the final episode of the trilogy as originally planned. Once again, creative differences were faulted for the change.
There were a couple of different reports supposedly revealing why Lucasfilm decided to make this change. In one, Colin Trevorrow was somebody who was difficult to work with, and the studio simply decided it didn't want to deal with that. In another, Lucasfilm head Kathleen Kennedy was unimpressed with Trevorrow's script for the movie. Whatever the reason, Star Wars: The Force Awakens director J.J. Abrams, somebody who already made one movie with no issues, was brought back to finish the trilogy he started.
David Benioff And D.B. Weiss - Untitled Star Wars Trilogy
And that brings us to the newest members of the 'I almost directed a Star Wars movie" club. David Benioff and D.B. Weiss are, no matter what you thought of the last season of Game of Thrones, two in-demand talents. They're in such high demand that not only did they come on board to make Lucasfilm's first post-trilogy Star Wars movie, they also signed a massive development deal with Netflix. The latter, in this case, appears to have been the problem.
It seems that with everything that was associated with David Benioff and Dan Weiss' Netflix deal, the pair simply did not have the time to work on Star Wars. In this case, it's being presented that the duo made the decision to walk away from Star Wars because they did not have the time for it. Although, there are those who are reading into Kathleen Kennedy's statement on the departure, which may indicate that Lucasfilm was even less excited to have the two hang around after the Netflix deal.
One thing seems clear, making Star Wars movies is not easy. The franchise seems to have had more problems than many other blockbuster franchises when it comes to finding the right talent for the job. A single issue like the most recent Game of Thrones showrunner news might be expected, but seeing this happening over and over again makes me wonder exactly what and where the difficulty is.
Who knows what any of this means for the future of Star Wars? Rian Johnson is allegedly working on a new trilogy and he's already shown an ability to work with Lucasfilm, so I would not expect any major problems there. Of course, Johnson hasn't committed to directing all of the movies he's writing, so more directors might be needed.
On the plus side, this potentially opens the door to new batch of writers and directors who might be very willing to work on Star Wars related projects. There are multiple generations who have grown up with the franchise, who might want to make their mark on the galaxy, far, far away. It will be interesting to see who steps up and whether they can hold onto the gig.
Your Daily Blend of Entertainment News
Content Producer/Theme Park Beat
CinemaBlend's resident theme park junkie and amateur Disney historian. Armchair Imagineer. Epcot Stan. Future Club 33 Member.