We Ask John Cena And Keegan-Michael Key About My Little Pony And It Gets Weird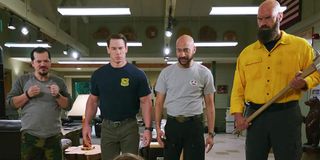 When sitting in a room with John Cena and Keegan-Michael Key, the conversation can go anywhere, so long as you have a star to guide you. With their latest film, Paramount's family comedy Playing With Fire, containing a strong thread of action that draws the animated series My Little Pony: Friendship Is Magic into a good portion of the movie's narrative, it felt like the atmosphere was ripe for some my Little Pony talk. So I went for it. You're welcome.
All of that is just a well-worded prologue to the fact that yes, I asked Cena and Key which character from the massively famous Discovery Family series they thought they were. It went just as swimmingly as you'd think.
But, of course, you want to know which ponies John Cena and Keegan-Michael Key best resemble, don't you? You wouldn't have clicked on that headline if there was no way those goods would be delivered. Well, you can see me talking through the ponies that Cena and Key best resemble in Playing With Fire.
In an effort to really honor the My Little Pony fandom, John Cena decided to flip the tables back onto me with the following:
If you've ever watched John Cena, be it in an interview or any sort of media, you know the man's 100% present in what he's doing. So taking his relative absence of My Little Pony knowledge, and turning it into a funny learning experience, is just par for the course when dealing with someone that knows how to talk with people like he does. The dude is generous as anything, as we've seen in his recent efforts to promote Playing With Fire.
When I spoke with Cena and co-star Keegan-Michael Key during the Playing With Fire press day, on behalf of CinemaBlend, I knew that both of them were up for pretty much anything in conversation. Once you see Playing with Fire, you'll be able to understand why this question is so, so timely and relevant.
We're about to get into some movie spoilers, here, so if you don't want to know about any My Little Pony gags in advance, now may be the time to bail. The way My Little Pony: Friendship Is Magic ties into the structure of Playing With Fire is pretty simple. After John Leguizamo's smokejumper Rodrigo puts the show on to help pacify the three children suddenly staying at their firehouse, we see the show's iconography make its way into the film's main storyline.
It all culminates in a moment that will have audiences laughing their heads off, where John Cena's Jake Carson winds up wearing a way-too-small t-shirt that boasts Princess Celestia on the front -- something he touches on in the video above. While it feels like a perfect act of synergy between Paramount and Hasbro's AllSpark Pictures, the companies that will be collaborating on a brand new My Little Pony movie for 2021, Playing With Fire makes this partnership work in its ultimate story of an atypical family bonding through something as simple as cartoons.
Much like John Cena's character Superintendent Jake Carson, My Little Pony: Friendship Is Magic's Twilight Sparkle is all about rules. Her intent as the series begins is to learn everything she can to be the best version of herself she can be. But as the series goes on, Twilight becomes more and more aware of the value that friendship, and to a certain extent family, are needed in a person's life.
It's no secret that Jake's journey is supposed to take a similar route, and the way that Playing With Fire has him travel that particular path is as funny as it is heartwarming. However, an even better fit came when assigning Keegan-Michael Key the designation as the Pinkie Pie of the group, and the man himself was even primed to take on the mantle before the words left my mouth.
Keegan-Michael Key's character, Mark, is a sort of righthand man to Cena's Jake, acting as a sort of hype man between his boss and the outside world. However, in the dynamics of their four-man smoke jumper team (with John Leguizamo and Tyler Mane rounding out the numbers), Mark is definitely down for more than a little good-natured ribbing. He also has a supernatural ability to offer tissues from outside of frame, and disappear from a scene in a way that only Groucho Marx would be able to pull off.
So, with those qualities in Keegan-Michael Key's team member, he's definitely the Pinkie Pie of the group. In discussing the parallels between both characters, Key totally understood the reasoning behind the My Little Pony: Friendship Is Magic character he'd randomly picked. Sometimes, the pony chooses us, and we don't know why until someone tells us; this was definitely one of those cases.
It may still seem like a random pull to have My Little Pony represented in a movie like Playing With Fire, but it's another one of the ways the film keeps its finger on the pulse of what it means to be a family movie in the modern market. Director Andy Fickman's film knows the right ingredients to be the sort of potential laugh riot that'll make kids and parents smile, and it dives into that job with both feet firmly planted in that reality.
Though, to be honest, it also makes a good case for that new My Little Pony movie to offer cameos to John Cena and Keegan-Michael Key, if not full blown major roles in this supposed reboot. It's just something for the folks at Paramount and Hasbro to think about, as the magic of friendship enters its new phase of cinematic wonder; and definitely something that compliments the work those men have done as part of the ensemble that is Playing With Fire's highly-effective team of family comedy assassins. Not to mention, it wouldn't even be the most outrageous cameo for the I.P. to have ever landed.
Playing With Fire opens in theaters this weekend, with early screenings on Thursday night.
Senior Movies Contributor
CinemaBlend's James Bond (expert). Also versed in Large Scale Aggressors, time travel, and Guillermo del Toro. He fights for The User.
Your Daily Blend of Entertainment News
Thank you for signing up to CinemaBlend. You will receive a verification email shortly.
There was a problem. Please refresh the page and try again.