Fantastic Beasts 3 Just Quietly Revealed A Big Change For The Franchise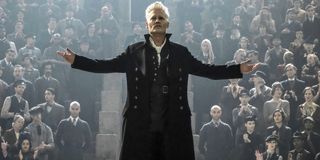 Warner Bros. just revealed a bunch of information on Fantastic Beasts 3 -- some of it we knew, some of it we suspected, and at least one thing was brand new and suggests a big change for the Fantastic Beasts franchise.
Thanks to Dan Fogler, who now looks very different from his No-Maj character, we already knew Fantastic Beasts 3 would be heading to Brazil and the stars would return in February for spring 2020 filming.
We already knew from J.K. Rowling a while back that Jessica Williams' Lally Hicks would have a bigger role in the third movie, after her blink-and-you-missed-her cameo in the second movie, Crimes of Grindelwald. It was already suspected that Johnny Depp would return as Gellert Grindelwald, despite the grumblings about his casting before the second film even came out.
There was also a report that the next movie may include a lot more of Hogwarts and Jude Law's Albus Dumbledore, which may have been a hint to the third movie adding more emphasis on what Harry Potter fans like.
The brand new part was on that note, and it was buried in Deadline's post about Fantastic Beasts 3 moving forward. However, it was noticed by several followers of the Fantastic Beasts franchise and the Harry Potter films: J.K. Rowling now has a co-screenwriter in Steve Kloves.
That's a big change from the plan for the Fantastic Beasts franchise. The Harry Potter author was the sole credited screenwriter of Fantastic Beasts and Where to Find Them and Fantastic Beasts: The Crimes of Grindelwald. Now we know the screenplay for Fantastic Beasts 3 will be co-written by J.K. Rowling and Steve Kloves.
As Harry Potter fans likely know, Steve Kloves wrote all but one of the Harry Potter movie scripts. (The fifth one, Harry Potter and the Order of the Phoenix, was written by Michael Goldenberg.)
What does this mean? Sounds like the Fantastic Beasts franchise is getting Harry Potter-fied, even more than it would naturally. It also clearly shows Warner Bros.'s continued trust in Steve Kloves, whose filmography is about 90% Harry Potter movies -- including producer credits for the first two Fantastic Beasts movies but no screenplay credits. It also suggests Kloves and J.K. Rowling make a good writing team, or at least a winning team for the studio, since he has already adapted most of her books. (Has he always adapted them well? Up to each viewer.)
And yet, this news does seem to suggest Warner Bros. doesn't completely trust J.K. Rowling after the relative disappointment of Crimes of Grindelwald. Fantastic Beasts 3 production was already delayed, after its initial plan to film over this past summer. Dan Fogler said it was pushed back because the third movie was "gigantic" and twice the size of the first two movies. But it also sounds like it was delayed so the script could be reworked.
Up until this new update, the only things we heard were about J.K. Rowling working on the third movie's script. In February 2019, the now former head of WB acknowledged the second film didn't perform as well as the first; he added that Rowling was "really working hard now on that third script and we're going to get it right." More recently, Dan Fogler said he hadn't actually seen the script yet because Rowling was still working on it. Now we know she's not working alone.
Since Crimes of Grindelwald was heavily criticized by many fans and critics, and took a box office dive from the first movie, it makes sense that Warner Bros. would have a serious come-to-Jesus-or-at-least-Dumbledore moment about getting the franchise on track.
J.K. Rowling is a fantastic author, but it's smart of Warner Bros. to get her help on the screenplay front. Film is a visual medium, and Crimes of Grindelwald's script could've used more "show don't tell." Since that's not her wheelhouse, it was probably a good idea to bring in someone very familiar with writing screenplays in this magical universe. But it's not like Rowling is being pushed aside, this is still her work and her story. I do hope that still comes first, since any gripes I had with the Harry Potter movies came from changes from her books.
J.K Rowling said she plans for this story to be told across five Fantastic Beasts movies, so we'll have to see if Steve Kloves sticks around as co-writer. Five films was not the original plan, as producer David Heyman noted, but that was the adjusted plan once Rowling realized the scope of the story she wanted to tell. But you have to imagine the plan will change dramatically if the third movie does even worse than the second one.
Fantastic Beasts 3 has yet to reveal its title, but it is scheduled for release on November 12, 2021.
Gina grew up in Massachusetts and California in her own version of The Parent Trap. She went to three different middle schools, four high schools, and three universities -- including half a year in Perth, Western Australia. She currently lives in a small town in Maine, the kind Stephen King regularly sets terrible things in, so this may be the last you hear from her.