What Will Emilia Clarke Do After Game Of Thrones?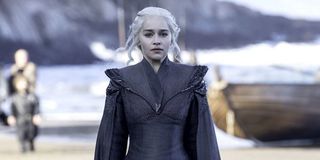 It's clear from her work on TV and in movies that Emilia Clarke is an actress capable of working in a lot of genres, from major fantasy set pieces like Game of Thrones to smaller rom-coms like Me Before You.
From a selfish standpoint, I really wish Warner Bros. would commission After You, the sequel to the 2016 movie Me Before You, which makes me cry every time I watch. However, the sequel is not currently in development yet, so I'll just have to content myself with all of the other glorious things Khaleesi has coming up.
Given the show that has consumed much of her life for nearly a decade, Game of Thrones, is finally wrapping on HBO, fans of the actress have really been left with the question: What will Emilia Clarke do after Game of Thrones?
Luckily, there are answers already. Here's what Emilia Clarke will be doing on the big screen in particular after her TV series ends, as well as what she'll be doing philanthropically, next.
Last Christmas
Emilia Clarke's highest-profile role following her gig as Daenerys Targaryen will be playing Kate in Last Christmas, which is a pretty far cry from a fantasy drama with dragons and plenty of medieval tropes. In fact, it's a modern-day, Christmas-themed rom-com coming out later this year. Emilia Clarke stars as Kate, a woman who works as an elf in a year-round Christmas shop. She'll meet Tom, playing by popular Crazy Rich Asians actor Henry Golding, who described the film at Comic-Con 2019 as a "love letter" to the city of London. Other Crazy Rich Asians connection? Michelle Yeoh will also appear in Last Christmas. Paul Feig directs.
Emma Thompson (of other Christmas-themed Love Actually fame) also wrote and stars in Last Christmas, so this one really should be celebrity-filled holiday goodness. The actress revealed onstage at CinemaCon that the movie shot in the cold in London this past year, so this won't be a fake snow adventure in quite the same vein as a lot of holiday movies. Take that Hallmark Channel Christmas movies!
The flick itself will follow Emilia Clarke's Kate and Henry Golding's Tom as they embark on a relationship; she a slacker, he a more successful Londoner. Somehow, sparks will still fly. If you want to find out how, you can catch the two lovers in action in Last Christmas on November 15, 2019.
Above Suspicion
Following her gig as Daenerys Targaryen on HBO's Game of Thrones, Emilia Clarke will also be heading to the big screen for the upcoming thriller Above Suspicion.
The flick will have her starring opposite other HBO alum Jack Huston, who really jumpstarted his career when he appeared on HBO's Boardwalk Empire. The film will also star other HBO alums in True Detective's Kevin Dunn and Boardwalk Empire guest star Chris Mulkey. Thora Birch, Johnny Knoxville and Brian Lee Franklin also make up the bulk of the cast.
The movie will take Emilia Clarke out of Game Of Thrones and plant her in Kentucky, USA where she will play a hometown girl – yes with a southern accent -- who connects with a married FBI agent. The movie is based on a book with the same name written by Joe Sharkey and the book is a true crime thriller set in coal country. Allegedly, the movie filmed two years ago, but hasn't been distributed yet. More details on when Above Suspicion will be released here.
SameYou Charity Work
Earlier this year, we learned that Emilia Clarke had actually dealt with brain hemorrhages during her time as one of the leads on Game of Thrones. She had brain surgery not once, but twice during the off-season when Thrones was on hiatus and she only revealed her diagnosis and the subsequent trouble she went through to recuperate well after the fact. The actress was 24 when the ordeal first started, but she's decided to use her celebrity to help others going through similar trials.
Following her harrowing ordeal, she decided to create a charity called SameYou with the goal of helping those who need it get better access to neurorehabilitation following traumatic brain injury or strokes. She's partnered with groups including the Royal College of Nursing, the RCN Foundation, Stroke Association, Spaulding Rehabilitation Hospital and Nursing now to help people with unmet needs in the community.
You can learn more about Emilia Clarke's charity over at Sameyou.org.
What Other TV And Movies Has Emilia Clarke Starred In?
Emilia Clarke has taken on plenty of roles outside of Daenerys Stormborn, both during and before her time on the show. She's known for appearing in the Star Wars universe as Qi'ra in Solo: A Star Wars Story opposite Alden Ehrenreich's Han Solo character. She also played iconic character Sarah Connor in the Terminator franchise in Terminator: Genisys. So she's been in plenty of big name properties outside of the television realm.
Along with the aforementioned Me Before You gig, she also has done voice work for the likes of Robot Chicken and Futurama.
Prior to appearing on Game of Thrones, Emilia Clarke had small roles in Doctors and Triassic Attack. So, it's pretty safe to say that Game of Thrones really kickstarted her career and helped her to become a household name. Her trajectory in Hollywood has been very similar to some of her co-stars on the series, particularly people like Sophie Turner, Richard Madden, Kit Harington and Maisie Williams. All in all, even for some of the more established actors on the HBO drama, Game of Thrones has likely been a big boon to helping them nab other roles.
At 32 years of age, Emilia Clarke is still just getting started on what will hopefully be a fun and fulfilling career post-Danaerys Targaryen. She's kickstarting her future career with some fun upcoming movies, and we'll keep you posted if she ever makes a return to the Star Wars Universe (iffy given the money the movie likely lost) or another big franchise. (I'd mention Terminator here, but she hasn't had the nicest things to say about that movie she was involved with.)
We'll be sure to keep you updated on any more big projects she has coming up, but you can relive a lot of her biggest TV moments through Game of Thrones episodes on HBO Now and Go.
Amazing Race & Top Chef superfan with a pinch of Disney fairy dust thrown in. Theme park junkie. If you've created a rom-com I've probably watched it.
Your Daily Blend of Entertainment News
Thank you for signing up to CinemaBlend. You will receive a verification email shortly.
There was a problem. Please refresh the page and try again.